Inside a Zappos Employee Meeting: 11 Things You Won't See at Any Other Company
An executive in a loincloth, a dig at Kanye West, and a box of tarantulas were among the unusual touches at the Zappos quarterly meeting.
December 9, 2013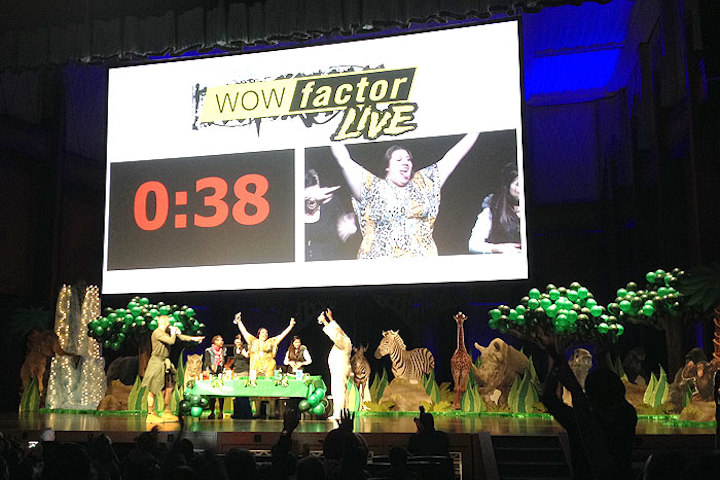 Photo: Chad Kaydo for BizBash
Chip Heath, the best-selling author and popular speaker, noticed some differences between the most recent Zappos company meeting and his last corporate speaking gig, at Intel: "There were no animal costumes, and no worms were eaten," he said during his motivational talk.
Zappos, the online apparel retailer that Amazon purchased in 2009 for $1.2 billion, prides itself on its wacky corporate culture and C.E.O. Tony Hsieh's belief that if the company takes good care of its employees, they'll provide exceptional service to its customers. "Create fun and a little weirdness" is one of 10 core values the company uses to definite its culture, and that edict permeates its meetings.
The Zappos quarterly "all hands" meeting includes staples of the form—sales reports, news about management initiatives—as well as lots of quirky touches. At the fourth-quarter all-hands meeting at the Smith Center for the Performing Arts near Zappos's new headquarters in downtown Las Vegas on November 21, the quirks included a staff-led musical number and the previously mentioned worms and animal costumes.
All 1,500 employees attend the meeting, along with about 200 invited guests. (I attended as a participant in Catalyst Week, part of Hsieh's work revitalizing downtown Las Vegas, and stayed in an apartment provided by his Downtown Project.) "We shut down our call center for the four hours that the meeting takes place," said event planner Audrea Hooper ("ringleader and fun manager" is her title). Some employees occasionally step out to make sure the Web site is functioning properly, but everyone is on site. "It's an important message to say, 'Hey, it's important for us to be a family and for us to come together to be transparent about what's happening with the company.'"
Hooper and the event team spend most of the planning time focused on the meeting's content, mixing corporate information with entertainment to keep the crowd engaged, and plenty of only-at-Zappos surprises. So here are 11 things from the Zappos all-hands meeting that you probably won't see at any other company's staff gathering.
1. A mating call contest
As guests arrived at the meeting, an employee calling himself "Jungle Jim" asked them to identify animal noises for $25 Zappos gift cards. When someone got a tough one quickly, he exclaimed, "Oh my god, it is a zebra, how the hell did you know that?"
2. An opening number with employees in homemade animal costumes
The whole meeting had a safari theme, and it kicked off with a performance of "The Circle of Life," the opening song from The Lion King, performed by the company's choir—one of many groups of employees with shared interests, or "passions" in Zappos-speak.
"What's really super cool about all hands is it's really put on by our employees," Hooper said. "Backstage we have hair and makeup being done by employees who are passionate about that. At the happy hour our DJ is usually an in-house DJ who is passionate about that."
3. The C.T.O., sucking his thumb, in a loincloth
And nothing else. Remember how "The Circle of Life" ends with the presentation of Simba, the lion cub? That was chief technology officer Arun Rajan. Hsieh was the proud parent.
4. Ragging on an executive's facial hair growth
During the Q&A session, one employee asked if one of the male executives was not participating in Movember—where men grow facial hair to raise awareness and money for men's health issues—because he "can't grow a real mustache." He confirmed that was the case. (Other employees asked about stock grants, parking security, and marketing strategy.)
5. An employee eating worms
After a 12-minute break, Jungle Jim picked five volunteers to see who could be the first to swallow a bowl of 10 mealworms to win a $250 Zappos gift card. The winner lifted the bowl to her mouth with no hesitation but looked a little surprised by something as she tried to get them down.
6. An employee's before-and-after weight-loss photos
This was part of a talk about the life coach Zappos keeps on staff to work with employees on personal goals.
7. An employee in cheetah print underwear over pajamas putting her arm in a box of tarantulas
Another contest. Another $250 gift card.
8. The C.E.O. punching Kanye West
Just three days before the meeting, the hip-hop star and fledgling fashion designer made some colorful remarks about the quality of Zappos products. The company responded with a joke product page that got a positive reaction and boosted Zappos Web traffic by 43 percent the day it was posted. In a skit during the meeting, Hsieh and an employee were performing a Taylor Swift song when another staffer interrupted them with "Imma let you finish…"—West's famous MTV V.M.A. outburst—and Hsieh threw a fake punch at the Kanye impersonator. The crowd went wild.
9. Free DNA testing
The meeting had three guest speakers booked by Jamie Naughton, who oversees employee events as part of various human resources and company culture-related duties in her role as "speaker of the house." Heath spoke about ideas from his book Switch: How to Change Things When Change Is Hard (written with his brother, Dan). Sir Ken Robinson, whose TED Talk is the most viewed in TED history, with more than 20 million views, got laughs during a 40-minute talk about tenets from his book Losing Our Minds: Learning to Be Creative.
The most unusual talk was a presentation from Emily Drabant Conley of 23andMe, the genetic testing company that allows consumers to send away a tube of spit and get detailed information about their ancestry and health risks. After some pretty heartwarming tales of reunited relatives and averted medical problems, Hsieh joined Conley to announce that all Zappos would receive 23andMe's $99 service for free.
10. An employee lying in a plastic box with tarantulas crawling over her
The final $250 gift card challenge.
11. Two managers dressed as Christmas elves—who don't even get a reaction to from the audience
That's just what you wear at Zappos to talk about how all employees—executives included—are required to man the phones for a few hours during the busy holiday season. That doesn't get a laugh.
Featured Venues/Suppliers: