Best of 2010: 10 Las Vegas Event Industry Highlights
December 13, 2010
As part of our Best of 2010 look back at the last year, we asked our local editors to share their—admittedly subjective—take on the most important things to happen in their markets this year. Here's what Las Vegas editor Alesandra Dubin had to say.
1. The Cosmopolitan Opens
Call it 2009's CityCenter equivalent for 2010: The glittering Cosmopolitan of Las Vegas is finally slated to welcome its first guests on December 15, after financial problems delayed the project. Purchased by Deutsche Bank in August 2008, the Cosmopolitan is on the Strip between CityCenter and the Bellagio. It has 2,995 rooms; a nightclub and lounge; 150,000 square feet of convention and banquet facilities; restaurants; a 50,000-square-foot spa, salon, and fitness center; 60,000 square feet of retail; 100,000 square feet of casino space; and three pool areas. The resort's multiple-tower design offers dramatic views of the city.
2. Record New Exhibitors at the Consumer Electronics Show
The 2010 Consumer Electronics Show wrapped its four-day run in January. In the final analysis, C.E.S., the world's largest consumer technology trade show, drew about 2,500 exhibitors—including a record 330 new ones—introducing 20,000 new products. The event also packed in more than 120,000 attendees, a modest increase over last year. International attendance also increased by more than 1,000 people.
3. Celebrity Integrations
At the city's biggest trade shows, celebrity appearances were requisite. Lady Gaga made an appearance for Polaroid at C.E.S., Sarah Palin keynoted the Wine & Spirits Wholesalers of America convention to big attendance figures, Bill Clinton keynoted the SALT conference, and Snoop Dogg drew crowds for Ford at the SEMA show.
4. Magic Expands
Twice a year, in August and February, fashion industry players descend on Las Vegas for Advanstar's Magic Marketplace family of shows. For the February 2010 run, the program launched dual campuses at the Las Vegas Convention Center and the Mandalay Bay Convention Center. Organizers billed it as the most significant format change in the show's 77-year history, meant to add 50 percent more space to the generally sold-out show and to organize the offerings in a way most efficient for attendees and exhibitors. Magic also launched a new footwear show, FN Platform.
5. Pool Parties
Since Vegas is home to some of the finest—and largest—pools in the country, it's not surprising that marketers flocked to them in 2010. Us Weekly hosted what it considered to be its most successful "Hot Bodies" event in its history, for the June 5 incarnation of what was then the week-old Encore Beach Club. And Carerra brought the most consumer-focused stop on its Escape promotional tour to Tao Beach in May, hosted by Wilmer Valderrama.

6. A New Frank Gehry-Designed Event Space
The Cleveland Clinic Lou Ruvo Center for Brain Health debuted the dramatic Frank Gehry-designed Keep Memory Alive Event Center, which doubles as a full-service event space open for public rental, complete with audiovisual technology and catering services. The 9,800-square-foot center has a capacity of about 600 to 700 for a cocktail reception, or 450 for a banquet with round tables or set in a classroom or meeting style. The courtyard has room for about 300 for a reception with scattered highboys.

7. New Nightclub & Bar Show Chief
The Nightclub & Bar Convention and Trade Show took over the Las Vegas Convention Center in March for the program's 25th year. The event has taken place in Las Vegas for most of its history, but this year a new leader oversaw the program: Show producer Questex Media Group L.L.C. named nightlife vet Jon Taffer the president of its Nightclub & Bar Media Group. Taffer said the attendance figures exceeded 2009, including many first-timers, and beat projections by 21 percent. This year's show also saw the highest education enrollment in its history, with a higher percentage of attendees participating in education.

8. Bon Appétit Uncork'd's Growth
This year's larger-than-ever Vegas Uncork'd culinary extravaganza presented by Bon Appétit—including intimate dinners, luncheons, tastings, cooking demonstrations, and other interactive culinary experiences—drew more than 5,000 ticketed guests to 30 events held at six different Las Vegas casinos over four days in May. More than 2,300 guests gathered at Caesars Palace's five-acre Garden of the Gods eight-pool complex with idyllic gardens for Bon Appétit's signature ultimate culinary event, the grand tasting. This year's attendance was a dramatic increase over last year's 1,600 and more than doubled the inaugural tasting four years ago.
9. A Fund-Raising Coup
In February, 1,000 guests attended the Power of Love gala at the Bellagio for Keep Memory Alive and the Cleveland Clinic Lou Ruvo Center for Brain Health. The evening—with a reception, silent and live auctions, dinner, and a performance by Barry Manilow—raised more than $27 million for research into Alzheimer's, Parkinson's, and other memory disorders. Individuals paid $1,500 to $7,500 a ticket and tables of 10 went for as much as $75,000. Robin Leach hosted the evening, a program that included speeches, honors, and a live auction with surprise guests Danny DeVito and Brad Garrett. Three 2011 Mercedes SLS cars brought in nearly $800,000 alone. Entertainment came from more than 20 dancers, a portrait painter, and finally, Manilow's 40-minute performance.
10. BlogWorld Grows
In a sign of the times, the fourth incarnation of the BlogWorld & New Media Expo took to the Mandalay Bay Convention Center in October—and doubled in size since its first go just a few years ago. This year, the show drew 86 exhibitors and a little more than 3,000 attendees; the first year, 2007, drew 62 exhibitors and 1,500 attendees. The sold-out event was a huge success, said BlogWorld C.E.O. Rick Calvert, who added: "I started this show because I wanted to go to it and it didn't exist."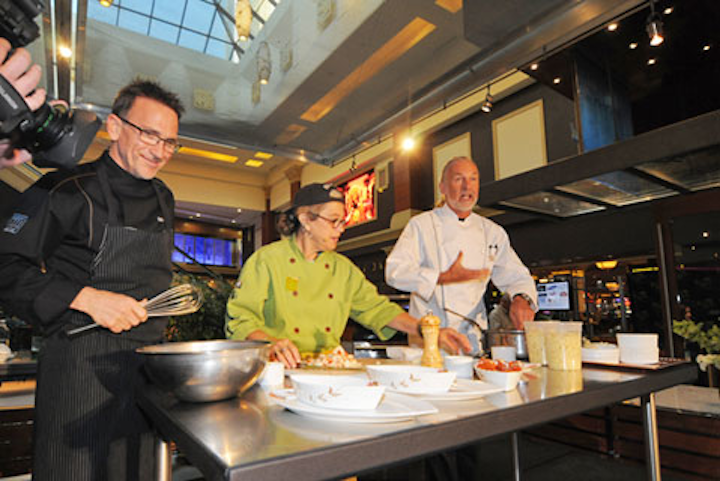 Photo: Las Vegas News Bureau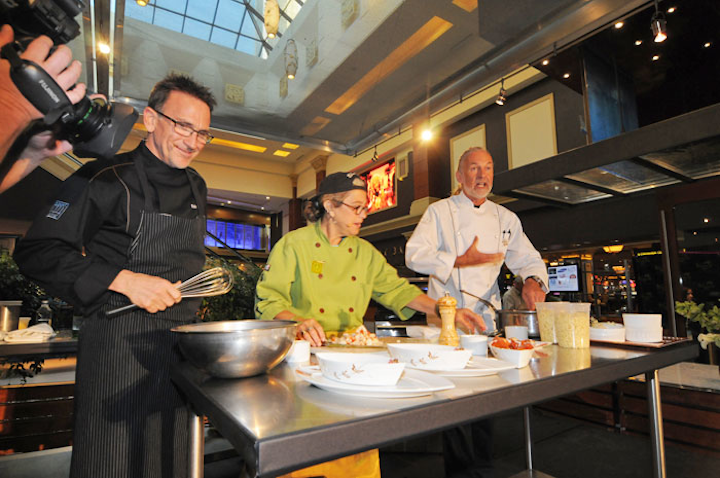 Photo: Las Vegas News Bureau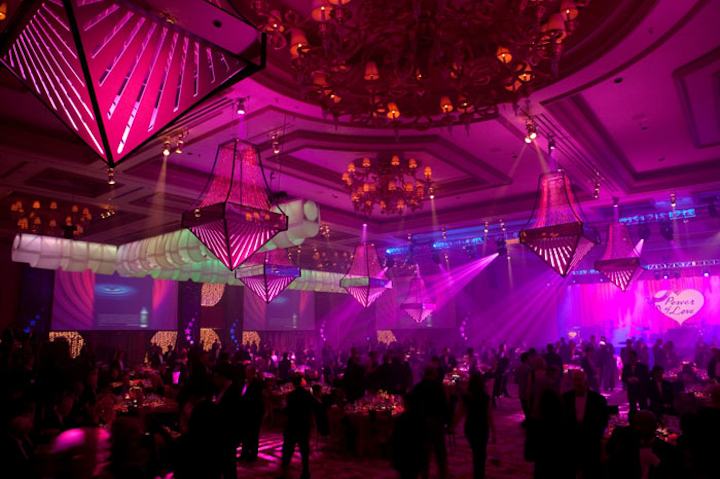 Photo: Dahl Photographers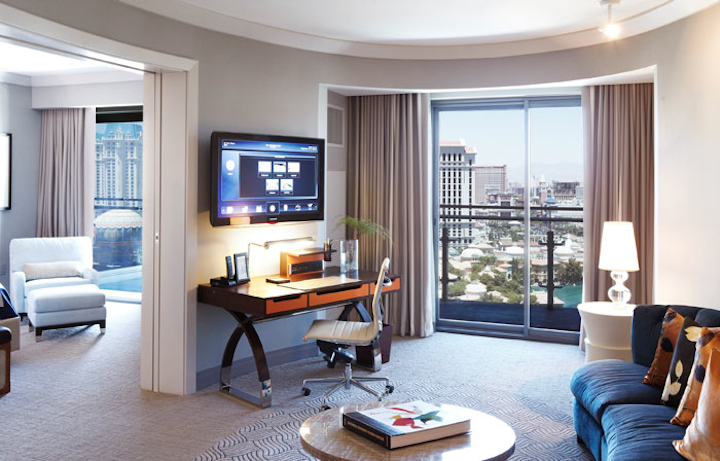 Rendering: Courtesy of Cosmopolitan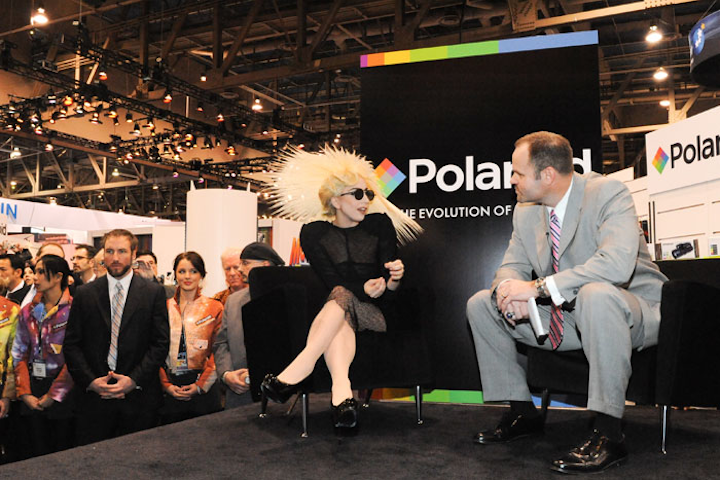 Photo: Emma Cohen/Courtesy of Polaroid
Featured Venues/Suppliers: