This Week in Los Angeles: Amazon's City-Wide Stunt, a Tech-Infused Floral Exhibit, Previewing D23 Expo
West Coast bureau chief Claire Hoffman covers the week's biggest event news.
August 23, 2019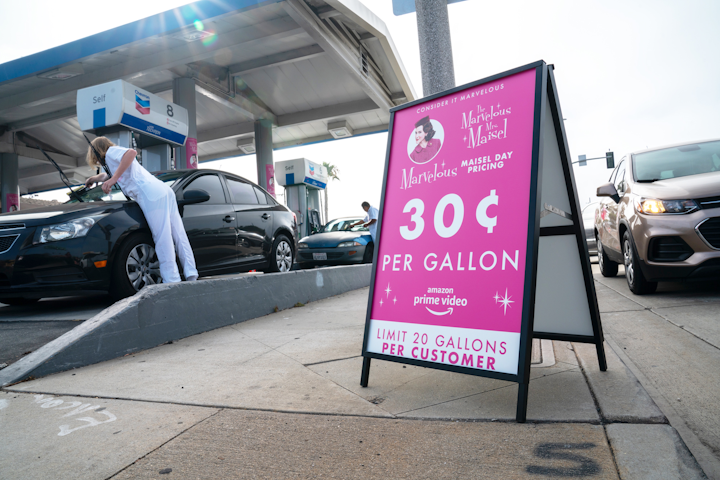 Photo: Courtesy of Amazon Prime Video
LOS ANGELES—Welcome to BizBash's Los Angeles-based column, where West Coast bureau chief Claire Hoffman recaps the week's biggest local news. Got a tip? Get in touch!
Moves & Milestones
Jennifer Fox will produce the Academy of Motion Picture Arts and Sciences' 11th annual Governors Awards, which will take place on October 27 at the Ray Dolby Ballroom. The event will honor directors David Lynch and Lina Wertmüller and actors Wes Studi and Geena Davis.
Event catering and design company Schaffer has appointed Melissa Darpino sales and marketing director. Darpino most recently worked as director of marketing for Vintage Grocers; she also spent many years as the director of catering for Patina Restaurant Group, overseeing catering for the Emmy Awards Governors Ball a total of 12 times.
Newport Beach-based tech company Protecht has teamed up with venue management company Spectra to provide ticket insurance to event attendees. The new partnership will provide ticket protection for more than 3,000 events annually at 32 venues across the country.
In Case You Missed It
In this week's GatherGeeks podcast, two educators at San Diego State University's hospitality school discussed how the industry has changed, the most common knowledge gaps, the importance of diversity, and more.
In the News
A cook at the Long Beach Marriott has been arrested for allegedly planning a mass shooting at the hotel. CNN: "A tip from a colleague led police to arrest Rodolfo Montoya, 37, at his Huntington Beach home, Chief Robert Luna said at a news conference. Police seized firearms, hundreds of rounds of ammunition and tactical gear, including high-capacity magazines and an assault rifle, which are illegal to possess in California, Long Beach Police said in a news release."
Downtown Glendale is getting a luxury dine-in movie theater this fall. Los Angeles Times: "Studio Movie Grill will feature 10 screens and a menu with a California twist—in addition to unique amenities such as heated seats and cooling cup holders, according to Lynne McQuaker, a spokeswoman for the theater. For nearly three years, the more than 50,000-square-foot theater space at 128 North Artsakh Ave. sat empty ... Now the hope is that the theater—part of an expanding, national chain—will draw traffic to the area that the city has been working to develop as a local culture hub."
Italian market and restaurant chain Eataly—which has a location in Century City—has officially cut ties with Mario Batali two years after multiple sexual misconduct allegations were made against the celebrity chef. An Eataly spokesperson said Batali hasn't been involved with the brand since 2017. Eater: "Batali's relationship with Eataly began back in 2010, when the chef and his partners Lidia and Joe Bastianich helped open the giant 50,000-square-foot location of the Italian market and food hall in Manhattan's Flatiron District. Eataly NYC was such a massive hit that it spawned similarly gargantuan spinoffs in Boston, Las Vegas, Los Angeles, Chicago, and Downtown Manhattan."
Overheard
"The unanimous sentiment among all the tailgaters was nobody wanted to quit tailgating when the concert started. ... This is not a normal festival so we're not just looking for the best-selling country artists of the year and putting them on the bill. Having artists that match this vibe we're trying to create is super important … Tailgating culture [has] that super fun, party vibe, it's very country."
—Tailgate Fest co-founder Melissa Carbone, speaking to Pollstar about last weekend's second annual festival. Located on a ranch in Eastvale, California, the country music event featured performances from Brantley Gilbert, Clint Black, Brett Eldredge, Lindsay Ell, Big Boi, and more. Carbone and co-founder Alyson Richards are also the creators of the popular Los Angeles Haunted Hayride.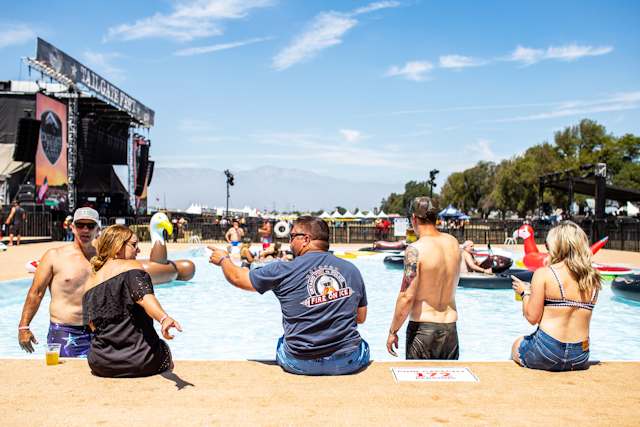 At Tailgate Fest, fans could opt to watch performances from their own tailgate set-ups, from a general admission pit, or even from a swimming pool along the side of the stage.Photo: Courtesy of Tailgate Fest

Surprise Event Metric of the Week
100,000: the record-breaking number of fans who attended last weekend's KCON L.A., the four-day celebration of Korean pop culture held at the Staples Center August 15 to 18. The event began as a one-day festival in 2012 that drew 12,000 people. Variety: "According to the Korea Foundation, which tracks the growth of Korean culture, the percentage of people interested in Korean entertainment has increased steadily over the years. Its findings showed a 22-percent increase in the number of fans from 73 million in 2017 to more than 89 million devotees the following year. The organization attributed this jump in interest to the phenomenal success of BTS, which was a relative unknown before its KCON debut in 2014."
Venue Buzz
Fia, a new restaurant from chef Brendan Collins, opened in Santa Monica on Monday. A collaboration with hospitality veteran Michael Greco, the eatery has a seafood-focused menu influenced by California and the Amalfi Coast. The 300-seat indoor-outdoor space, filled with vintage furnishings such as wrought-iron window treatments and restored French doors, was designed by M. Winter Design. A multi-level patio has lush greenery and a bocce ball court. In the coming weeks, Fia will start hosting live music, wine tasting events, and rotating artist residencies. 
This week, fast-casual restaurant chain Tocaya Organica launched the Tocaya Life Foundation, a new charitable arm dedicated to social and environmental causes throughout Southern California.
On the Scene
The Art of Bloom, a new immersive pop-up art exhibition, is open at the Edison Theatre in Long Beach through September 29. The space features hundreds of real flowers, housed in individual water tubes, hanging from an overhead truss. AR, sensor technology, and interactive projections—plus carefully chosen scents and sound—are used in an effort to connect guests with nature. The exhibit space can be booked for workshops and events; Jivamukti Yoga hosted a yoga session earlier this week.
What's Next
DTLA Pride takes place this weekend in Pershing Square. The all-ages Pride festival features live performances, community booths, art installations, and a pop-up water park.
Also kicking off today is D23 Expo, Disney's biennial trade show at the Anaheim Convention Center. In addition to highly anticipated panels and announcements from Disney+, Marvel Studios, Pixar, and Star Wars, Disney is expected to reveal details for Walt Disney World's rumored 50th-anniversary celebration in 2021. Other show highlights will include Lucasfilm and National Geographic's pavilions on the show floor; both companies are exhibiting for the first time.