This Week in Los Angeles: Maybelline's Subway-Inspired Beauty Event, a Dumpling-Theme Art Exhibit, Airbnb Shelters Wildfire Victims
West Coast bureau chief Claire Hoffman covers the week's biggest event news.
November 1, 2019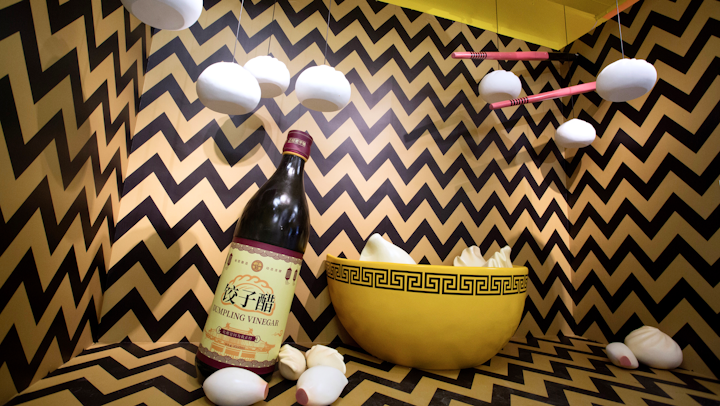 Photo: Courtesy of Dumpling & Associates
LOS ANGELES—Welcome to BizBash's Los Angeles-based column, where West Coast bureau chief Claire Hoffman recaps the week's biggest local news. Got a tip? Get in touch!
Moves & Milestones
Sandra Jackson-Dumont is the new director and C.E.O. of the Lucas Museum of Narrative Art, expected to open in Exposition Park in 2021. She previously served as the Frederick P. and Sandra P. Rose chairman of education and public programs at the Metropolitan Museum of Art in New York. 
Chef Joe Miller—the owner of L.A.'s Joe's Restaurant, Bar Pintxo, and Rudy & Hudson who most recently served as event manager at New York's Blue Hill at Stone Barns—passed away last week at the age of 60. Eater: "Miller was one of the most influential chefs in L.A., mentoring numerous cooks who went on to open restaurants of their own. ... Joe's Restaurant received a mostly positive review from L.A. Times critic S. Irene Virbila in 1998, and later earned a Michelin star in 2007. The restaurant was known for using French techniques with farmer's market produce and Asian and Californian influences."
At last week's Taste of SBE L.A., the hospitality group announced a new partnership with music-streaming platform Tidal. At SBE properties through the United States and the U.K., Tidal will curate custom playlists to be featured in the venues' lobbies, pool areas, lounges, and restaurants; there will also be jukebox installations in the lobby and in-room entertainment from Tidal at select hotels.
Spotlight On
The Wrap hosted its Power Women Summit on October 24 and 25 at the Fairmont Miramar in Santa Monica. The conference, which was designed and produced by Chad Hudson Events, had a "Toward 50/50" theme, with panelists such as Kamala Harris, Chrissy Metz, and Rachel Zoe discussing inclusivity and equity in the entertainment and media industries. Town & Country provided rentals, PSAV handled audiovisual production, and Unmatched Lighting provided ambient lighting.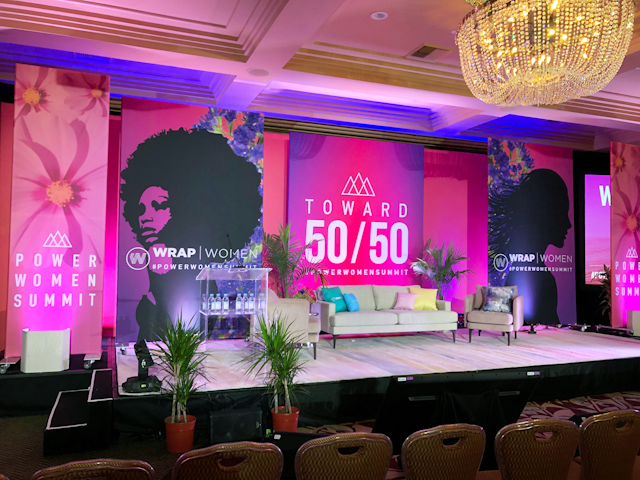 The Wrap's Power Women SummitPhoto: Courtesy of Chad Hudson Events

In the News
Airbnb is offering free, temporary shelter for wildfire evacuees through the home-sharing platform's Open Homes program. Displaced people and disaster relief workers affected by the Tick and Kincade wildfires can book free accommodations through November 7. CNN: "Airbnb is encouraging homeowners in Santa Clarita, Sonoma County, and the surrounding areas to participate by listing their homes for $0 on the site. The Kincade, Tick, and Getty fires have forced many residents to evacuate in the face of encroaching wildfires and power shutoffs. … Through Open Homes, Airbnb organizes relief stays for people needing a home or bed in the face of natural disaster, war, conflict, or other disastrous events. The program acts as a tool for people to open their homes in affected areas."
Paramount canceled the Los Angeles premiere of Terminator: Dark Fate on Monday due to ongoing wildfires in the area. The premiere was slated to take place at T.C.L. Chinese Theatre. The Hollywood Reporter: "'In light of the ongoing, active fires being battled in the area, Paramount Pictures and Skydance have canceled tonight's Los Angeles premiere of Terminator: Dark Fate,' Paramount said in a statement. 'We will be donating food intended for the after-party to the American Red Cross, which is serving those affected by the fires.' … Dark Fate actor Arnold Schwarzenegger had to evacuate his home Monday morning after a brush fire broke out along the west side of Interstate 405, north of Sunset Boulevard and near the Getty Center." 
LAX officials have apologized after the new rideshare and taxi pick-up system caused confusion and gridlock this week. Los Angeles Times: "Tempers ran high as travelers encountered heavy traffic on the way to the new pickup area and wait times for Uber and Lyft that often exceeded an hour. Some travelers said it took them longer to find a ride home than it did to fly to Los Angeles. ... Overnight, LAX made changes to road striping, signage, traffic routes, and assignments for traffic officers, with more changes planned later this week. Uber and Lyft are also working to make adjustments, including sending clearer communications to drivers about what to expect at the airport."
Coming Soon
Thrillist will host a "100 Course Meal" at Hudson Loft downtown on December 6 to 8. The elaborate, multi-sensory dinner party describes itself as "the musical chairs of dinner"—every time the music stops, guests will get up from the table and interact with the likes of drone bartenders, a laser art studio, and other theatrical elements. Overall, guests will eat 10 dinner courses from chefs from Konbi, Coolhaus, the H.wood Group, and more. The event is the brainchild of Michael Cirino of A Razor/A Shiny Knife. (Check out our GatherGeeks podcast with Cirino, where he talks about creating spectacles and stunts that get event guests talking.) 
Venue Buzz
The 297-room W Los Angeles—West Beverly Hills will complete a $4 million renovation of its meeting and event spaces in December. Designed by Dawson Design Associates, the new spaces will be filled with oversize glass walls and doors, plus slatted wood ceilings, cloud-inspired glass chandeliers, and original photographs on the walls. New meeting spaces include a 2,000-square-foot room with a patio area and a drop-down ceiling screen and projector; it holds 80 classroom style, 140 banquet style, or 180 for receptions. Two smaller meeting spaces are also new; the three rooms center around 244-square-foot pre-function space. Overall, the hotel has 10,000 square feet of indoor-outdoor event space. 
Surprise Metric of the Week
$1,000: The price of tickets to a gala that falsely claimed an appearance by Keanu Reeves. The Global Charity Initiative promoted its October 27 event, which took place at the Beverly Hilton, by saying The Matrix star would be honored. Page Six: "An attendee told us that many guests purchased them for a chance to be in a room with the John Wick star. The source told us that the gala also auctioned off a painting of Reeves at the event. But Reeves was not there, and his rep told us, 'He knew nothing about the event and has no affiliation with this organization whatsoever. And they used his image without permission.' A Twitter user even said they spotted Reeves at a Whole Foods while the event was going on."
On the Scene
Last week, we stopped by Maybelline New York's "Best of" event at Casita Hollywood. The gathering for beauty editors had a New York City subway theme produced by Agency Guacamole, where guests followed different "subway lines" to find products for brows, eyes, face, and lips. 
What's Next
The third annual Teen Vogue Summit takes place at Goya Studios this weekend. Following a day of workplace immersions today, the main event on Saturday will feature panels on the convergence of fashion and activism, new leaders in STEM, conversations with the likes of Demi Lovato and Busy Philipps, and more. New this year, the summit extends to Sunday with a day of wellness-focused events and panels. 
Also this weekend is Complex magazine's buzzy ComplexCon—an annual art, fashion, and music-focused convention curated by Pharrell Williams and artist Takashi Murakami and produced by ReedPOP—at the Long Beach Convention Center. The event will feature panels from Yara Shahidi, Lil' Kim, Elaine Welteroth, and more, plus live performances and a marketplace of eye-catching booths and activations. Last year, more than 200 companies exhibited and the two-day event generated over two billion media impressions.
And on Saturday night is one of the city's most heavy-hitting fund-raisers: The nine-year-old Lacma Art & Film Gala. The 2018 event raised a record $4.5 million and drew 850 A-list members of the entertainment, fashion, music, and architecture industries. This year's event, co-chaired by Eva Chow and Leonardo DiCaprio, will honor artist Betye Saar and filmmaker Alfonso Cuarón.
We'll be skipping next week's column; look for us again on November 15.