This Week in Los Angeles: Entertainment Event Producers Team Up for Good, Plus a Bodega on Wheels, a Vampire-Theme Pizza Delivery, and More
West Coast editor Claire Hoffman covers the week's biggest event news.
April 9, 2020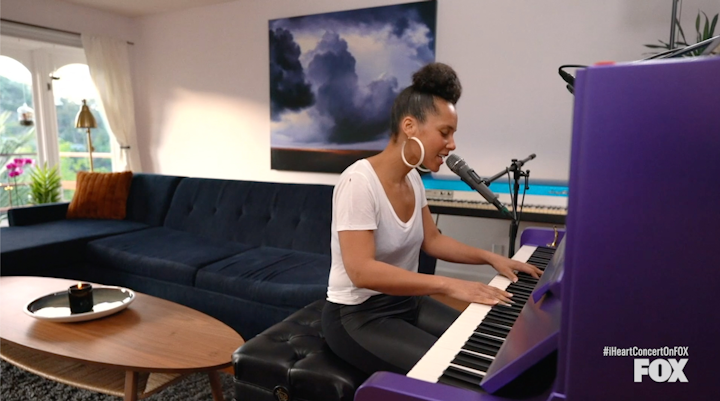 Photo: Courtesy of iHeartMedia
LOS ANGELES—Welcome to BizBash's Los Angeles-based column, where West Coast editor Claire Hoffman covers the week's biggest local news. Got a tip? Get in touch!
In Case You Missed It
Last Thursday, BizBash chairman and founder David Adler and I hosted a virtual conversation on COVID-19's impact on the West Coast, with input from Dominic Venn-Lever of Blueprint Studios, Rolando Espinoza of Champagne Experiential Studios, Wayne Fernandez of Magic Box, and Vinnie Balistreri of Glisser. The group discussed how they're dealing with contracts and force majeure clauses, ways to create effective virtual events, how they're staying connected with their teams, and much more. Take a listen!
For more on how COVID-19 is affecting the event industry—including tips for keeping up client relationships and insights into the future of live events—head to bizbash.com/coronavirus. 
Spotlight On
A group of entertainment event producers have teamed up to provide emergency relief services such as drive-through testing areas, tent hospitals, cold rooms, and more throughout Southern California. Called the Entertainment Industry Response—or EIR—the group includes local companies All Access Staging, Gallagher Staging & Production, Go For Site Management, Joe Lewis Company, and Silent House Productions. 
"EIR is a one-stop shop for state and local government, hospitals, cities, or anyone else who might need the services that we can provide," said Silent House Productions' Baz Halpin in a press release. "There is a single point of contact per installation that will oversee the project and will coordinate efforts on the ground. EIR will support the healthcare community by providing the temporary infrastructure necessary to their jobs and save lives." 
Pivot of the Week
A collection of local restaurants and small businesses—including 101 Coffee Shop, Coolhaus, Future Gin, MiniBar Hollywood, and Vervet—launched the L.A. Bodega on Wheels on Tuesday. The temporary rolling bodega, which delivers throughout the L.A. area, features an assortment of prepared food, beverages, alcohol, produce, and pantry staples. Ten-percent of proceeds is being donated to local charities.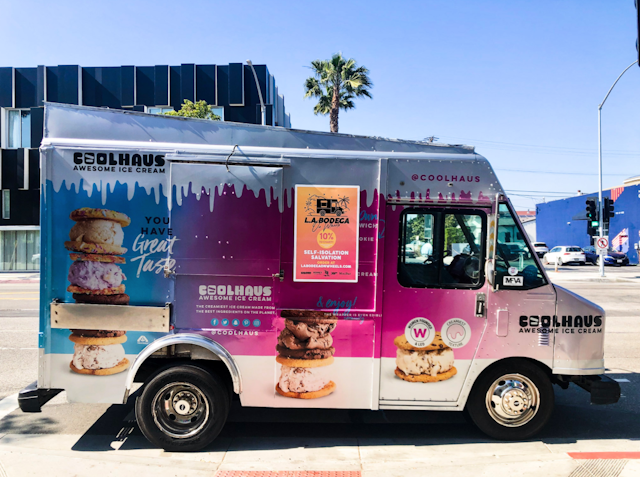 L.A. Bodega on Wheels uses reformatted trucks from Coolhaus.Photo: Courtesy of L.A. Bodega on Wheels
In the News
E3's organizers have decided not to host an online-only version of the video game convention. Hollywood Reporter: "Following the initial cancellation, reports of the event shifting to an online-only version began to circulate, similar to the Game Developers Conference's approach last month, which hosted streaming versions of its scheduled talks through its website. With plans for a digital version of E3 now officially scrapped, 2020 will be the first year without the event since its inception in 1995. E3, one of the world's largest video game conventions, is held annually at the Los Angeles Convention Center. The event drew more than 66,000 attendees in 2019 and over 200 exhibitors."
Mozza chef Nancy Silverton, the head of B&B Hospitality Group, has tested positive for COVID-19; she's currently asymptomatic and isolating at home. Los Angeles Times: "A week before getting tested, Silverton turned Chi Spacca, one of her Mozzaplex restaurants, into a temporary crisis relief center for hospitality workers. She and her staff supplied dozens of meals to restaurant workers who are unemployed as a result of the coronavirus shutdown. On Tuesday, the day after getting her test results, Silverton announced she was closing her restaurants and discontinuing the free meals. Jessica Koslow will continue the program at Sqirl."
The Academy Museum—which has currently halted construction but is on track to open December 14—has revealed some of its planned exhibitions. LAist: "The core exhibition, housed on the second and third floors, will be 'Stories of Cinema.' It will include galleries developed with filmmakers Spike Lee and Pedro Almodóvar, Academy Award-winning composer Hildur Guðnadóttir, and Academy Award-winning sound designer Ben Burtt. There will be a gallery devoted to The Wizard of Oz, covering every aspect of the film's creation, from screenwriting to production. ... Another will be the Oscars Experience, where you can simulate the experience of walking on stage and accepting an Academy Award."
Overheard
"[We] started to realize that we had this great group of people who can bring so many of the things that are essential to the restaurant experience right into peoples' homes. This sense of story, discovery, surprise, all the things we used to take for granted at a good restaurant."
—Josh Sugarman, head of experiential entertainment company Ravel, talking to Eater about the launch of Vampire Pizza. The "interactive food experience" includes pizza delivery along with an at-home, clues-based mystery game with a vampire theme. A portion of proceeds goes toward the League of Experiential and Interactive Artists GoFundMe page.
Venue Buzz
LVMH plans to build a 115-room hotel on Rodeo Drive, slated to open in 2025. Robb Report: "While this area is replete with high-end hotels, including the iconic Beverly Hills Hotel and the Beverly Wilshire, the Cheval Blanc is vying to be even more exclusive. The hotel will feature oversize suites, two swimming pools—one of which is a private penthouse pool—plus a private club. Rather than focusing on banquets or conference facilities, LVMH will capitalize on its nearby network of high-end restaurants, spas, and retailers to sate guests."
Spago Beverly Hills has joined the growing list of restaurants selling produce boxes in an effort to support local farmers. Spago's box sells for $55, and each day will feature different, handchosen items. Local favorites such as République and Jon & Vinny's are also selling boxes filled with fresh fruits, herbs, and vegetables.
On the Scene
The Wilshire Grand Center is using its rooftop LED installation to thank the city's medical workers.