How Activity Venues Are Catering to Corporate Clients
Arcades, bowling alleys, and other activity venues are building in meeting space to let groups mix work with fun.
July 21, 2015
Catering to groups that want to mix work and play, bars and lounges with games at the center of their concept are ­proliferating as venues for private events. These interactive venues offer teambuilding activities, a variety of meeting spaces, and signature food and beverage ­packages—all perks that cater to the corporate client.
When it opened in a former metal shop in Brooklyn in 2004, Barcade coined the term that defined a new genre of venues: part bar, part arcade. The company trademarked the name in 2007. Since then, the arcade bar known for vintage video games and American craft beer has expanded with locations in Jersey City, New Jersey, Philadelphia, and two new Manhattan outposts. Barcade's 3,500-square-foot bar in Chelsea draws nearly 50 percent corporate groups on weeknights.
"Our success was definitely a surprise. We expected that we might find a niche as a place for people that enjoy craft beer and/or classic arcade games," says C.E.O. and co-founder Paul Kermizian. "But it took us a while to feel like we could expand our company and open more locations. Once we did, we really saw that it was a model that could work in other cities."
Locations in New Haven, Connecticut, and Los Angeles are in the works, and Kermizian says Barcade is a natural fit for groups. "Part of our appeal for corporate groups, and groups in general, is that it offers an alternative and something different than simply 'a place to watch the game,'" he says.
Located in Oakland, California, Plank offers 50,000 square feet of indoor and outdoor space that includes 12 bowling lanes, three 60-foot boccie courts, billiards, arcade games, fire pits, and picnic-style seating. The venue also has dedicated meeting space, anticipating that corporate groups would want one place where they could work and then unwind.
Plank's largest private space, the Boardroom, holds as many as 1,000 guests for receptions, offers a six-lane boutique bowling area with HD TVs, cozy sofa seating, and a lounge area. It also has a rooftop deck offering bay views, billiard tables, and ample space to mingle with colleagues or clients. The concept seems to be working: about 85 percent of Plank's private event business comes from corporate clients who hold company retreats, receptions, and celebrations there, according to Bennie Thomas, director of sales and marketing.
With a name inspired by the classic video game Pac-Man, Level 257 is a huge 42,000-square-foot playground outside of Chicago in Schaumburg, Illinois, with private event space for receptions of 400 people. Corporate clients, who account for about 70 percent of the arcade lounge's event bookings, can entertain with 16 bowling lanes, retro video games, and catering that ranges from a casual brunch to an intimate wine-paired dinner hosted by a sommelier. The venue also offers meeting and conference space equipped with audiovisual technology for presentations. One meeting room is designed with stadium seating, an unusual setup for the area, says Michelle Fratto, group and event sales manager.
Providing a compelling meeting venue for corporate groups was part of the plan for Pinstack, a 50,000-square-foot bowling alley and entertainment venue in West Plano, Texas, near Dallas. Pinstack is massive enough to hold several corporate events at once.
"Realizing the potential of the corporate market with the bowling addition, we looked for the right location to do a more upscale restaurant concept combined with a luxury bowling and entertainment center for quite a while," says Mark Moore, president and C.E.O. of Entertainment Properties Group. "We spent a lot of time making sure not only the location, but every aspect of the project, including a top-notch corporate sales team, was perfect for our clients."
The massive game bar has 28 bowling lanes with lane-side food and beverage service. A V.I.P. space with eight private bowling lanes holds as many as 180 guests and is suitable for meetings, product launches, networking events, and award banquets.
Additionally, there's a two-level laser-tag arena, a rock-climbing wall, a high-ropes course, a full-service restaurant, and a 2,500-square-foot covered patio with its own 20-foot bar. A new location in Fort Worth will open in 2016.
A more unusual game concept is BATL, which stands for the Backyard Axe Throwing League. With locations in Canada including Toronto and Calgary and soon Ottawa this fall, the concept has expanded quickly since it launched in 2006 and attracts a strong corporate clientele, says Nick LaFace, general manager of the company's fifth location in Kitchener about an hour outside of Toronto.
The first 45 minutes of each event at BATL are for private coaching and instruction on proper throwing technique. From there, the group is divided into pools for a round-robin tournament and play-off. One guest is crowned champion. 
"We've been successful with our corporate clients because of the strong social and competitive aspect of what we do," LaFace says. "This creates an even playing field between all of our guests, no matter what their role is within an organization."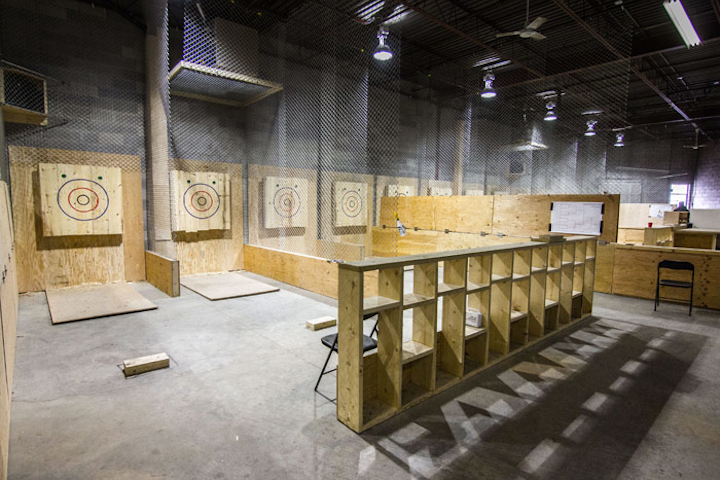 Photo: Courtesy of BATL Yorkdale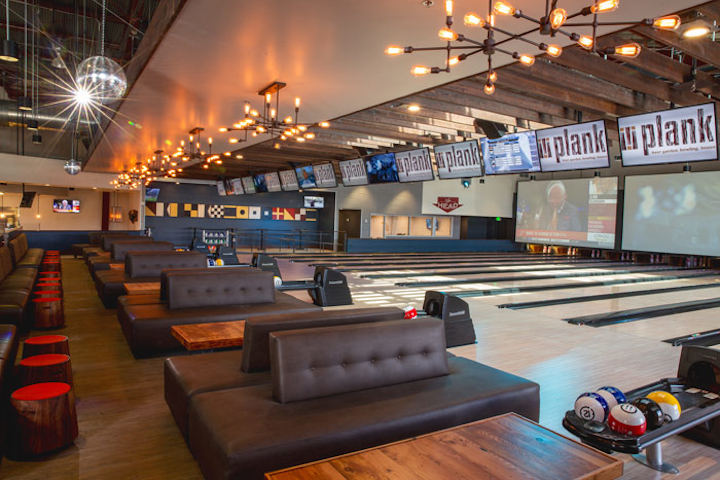 Photo: Aubrie Pick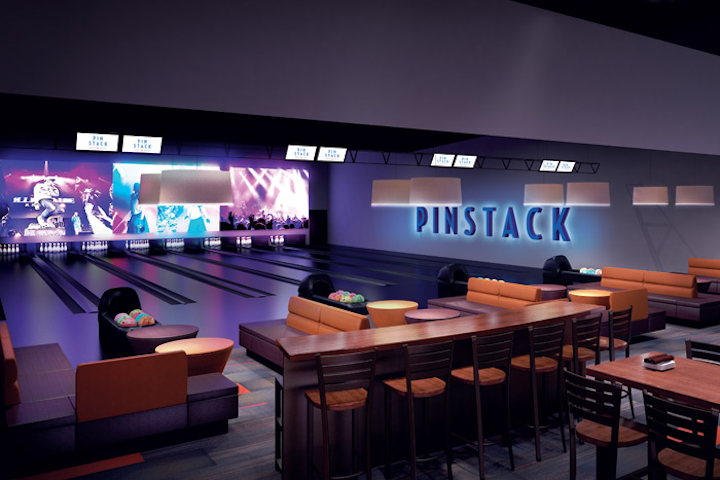 Rendering: Courtesy of Pinstack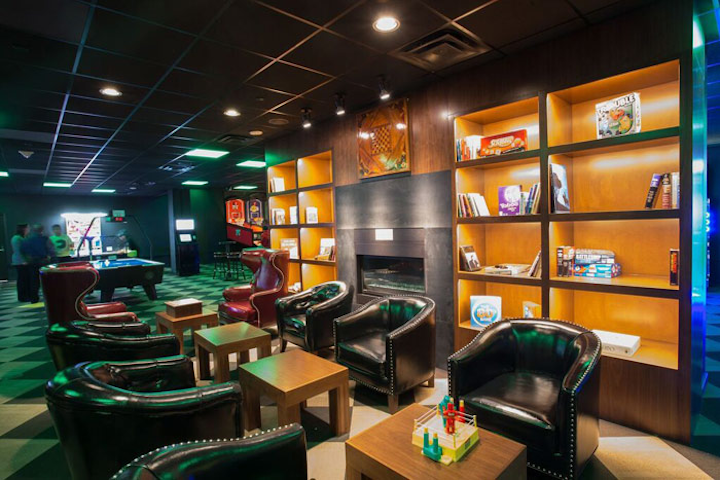 Photo: Courtesy of Level 257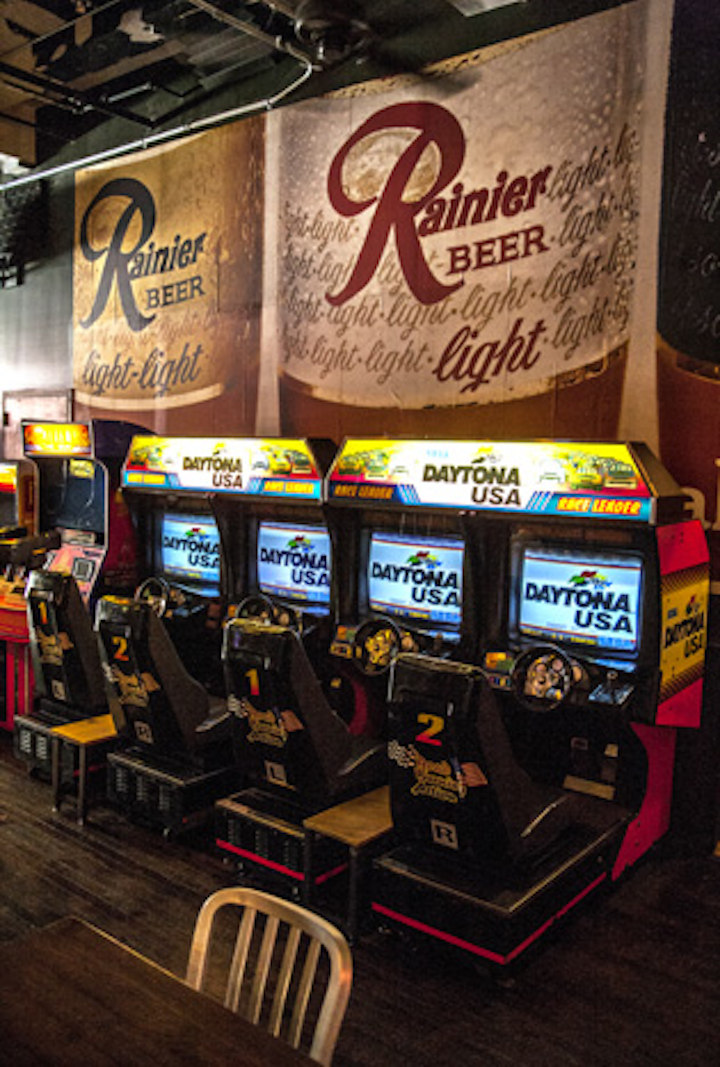 Photo: Courtesy of Barcade
Featured Venues/Suppliers: