How Hurricane Sandy Is Affecting the Event Industry
October 29, 2012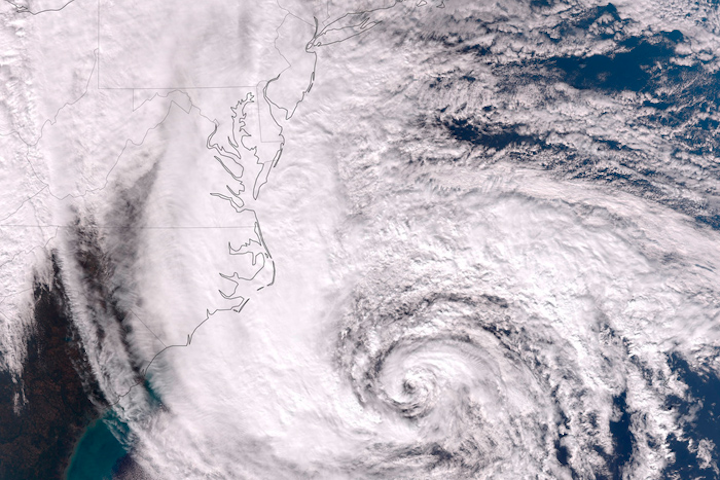 We're posting news from our editors and other news outlets about how Hurricane Sandy is affecting the event and meeting industry. Tell us what you're seeing: tips@bizbash.com.
NEW YORK VENUES AND VENDORS MOVE FORWARD: From news editor Anna Sekula: After Hurricane Sandy knocked out power, flooded entire neighborhoods, and pummeled the region with winds of as much as 80 miles per hour, New York's event and meeting sector was left scrambling in the early part of last week. Venues and vendors faced last-minute cancellations, water damage, electrical outages, and transportation delays to deliveries, while the city struggled to restore its infrastructure. This week, while some area residents are still dealing with the loss of property and power, most of the industry is back on track, with just a few still unable to resume operations.
Venues in neighborhoods including the financial district, west Chelsea, and Dumbo faced the biggest challenges. Downtown, the Glazier Group's 27,000-square-foot South Street Seaport venue Bridgewaters is still without power, and hotels including the Ritz-Carlton Battery Park, W Downtown, and Andaz Wall Street remain closed. The closures are expected to be temporary, with the properties looking to reopen later this week and over the weekend, depending on when heat will come back on and supply deliveries can be made.
Conversely, the Conrad New York, which evacuated the Sunday before the storm, reopened October 31, and Cipriani Wall Street was operational Sunday and being readied for Wednesday night's Enterprise Community Partners gala. Read the full story here.
(Posted November 7, 2012, 5:55 PM EDT)

PLANNERS DISCUSS INDUSTRY RESPONSE TO SANDY: From editor in chief Chad Kaydo: BizBash and NYC & Company co-hosted a meeting of about 40 event professionals on Tuesday afternoon to share information about Hurricane Sandy's impact on events and meetings. Held at the Sentry Center conference facility on Seventh Avenue, the meeting effectively took the temperature of the industry as it begins to formulate a response to the economic impact of the storm.

NYC & Company C.E.O. George Fertitta opened the meeting with an overview of the convention and tourism bureau's efforts so far and stressed the importance of balancing concern for the people most affected by the storm with the importance of communicating that New York is largely back to business as usual: "We do not want to be in a situation where we send a message that keeps people away."

Fertitta and other event professionals stressed the point that for out-of-town hosts, spending money on events and meetings here is one way to help the city recover. Read the full story here.
(Posted November 6, 2012, 6:55 PM EDT)

MORE NEW YORK EVENTS CANCELLED: With electricity returned to most of the city and many of the subway lines in service, New York is getting back on its feet just a week after Hurricane Sandy hit. Still, the super storm's impact on the event and meeting industry continues, with events like the ING New York City Marathon cancelled as late as Friday evening.
For some planners, cancellations and postponements were the result of damage to their host venue as well as power outage issues that prevented producers from setting up. "Without power, we have not been able to make preparations for the evening, and at this point we simply can't be sure that the building will be safe and ready on Monday to accommodate guests," said the New York Public Library's president and C.E.O., Anthony W. Marx, in a letter sent on Friday to guests of the Library Lions gala scheduled to take place on Monday night. "Further, with so many New Yorkers in need right now, we are also exploring how to put the food from our gala to good use."
Venue and vendor closures also impacted the Joe Torre Safe at Home Foundation's 10th anniversary gala, slated for Thursday, November 8, at Pier 60 at Chelsea Piers, and New York magazine's New York Taste, a food event that was to take place at the Waterfront in west Chelsea. In a post on its food blog, Grub Street, the magazine explained the cancellation of its November 5 affair was due to "storm-related difficulties presented to both the venue and participating chefs," and, given "logistical constraints," rescheduling the affair for later this year wasn't possible. Read the full story here.
(Posted November 5, 2012, 3:35 PM EDT)

MORE MARATHON NEWS: The marathon's organizer, the New York Road Runners, blamed the need to cancel the event on the media, not the storm. New York Post: http://bit.ly/TBQxwi

While marathon organizers and Deputy Mayor Howard Wolfson said last week that assets from the canceled event would be distributed to help residents affected by the hurricane, 19 generators that were to be used for the marathon were left unused and not put toward powering homes. New York Post: http://bit.ly/TpT9Le

We'll continue to track the event hosts' decisions to cancel or move forward with events this week, as well as other effects of the storm. Let us know what you're doing: tips@bizbash.com.
(Posted November 5, 2012, 12:35 PM EDT)

MARATHON CANCELED: Late Friday afternoon, Mayor Michael Bloomberg announced the ING New York City Marathon would not be held Sunday, a reversal of the decision made earlier in the week that he said had become "a source of controversy and division." Associated Press: "'We would not want a cloud to hang over the race or its participants, and so we have decided to cancel it," the mayor said in a statement. "We cannot allow a controversy over an athletic event—even one as meaningful as this—to distract attention away from all the critically important work that is being done to recover from the storm and get our city back on track.'" http://apne.ws/SF3hSX

Earlier in the day, Ad Age reported that consumers were starting to criticize the marathon's sponsors for being involved, posting photos of Hurricane Sandy's damage on Facebook and making angry comments via Twitter. http://bitly.com/RAtz4o
(Posted November 2, 2012, 6:05 PM EDT)

MARATHON CONTROVERSY: The New York Times: "Amid intensifying criticism, New York Road Runners continued Thursday to prepare for the New York City Marathon with an abbreviated schedule of events leading to the race." Critics say police, fire, and other public services should be focused on relief efforts. Mayor Michael Bloomberg says the impact will be minimal, and marathon chief executive Mary Wittenberg "said the race would be used as a platform to lift spirits and raise money." N.Y.R.R. plans to donate $1 million, and the Rudin Family and ING, two sponsors, will donate a combined $1.6 million to storm relief. http://nyti.ms/Vf6KcW
(Posted November 2, 2012, 12:35 PM EDT)

BRANDS HELP OUT: Many media companies are pulling resources for fund-raising or donating directly to those in need. NBC Universal will air a fund-raising special tonight to benefit the American Red Cross on USA Network, Bravo, and E!. Ad Age: http://bitly.com/Rxk7AM

Battery company Duracell brought a power-relief center to lower Manhattan and took its Rapid Responder through New York and New Jersey. Both allowed locals to charge phones and computers and get extra batteries for flashlights, radios, and the like. Ad Age: http://bitly.com/TnnUym

Wedding magazine The Knot created a Facebook page this week to help brides whose wedding plans were disrupted. The magazine estimated that 2,300 weddings were put on hold. The page aims to connect brides with wedding planners, vendors, and venues to replan wedding day celebrations. Mashable: http://bitly.com/RwGQwP
(Posted November 2, 2012, 12:35 PM EDT)

NEW YORK EVENTS RESUMING NEXT WEEK: From news editor Anna Sekula: Hurricane Sandy may have had a devastating impact on events in New York this week—prompting planners to cancel or postpone major conferences, fund-raisers, and other gatherings—but the disruptions to scheduling appear less pronounced for next week. 

In fact, despite an evacuation order and taking on water during the storm, the Jacob K. Javits Convention Center was one of the first major venues to reopen, resuming operations late Tuesday evening to allow the ING New York City Marathon and Fitness Expo to set up in time for its Thursday-morning kickoff. According to the convention center, all shows starting the week of November 5 will take place as planned, including Ad:Tech and the International Hotel, Motel & Restaurant Show. 

"A surprising number of people are going forward with their events," says Bentley Meeker, owner of the eponymous lighting and staging company based in Manhattan. "While we also have a few postponements, we have very little in the way of cancellations. I think it really speaks to the value of events as a marketing tool that we don't have more cancellations." Read the full story here.
(Posted November 1, 2012, 5:56 PM EDT)

BOSTON EVENTS RESUMED AFTER TUESDAY: From associate editor Jenny Berg: Although Hurricane Sandy certainly made its presence known in Boston—most businesses were closed on Monday, and there were several event cancellations early in the week—the worst of the storm had passed by Tuesday. As we head into the weekend, we're hearing that things are pretty much back to normal.

Emily Assender, the London-based event director at FC Business Intelligence, however, was one of the not-so-lucky planners. She spent the past six months planning the NFC Payments USA conference, which was set to take place at Boston's Revere Hotel on Monday and Tuesday. As the storm neared, Assender got word that more than 20 of the scheduled keynote speakers would be unable to attend. "We could not present half a product when people had paid a large sum to attend the event—some, mainly for the exceptional networking opportunities which were no longer available," she said. 

Ultimately, the conference was called off late Sunday afternoon. "We knew of the impending hurricane; we were just waiting on confirmation from the U.K. office to cancel," Assender said. "We had to make sure there was absolutely no way to run it before canceling in order to claim insurance."

Assender is planning another event in Miami in December and will try to reschedule the Boston conference around the same time to knock out both functions "in the same go." Still, she's feeling rather busy. "This is doubling my workload at the moment, and it's already an incredibly busy time," she said.

Bryan Barbieri, director of public relations at the Revere Hotel, reported that earlier in the week several other events scheduled at the venue, including private dinners and a job fair, had been canceled or postponed as well. 

Melissa Jones Giese, an account director at Conventures, had better luck this week. She emails: "We had a fund-raiser on Tuesday night that raised over $1.25 million for the Adopt-a-Student foundation here in Boston." The foundation is the fund-raising arm of Cathedral High School in the South End.

The event drew some 450 guests. It was "an enormous team effort spanning the weekend and Monday to confirm guests and to make sure that the room was full," Jones Giese said.

The sole side effect of the storm? "The only glitch was that a box of chocolates did not arrive from New York City."
(Posted November 1, 2012, 5:21 PM EDT)

WASHINGTON EVENTS BACK TO NORMAL: From senior editor Melissa Ward Schorsch: As residents, transportation, and events continue to recover in New York and New Jersey, Washington has come out from Hurricane Sandy mostly unscathed with few to no problems for the event community. 
Before Sandy made her mark on the East Coast, we reported that the only change in plans for tonight's Knock Out Abuse and Fight Night benefits was in the form of increased transportation services thanks to Uber. Luckily, the related fund-raisers have continued without any issues aside from needing to reissue tickets for guests coming from New York. New Yorkers' tickets did not arrive in the mail due to the storm, so guests will now need to pick them up at will-call.

As for events this week and next, Benji Tschudin of Atmosphere Lighting emailed: "Things are pretty much the norm, to be honest. All the gigs this weekend and next week's pre-election night stuff is all happening."

Suzi Molak, events director at Long View Gallery, said earlier in the week that no precautionary plans or secondary plans were put in place for an event scheduled for Thursday. "Things are running as planned and without interruption," she confirmed today.

Design Foundry founder Annie Senatore said that while her company wasn't affected much by Hurricane Sandy, there will still be consequences. "Where it's going to be a knock on effect is supplies for future events," she said. "For example, we have orders for new furniture, fabrics, etc., which are all coming from either Jersey or New York, and those are going to be backed up, of course. So we are offering our clients other options just in case. Most clients are being O.K. about it and willing to take a substitute." 

Likewise, another Washington-based PR executive emailed that things are mostly back to normal: "Truthfully, our biggest headaches are not being able to get in touch with our New York contacts, most of whom have servers out, etc."
(Posted November 1, 2012, 4:45 PM EDT)

SOUTHERN JERSEY EVENT COMMUNITY IN STATE OF EMERGENCY: From style editor Lauren Matthews: Kris Sumey, creative director of Event FX Productions and current president of ISES New Jersey South, reports that New Jersey shore towns like Ocean City, Ventnor, and Margate are submerged in water, sand, and debris, and remain under a state of emergency, along with Atlantic City, where the casinos remain closed today. While safety is of primary importance, Sumey says the devastation has already been a huge loss for the event community on the barrier islands and shore cities that are experiencing enforced evacuations, since the down season is typically when businesses and vendors rely on events and meetings to stay in business.

Kris says: "Many of the casinos had Halloween parties scheduled with expensive theme decor [that were] cancelled along with many other private events and concerts. It appears that most casinos have not sustained much interior damage, however rooftops and upper floors were damaged, and parking lots and surrounding areas are flooded.

"Word on the street is that Thursday or Friday is possible for reopening, but Governor Chris Christie is most concerned with safety. It's traditionally the down season where tourists go back to their hometowns and businesses and venues rely on the event community and locals to stay in business. Event planners, decorators, and destination management companies with tours and events either booked or in booking process already feel the impact, as do I, since many people are concerned about coming here now or in the immediate future.

"The best way the event community can help at this time is to [stay tuned] for reopening and come back! We are battered, not broken. Our communities...will definitely rebuild.The bright lights of Atlantic City seen from many of these shore towns will soon light up the sky again. We, as an event community, have to stand together to first believe, and then help our clients and potential clients believe, that if the doors are opened, they should come."
(Posted November 1, 2012, 1:50 PM EDT)

VENDORS, VENUES UNDERSTANDING ABOUT CANCELLATIONS—TO A POINT: From managing editor Ellen Sturm Niz: As planners, vendors, and venues navigate event cancellations and postponements caused by Hurricane Sandy, they're likely invoking force majeure contract clauses that reduce or eliminate the liability of one or both parties due to an extraordinary event or circumstance—such as an "act of God" natural disaster like a hurricane.

Our editors have heard most venues and vendors are being understanding and working with event planners and producers to figure out solutions for events affected by Hurricane Sandy.

"All vendors have been 100 percent understanding," said Kirstin Turnbull of Starshot, an event marketing agency in Toronto, who had to cancel events in Boston and New York because of the hurricane, though some "cost complications" were unavoidable. For example: "We had to send the A.V. truck to Boston just in case the event were to take place. We ended up having that truck turn around en route. Thankfully, all airlines provided full refunds and credits for travel."

Turnbull is looking into when force majeure clauses apply and for how long, but she doesn't expect her approach to contracts will change much as a result. "I personally will be looking more closely at cancellation clauses and the timelines associated," she said. "It is always ideal that we aren't penalized for postponement only."

"We have only had postponements, and we are honoring date switches with no penalties," said Jennifer Blumin, president of Skylight Group, which has several New York venues that were not damaged in the storm. Although she's not sure legally how long "act of God" clauses apply, she said, "in terms of doing the right thing, as long as it takes."

"We're giving clients for events this Saturday and Monday the option of cancelling by November 1 without penalty," said Scott Fagan of New York's Tip of the Tongue Caterers, which survived without a scratch due to its third-floor location in Long Island City. "After that, no refunds."

"Honestly it's a case-by-case basis when it comes to clients getting refunded," said Loren Michelle of Brooklyn-based catering firm Naturally Delicious. "I have a disaster clause in the contract—we're not obliged by acts of God to make an appearance. [But the] most important thing is communication and creating the expectation that you have to be flexible. You want to create goodwill and not lose business."

However, Michelle said she would have to bill clients for any food she has already purchased for a cancelled event: "That's why clients should get event insurance." But, Michelle added, "Any vendor insisting on cancellation fees is a sleazy vendor."

For more on force majeure clauses, check out this 2007 BizBash story: "How Venue Contracts Are Changing." 
(Posted November 1, 2012, 1:05 PM EDT)

EVENT PROS LOOK TOWARD NEXT WEEK, TENTATIVELY: From editor in chief Chad Kaydo: As transportation services continue to resume in patches in the New York metro area, and power begins to be restored to those who lost it Monday, business events have largely been cancelled this week. Now the question on the minds of event pros seems to be, what happens next week?

A friend emails: "We have a HUGE event coming up next week…Any idea what others are doing? Want to have the event, but can't do it if the power's out…there's no way it will take that long to get power back…right?!?"

The short answer, of course: It's too soon to tell for sure. But the planners, vendors, and venue managers we're speaking to say many events are tentatively still going on, as hosts evaluate their individual situations.

Jennifer Blumin, president of Skylight Group, which has several event spaces in New York that were not damaged: "Everything for next week is still on, but clients are assessing."

Are you going forward with events? Rescheduling? Let us know: tips@bizbash.com.
(Posted November 1, 2012, 12:25 PM EDT)

EVENT VENDORS HELPING EACH OTHER RECOVER: Last night New York-based event designer David Beahm emailed: "Within minutes of hearing that our production studio had flooded (thankfully, not horribly), Michael Day, Jes Gordon, Shawn Rabbideau, and Michele Rago had all volunteered their spaces and assistance. Knowing that I was trapped out of town and that our offices were not usable, Ed Libby personally invited my staff to his home for electricity, Internet, and a shower. With five jobs facing us this weekend, how could anyone call these fine people 'competition?'"

And from Jennifer Blumin of the Skylight Group: "We have joined with industry partners Creative Edge, Rainbow Broadband, and Bentley Meeker Lighting & Staging to set up workstations for about 70 people in the Studio at Skylight West. (The Gallery at Skylight West is being made into a temporary kitchen for Creative Edge, who has been displaced by the storm.) We'll have power strips, tables, chairs, Wi-Fi, and hot coffee starting at noon [Thursday] and 10 a.m. to 6 p.m. on Friday. This is reservation-only at this point…We don't want to let power issues prevent the event industry from getting back to work!"
(Posted November 1, 2012, 11:03 PM EDT)

NEW YORK-AREA VENUES LOOKING TO BE OPEN NEXT WEEK: From style editor Lauren Matthews: The flooding and loss of power following Hurricane Sandy has resulted in temporary shutdowns of event venues and hotels across the tristate area. We won't know the full scope of the situation for a few days, but based on conversations with several venue managers, it seems many venues in New York's Zone A are assessing and cleaning up damages and hoping to reopen by next week. (Some, like Galapagos Art Space in Dumbo, are planning to open their doors by Friday).

Liz Bickley at the Park Avenue Armory on the Upper East Side: "The Armory's been pretty lucky…[when the storm hit on Monday] we were in a load-in period for an art show that was supposed to open tonight. The opening was pushed back to tomorrow and it's been business as usual."

The boardwalk in Atlantic City was hit harder than the New York waterfront, but still, according to news reports, the 12 waterfront casinos made it through unharmed for the most part (reporting just broken windows, small water leaks). Casino regulators are visiting on Wednesday to determine when the casinos can reopen. (The larger question is whether patrons or employees can get to the casinos.)

According to the Associated Press, the shutdown is costing casinos a collective $5 million a day in lost revenue. The last time the casinos were ordered closed was in August 2011, due to Hurricane Irene, resulting in an estimated $45 million in lost business.

Congress Hall in Cape May, New Jersey, reopened for business on Wednesday. General manager John Daily: "No events were affected nor cancelled. There are three weddings this weekend and everyone is coming. Since there are no cancellations there are no issues to deal with. [But in the case that there were cancellations,] the language in our contracts is standard and allows both parties mutual opportunities to reschedule events."
(Posted October 31, 2012, 4:42 PM EDT)

MORE NEW YORK EVENTS CANCELLED THIS WEEK: As transportation services start to resume but vast sections of the New York metro area remain without power in the wake of Hurricane Sandy, business events are largely being cancelled for the remainder of the week.

Lucky magazine today cancelled the Lucky Shops V.I.P. event scheduled to take place Thursday night at 82 Mercer Street in New York.

The Mashable Media Summit, a one-day conference scheduled for Friday at the Times Center, is postponed until November 30. PR manager Lexie Riegelhaupt emailed: "We understand the importance of going back to normal, however, we made the decision to reschedule due to the state of emergency in NYC, the difficult transportation conditions, the power outage experienced in many areas, and because we want to ensure that everyone is safe."

Another tech-related conference, Uncubed, scheduled for Thursday and Friday, has also been postponed.

While Broadway shows were set to resume performances today, the Greenwich Village Halloween parade planned for Wednesday and the Knicks-Nets game on Thursday at the new Barclays Center in Brooklyn have been cancelled.

We may see business events resume next week; the New York City Marathon is currently scheduled to go on as planned Sunday.

Are you canceling or going forward with events in Hurricane Sandy's path? Let us know: tips@bizbash.com.
(Posted October 31, 2012, 4:20 PM EDT)

STARR TENT PLANNING TEMPORARY VENUE IN NEW YORK: Will Madison of Starr Tent emailed to say the company is working to get up a temporary structure in New York's Meatpacking District for event hosts unable to use their planned locations due to damage from Hurricane Sandy: "As soon as [New York's Department of Buildings] is reopened we have our applications ready for permitting." The proposed structure, at West 13th Street and Washington Street, would be 82 feet by 100 feet. Details at info@starrtent.com.
(Posted October 31, 2012, 3:36 PM EDT)

STARTUP TECH CONFERENCE: THE SHOW MUST GO ON, UNTIL IT CAN'T: From editor in chief Chad Kaydo: On Monday, Ben Hindman, a producer of Uncubed, a conference for tech startups scheduled to take place at the Altman Building in New York Thursday and Friday, expressed concern about getting expected speakers from the likes of Meetup, Fab, Warby Parker, and Google to make it.

But Hindman, the C.E.O. of One Clipboard, was committed to moving forward with the event: "I've thrown events in monsoons, hurricanes, blizzards, and heat waves. ... I think any event planner that is worth his/her salt would agree, the show must go on."

Post-hurricane is another story, though. Hindman emails: "After all that big talk …. the venue got flooded. New dates [are November] 12 and 13. All speakers the same. Bummer."
(Posted October 31, 2012, 2:26 PM EDT)

EVENT VENDORS IN RED HOOK HELPING EACH OTHER RECOVER: From style editor Lauren Matthews: The Red Hook neighborhood in Brooklyn, a place where many event-related vendors have studios and storefronts, experienced serious storm damage due to flooding from the hurricane. (Among the vendors there include Baked, the Red Hook Lobster Pound, Saipua, and Kerry Quade: Handmade Quade.)

Matt Lewis of Baked has been active in keeping area businesses informed on how to apply for federal assistance. The Red Hook Initiative (located at 767 Hicks Street, which has power and didn't experience flooding) is working with the community to coordinate volunteer resources for residents and businesses to aid with clean up as well as providing meals, water, flashlights, and a place to charge phones. They are currently accepting donations of non-perishables, candles, flashlights, and more.

Kerry Quade emails: "I have to say as far as the event community goes, Twitter was a great resource to stay connected, ask for help, and find out information. Personally I feel very fortunate that my weekend wedding is going on as planned, the venue has electricity (this has been an issue with planners looking for alternate options) and the couple is ready to go! I have had an outpouring of support from fellow event folks as far as work space and such."
(Posted October 31, 2012, 2:07 PM EDT)

NEW YORK MARATHON GOING FORWARD, WITH CHANGES: The New York Times: "Mayor Michael R. Bloomberg—a marathon booster because it generates hundreds of millions dollars in economic activity—said Tuesday night that the race would go on as scheduled, but that additional details would be provided Wednesday…Race officials were weighing which race-related events to reschedule or eliminate, and waiting to see how many runners would seek to defer their entries."
(Posted October 31, 2012, 1:56 PM EDT)

SANDY CANCELS BENEFITS FOR WHITNEY, WNYC, OTHERS: Bloomberg: "Arriving in one of the busiest weeks of New York's social season, Hurricane Sandy forced dozens of nonprofits to cancel their fund-raisers. Vendors and nonprofits will have to work out the financials of the situation and determine their next steps." Among those with benefits cancelled this week: the Studio Museum in Harlem, New York Public Radio, and the Breast Cancer Research Fund.

On Monday, when the Whitney Museum of American Art decided to postpone its fall gala and studio party (slated to take place at Pier 57 on Tuesday), special event director Gina Rogak told BizBash news editor Anna Sekula, "We're determined to reschedule!"
(Posted October 31, 2012, 1:21 PM EDT)

THURSDAY EVENTS STILL GOING ON: From editor in chief Chad Kaydo: We're getting business-as-usual press releases about a couple events happening on Thursday in New York: In addition to the Uncubed conference (see below) at the Altman Building, Lucky magazine is going ahead with its Lucky Shops event at 82Mercer, hosted by Jennifer Hudson. And Performa still plans to go ahead with its gala at SIR Stage 37.
(Posted October 29, 2012, 5:20 PM EDT)

DEALING WITH CANCELLATIONS: We asked fans of our Facebook page how Sandy 
is affecting their event work. Dreamworld Backdrops by Dazian posted this: 
"Many of our rental clients have been allowed to keep our backdrop rental 
orders for an extra week when available because their events will soon be 
rescheduled for next week. We do not penalize our customers for acts of mother 
nature. We sympathize and understand." Read more and post your own comments on 
our Facebook page.
(Posted October 29, 2012, 5:10 PM EDT)

THANK GOD FOR ACT OF GOD CLAUSES: From managing editor Ellen Sturm Niz: "All 
vendors have been very understanding, as far as I know, and expected this news 
once the forecasts became clear," emailed Karyn Margolis, senior manager of PR 
and communications for the Avon Foundation for Women, which made the decision 
yesterday afternoon to cancel Tuesday's Avon Foundation award gala. "The 
impossibility clause in our event contract with the Marriott Marquis went into 
effect due to an Act of God, so we have no expense liability at the Marriott.



"We made the difficult decision to cancel yesterday afternoon and sent out [an 
email message] to our attendees and communicated directly with our honorees 
and V.I.P. attendees," Margolis wrote. "We also used our Web site and social media 
channels to communicate (hashtag #avongala)." 



The event was to feature a cocktail reception, dinner, award presentation, and 
special performance, hosted by singer Fergie and Avon C.E.O. Sheri McCoy. "We 
do not have plans to reschedule at this point," Margolis wrote.
(Posted October 29, 2012, 4:05 PM EDT)

ADWEEK AWARDS POSTPONED From West Coast editor Alesandra Dubin: Los Angeles-based Matt Stoelt and Stoelt Productions yesterday cancelled their trip to New York, where they were scheduled to produce Adweek's Brand Genius awards tonight at the Edison Ballroom. Load-in was scheduled for 9 a.m. Monday morning, and New York Mayor Michael Bloomberg was going to be honored. Going into the weekend, Adweek had no plans of pulling back, and Stoelt said vendors were reaching out to him this weekend in the hopes that they could deliver to the venue early and beat the storm. But by Sunday morning Adweek conceded and confirmed a new date of November 28 at the same venue.
(Posted October 29, 2012, 2:40 PM EDT)

CONRAD NEW YORK EVACUATED: From news editor Anna Sekula: Hilton Worldwide has evacuated the Conrad New York—the hotel is in a designated evacuation zone—and moved guests to sister properties in Midtown, such as the Hilton New York. The Conrad will remain closed until Wednesday, and Hilton is waiving cancellation fees for reservations and early departure charges for hotels in affected areas.
(Posted October 29, 2012, 2:25 PM EDT)

WHEN WILL FOOD SUPPLIES GET THROUGH?: From associate editor Mitra Sorrells: The storm is huge and slow-moving, making it hard to say when hotels, conference centers, and caterers will be able to resume services. Sysco Corporation is one of the largest national suppliers of food products to restaurants, hotels, and meeting facilities. The company's vice president of corporate communications, Charley Wilson, sent this statement regarding the effect of the storm on operations: 



"As you can imagine, we've been watching this storm—and planning for its possible effects—for several days. We have been working closely with our customers in the mid-Atlantic and Northeast states, as well as in Canada, to understand their needs for the upcoming week. 



"Sysco has already provided many customers additional food and supplies in anticipation of the storm. These are typically items that won't spoil in the event of a loss of power. Additionally, we've consulted with our customers to understand the amount of refrigerated and frozen items that they might need both before and after the storm.



"Some of our trucks and trailers are already loaded with non-perishable products in positions where we can quickly reach customers when the storm passes. As for our warehouses, we have a backup supply of fuel and generators in place to ensure we can keep products fresh and deliver in a timely manner to our customers and to assist the relief agencies. As soon as the roads and routes are determined to be safe, our delivery people and vehicles will be out to provide assistance and to help people get things back to normal."
(Posted October 29, 2012, 2:20 PM EDT)
FUND-RAISERS UPPING TRANSPORTATION: From senior editor Melissa Ward Schorsch: The Knock Out Abuse and Fight Night galas—a pair of related Washington fund-raisers scheduled for Thursday night—are preparing for how hurricane Sandy might affect them by increasing car transportation for guests. Event planner Andre Wells was already working with car service Uber. Now that Sandy is on her way, Wells and Uber plan to increase car service presence to help attendees get to and from the night's festivities. Although the event was expected to bring out about 600 guests, the number given to the Ritz-Carlton today was lowered to 400. Wells hopes the increase in Uber services will make attendees feel more comfortable about heading to the event. 
(Posted October 29, 2012, 1:20 PM EDT)

NEW YORK STARTUP CONFERENCE STILL ON: From editor in chief Chad Kaydo: Ben Hindman, a producer of Uncubed, a conference for tech startups scheduled to take place in New York Thursday and Friday, says he's going forward with the event. He emails: "I'd say I'm most concerned about the speakers not being able to attend. They are all very important C.E.O.s and founders, and after taking two days, I'm nervous that they won't be able to take the day off on Friday to come speak." Executives from Meetup, Fab, Warby Parker, and Google are among the expected speakers.

Another concern: "Ticket sales have slowed down a bit—we think it's because of the impending storm. Some of our planned press coverage got canceled because of the storm and the election. So that didn't help.

Still, for now, Hindman, the C.E.O. of One Clipboard, is sticking to his plan, as so many event pros do. "I've thrown events in monsoons, hurricanes,  blizzards, and heat waves....I think any event planner that is worth his/her salt would agree, the show must go on."
(Posted October 29, 2012, 1:05 PM EDT)

CONFERENCES POSTPONED: From news editor Anna Sekula: Both Women's Wear Daily and Folio have postponed conferences planned for Monday. WWD's Apparel & Retail C.E.O. Summit was to take place at the Plaza hotel Monday and Tuesday; organizers plan to reschedule the event, but no date has been set yet. Folio's MediaNext, a multi-platform convention for the publishing industry at the Marriott Marquis, is rescheduled for January 8. In a post on the Folio site, the magazine's general manager Tony Silber said the decision was a "difficult" one to make.
(Posted October 29, 2012, 12:55 PM EDT)
WHITNEY GALA POSTPONED: From news editor Anna Sekula: The Whitney Museum of American Art has postponed its fall gala and studio party, which was slated to take place at Pier 57 on Tuesday. The art institution plans to host the event—one of its largest annual fund-raisers—at a later date and is currently looking for a spot on the calendar that works for its leadership, honoree, and sponsors. Gina Rogak, the Whitney's director of special events, said, "We're determined to reschedule!" The museum is also offering a full refund to guests who purchased tickets to the studio party.
(Posted October 29, 2012, 12:35 PM EDT)

PERMITS PULLED ON NBC ROCK CENTER EVENT: From associate editor Mitra Sorrells: NBC and Jack Morton Worldwide have halted work on Democracy Plaza at Rockefeller Center due to Hurricane Sandy. In an email, Cristina Calzadilla, Jack Morton vice president and director of PR and communications, stated: "NYC pulled permits on all outdoor builds/projects until the weather improves. Construction has been delayed due to Hurricane Sandy, but will resume once the storm passes. As of right now, NBC is hoping to open Democracy Plaza to the public by Friday or Saturday."
Democracy Plaza was supposed to open Tuesday and remain open through election night, serving as the backdrop for coverage by NBC News, MSNBC, CNBC, Telemundo, NBC News Channel, and local affiliate WNBC. Plans call for the setup to include replicas of the Oval Office and the White House press briefing room, a video booth for visitors to record a mock news report, caricature artist stations, and a United States map on the surface of the ice rink that will be colored in as election results are reported.
(Posted October 29, 2012, 11:25 AM EDT)
SANDY'S TOLL: Hurricane Sandy is heading toward the northeastern U.S., triggering evacuation orders for hundreds of thousands of residents, the cancellation of nearly 8,000 airline flights, and the mass closure of public transit systems. The Wall Street Journal: "Hurricane Sandy has already begun disrupting business, with many companies planning to close Monday. Google Inc. canceled a major event in Manhattan at which it was expected to promote a new mobile phone and a rumored redesign of its Nexus tablet."

U.S. stock and options markets are closed today in "the first unscheduled, market-wide shutdown since September 2001."  http://on.wsj.com/Toa5Ee
(Posted October 29, 2012, 11:20 AM EDT)

EVENT CANCELLATIONS: Among the many, many events and meetings getting canceled are The Wall Street Journal's "D: Dive Into Mobile" conference, scheduled for today and Tuesday in New York; and two Facebook events planned in Manhattan. All Things Digital: http://dthin.gs/VUV3Jy
(Posted October 29, 2012, 11:20 AM EDT)
TRAVEL CANCELLATIONS: "With Hurricane Sandy looming, airlines suspended operations at airports from Washington up to Boston. Carriers canceled 1,270 flights scheduled for Sunday, according to FlightAware.com, a flight-tracking website. As of Sunday night, airlines also canceled 5,900 flights scheduled for Monday and almost 800 flights Tuesday. FlightAware said it expects airlines to cancel more flights scheduled for Tuesday and Wednesday. Many travelers will have to wait until Wednesday to fly." Wall Street Journal: http://on.wsj.com/S3vEaI
(Posted October 29, 2012, 11:20 AM EDT)

CAMPAIGN CANCELLATIONS: The Hurricane has forced President Obama and Mitt Romney to cancel campaign events the week before the election. Despite reducing campaign appearances and suspending fund-raising emails to to-be affected states, both parties are concerned with access to polls come November 6. CNN: http://bit.ly/S6DWxW
(Posted October 29, 2012, 11:20 AM EDT)