See How This Conference Engages Millions of People Who Don't Attend
Find out how the National Association of Realtors uses a subset of attendees as conference reporters.
December 6, 2016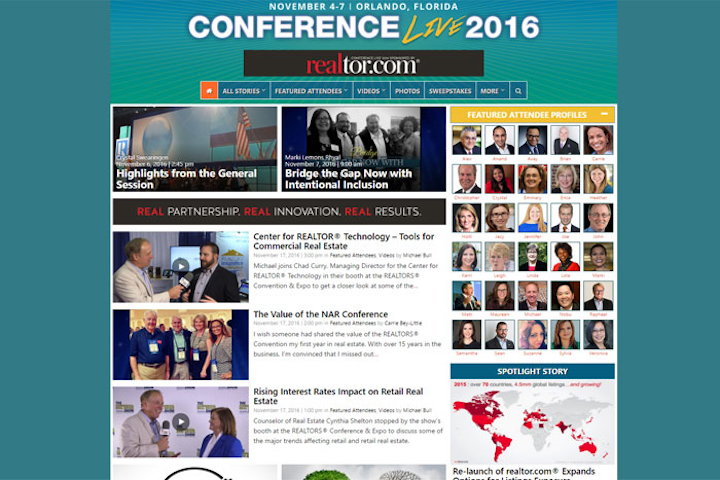 Photo: Courtesy of National Association of Realtors
The National Association of Realtors is a trade association with about 1.2 million members, but only a fraction of them attend the organization's annual Realtors Conference & Expo. This year's event, held November 4 to 7 at Orlando's Orange County Convention Center, had 18,000 people in attendance.
Organizers know some people want to attend but can't, while others may not recognize the value of the in-person experience. So they have come up with an innovative solution to show members who are not in attendance what they are missing.
"Conference Live is our website that has 30 featured attendees who are posting photos and commentary of what their experience is … so people can see through the lens of someone like them what's going on at the event," said the association's vice president of conventions, Matt Lombardi. "The goal is to provide these people who are not there a bird's-eye view of what's happening, so maybe in future years they'll say, 'I want to go to this.'" 
The association's marketing director, Allison Fitch-Markham, manages the Conference Live initiative and selects the 30 attendees who function as reporters. "We look for diversity in terms of perspective, area of the country, type of real estate they practice," she said. She asks the "featured attendees" to submit at least three posts during the four-day conference, which can range from blogs to photo galleries to videos. A small group of staff reviews entries as they come in, and schedules when they will go live on the site so there is a continual flow of new content.
Participants are not compensated in any way, but they do get their photo and a brief profile on the website. "What we promise them is increased exposure. In a membership association, when you are trying to rise through the ranks of leadership, that exposure can be very positive," Fitch-Markham said.
The site goes live a couple of weeks before the conference, and stays online for about a year as a repository of information about the event's education sessions, exhibitors, products, networking events, etc. When it's time for the next Conference Live site to launch, organizers archive the content from the prior year and provide a link to it at the bottom of the new home page.
Based on an analysis of IP addresses of those visiting the site, Fitch-Markham says they are achieving their goal of reaching members who are not in attendance because most traffic is from IP addresses outside the state where the conference is held. From November 1 to 30, the site had 21,000 visits from more than 15,000 unique visitors, and only 26 percent of that traffic came from within the state of Florida.