Super Bowl LI Preview: What ESPN, 'Rolling Stone,' and 'Playboy' Have Planned for Houston
Taylor Swift, Bruno Mars, Nas, and more will perform at private events during the N.F.L.'s championship weekend.
February 2, 2017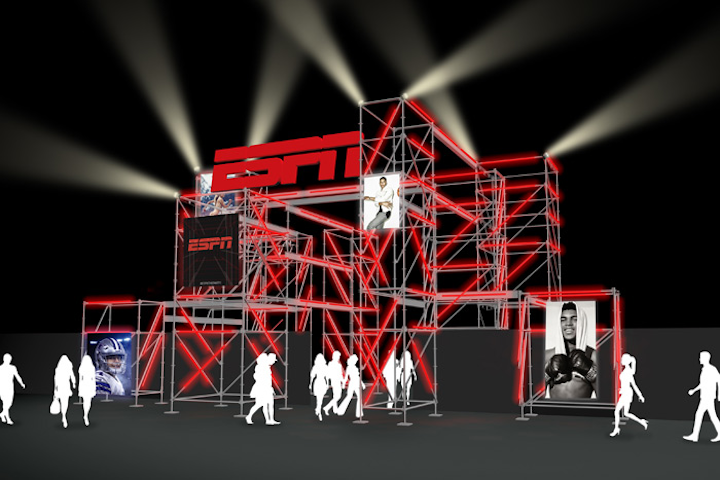 Photo: Courtesy of ESPN and Event Eleven
On Sunday, the New England Patriots and the Atlanta Falcons will go head to head at NRG Stadium in Houston for the title of Super Bowl LI champion. Game day is the culmination of a week packed with concerts, parties, and activations—everything from a virtual-reality flight to Mars to a unique Taylor Swift concert experience.
One major event to look out for is the 13th annual ESPN the Party, taking place Friday in a 65,000-square-foot warehouse located just outside of the city's Arts District. Inspired by Houston's development boom, the theme is a "chic" construction site. "ESPN likes to make a home in the city we're in that's not us coming in and taking over, but us fitting the mold of what's going on in the city," says Carrie Brzezinski, vice president of ESPN CreativeWorks and SportsCenter marketing.
Tony Schubert of Event Eleven will lead production and design, creating a stage made of scaffolding for performers Fergie and DJ Khaled. "We have lots of scaffolding and lots of heavy equipment that we're using to hang lights off of," Schubert says, noting that the decor includes thousands of LED tubes. The design also features a 400-foot-long projection of sports imagery and original content at the event entrance, as well as an artist creating a giant mural. Automotive sponsor Alfa Romeo will display three new 2017 Alfa Romeo Giulia sports sedans, including on the red carpet and in a photo op with cameras from vendor A-1 Array. ESPN the Party will also feature activations from sponsors including a Dunkin' Donuts espresso bar, a Miller Lite-branded beer-only satellite bar, and a YETI-branded bar from the cooler company.
For the third year, Rolling Stone is partnering with Talent Resources Sports for an event during Super Bowl weekend. This year marks the magazine's 50th anniversary, and on Saturday Nas, Big Sean, and Diplo will perform at Rolling Stone Live: Houston along with DJ sets by DJ Cassidy. The 1,200-person event, held at the Museum of Fine Arts, is presented by Mercedes-Benz, and the brand will showcase its vehicles at the museum. Guests will be able to create their own designs for the Mercedes-AMG GT C using a 3-D projection mapping system.
DirecTV's 12th annual Super Bowl event boasts a major headliner this year: Taylor Swift. On Saturday, Swift will perform at DirecTV Now Super Saturday Night at Club Nomadic, a custom-designed 62,500-square-foot traveling venue with a high-end nightclub look. "It has three levels that give it an intimate feel—no fan will be more than 60 feet away from Taylor," explains Roger Hyde, senior vice president of advertising and creative services at AT&T. "We're using focused lighting, projection, and reflective surfaces to break up the different areas of the club, giving it some depth and mystery."
Outside, Club Nomadic's front end will feature a massive projection facade with animated graphics that react and change with the music, and the event's 8,000 invited guests will walk through a digital tunnel to enter the venue. The event is part of a multi-year, multi-faceted deal between Swift and AT&T that includes performances and content. "We'll have portions of the show air on Taylor Swift Now at a later date, so that will be a great way for fans who weren't able to win tickets to get in on the action," Hyde says.
Club Nomadic is going to be busy during Super Bowl weekend. Tonight, the venue will also host Electronic Arts Inc. and Nomadic Entertainment Group's inaugural EA Sports Bowl, a ticketed event featuring performances by the Chainsmokers and country musician Sam Hunt. And on Friday, Lifewtr is hosting "Art After Dark" at Club Nomadic headlined by Bruno Mars with a performance by DJ Khaled. Activations include a speakeasy-style lounge, an infinity bottle wall, and artist takeover spaces.
On Location Experiences, the N.F.L.'s official hospitality partner, is hosting a pre-game party on Sunday at the Champions Club in the NRG Center. Lady Antebellum, O.A.R., and Tyler Farr are all slated to perform. The event is exclusive to the company's guests, who can dine on cuisine from STK and mingle with N.F.L. alumni and coaches and the Texans Cheerleaders.
This year's Super Bowl Live presented by Verizon is a free, open-to-the-public nine-day fan festival in downtown Houston's Discovery Green. The event spans more than 750,000 square feet, and the marquee attraction is Future Flight, a drop tower that lifts riders in the air as they experience lift-off to Mars through virtual-reality goggles. The Houston Host Committee expects one million fans to check out Super Bowl Live's music and performances, interactive exhibits, and food during the duration of the event.
Animal Planet's adorable Puppy Bowl has a presence at Super Bowl Live, setting up a replica of the show from February 1 through Sunday. Adoptable dogs from two local shelters will play ball on a puppy-size grid iron. The Puppy Bowl Experience is produced by Discovery's Global Events & Brand Activation, and the experience is fabricated by Blue Flame.
Next to Super Bowl Live is the Grove, which Marriott Rewards and Courtyard (the league's official hotel) will transform into the Texans House. It will be a place for Texans fans, partners, and guests to gather from today through Saturday. The hospitality venue will host meet-and-greets with current and former N.F.L. players and personalities, DJ and live music performances, cigar rollers, mixology demonstrations, and more. Marriott International and its experiential partner IMG Live are producing the activation, with WME-IMG handling talent procurement and sponsorship consulting.
To get viewers pumped for the premiere of the show 24: Legacy on Sunday following the Super Bowl broadcast, Fox is putting together an interactive activation that allows fans to become a Counter Terrorist Unit agent complete with a C.T.U. badge and a shareable photo op inside a Blackhawk helicopter. Fusion is handling the activation, which is open through Sunday at Discovery Green.
The network is also hosting the Fox Sports Whiskey Roundup on Friday at the Fox Party Pavilion. The event is being overseen by Angel City Designs and will be catered by chef Tim Love—a native Texan—with live entertainment from Dustbowl Revival and DJ Johnny Knight.
Taste of the N.F.L.'s 26th Annual Party With a Purpose will be held Saturday at the University of Houston, bringing together 32 star chefs from cities with N.F.L. teams to prepare more than 45,000 tastings and pour some 3,000 glasses of wine. Celeb chefs Alex Guarnaschelli, Andrew Zimmern, and Richard Blais will host the 3,000-attendee event, and the Band Perry is slated to perform. The event supports food banks and food pantries in all 32 cities.
Another charity event is the eighth annual Big Game Big Give, which the Giving Back Fund is holding Saturday at the Houston estate of Michael and Lisa Holthouse; it will be hosted by Josh Brolin and emceed by David Schwimmer. The event will include its first after-party: a celebrity poker tournament with Olympic champion Michael Phelps and actor Rob Riggle as co-hosts and a performance by Common. Toast is producing the event.
Meanwhile, Houston's nightclubs will be home to a slate of events. New Era's "Planet New Era" party is bringing in stars like Bun B, 2 Chainz, Migos, DJ Ace, and Lil Uzi Vert, along with a slew of athletes including the Chicago Bulls' Dwyane Wade, the Houston Rockets' James Harden, and the Buffalo Bills' Tyrod Taylor. The invite-only party will be held at VRSI on Friday.
Playboy is again hosting an event during the big game weekend, but this year, the guest list is wide open. "Traditionally, Playboy's events have been private and invite-only, but we've opened it up to consumers this year to experience the World of Playboy," a PR rep explains.
Playboy partnered with TAO and Spire Nightclub for the production of the party, which will be held at Spire Nightclub downtown on Saturday. All servers will wear Playboy bunny suits, while sponsor Indian Motorcycle will bring a fleet of cycles to the red carpet. Flo Rida is scheduled to perform, and 50 Cent will be in attendance along with his Effen vodka brand (the event's exclusive spirit partner). Artist Lefty will also be creating an EFFEN Vodka virtual-reality "painting" on site.
The Maxim Party 2017 is happening on Saturday at the Smart Financial Centre performance venue, with hip-hop artist Travis Scott and DJ Khaled as headliners. Produced by Karma International, activations include a Monster Energy FMX Motorcycle Show, a Monster Energy Lounge, and a Zippo car on site, with beverages by Bud Light.
Featured Venues/Suppliers: