Photo: Courtesy of Hotel Château du Grand-Lucé
Looking for a creative experience to galvanize the group in an inspiring destination? Why not sweep them away to a faraway place that's exclusively yours? Companies searching for a way to entice employees to conferences see buyouts as a brilliant way to create a safe, private, and custom experience.
Aidan O'Sullivan, the general manager at Kilkea Castle—a 140-key luxury castle-turned-hotel in Ireland—has found that buyouts come in many different shapes and sizes, ranging from president's club trips to large corporate retreats and conferences. He notes that current buyouts tend to focus on rewarding top performers across the board.
"At Kilkea Castle, a buyout enables clients to live out their vision for their event," O'Sullivan says. "We no longer have to consider the requirements of many guests and instead can put the full weight of the team behind making our clients' vision for their event become a reality."
Dan Pirigyi, the senior vice president of strategic partners at Telarus, hosted its president's club for top performers at Kilkea Castle with about 190 people and their families. The buyout's top benefit? The ability for his guests to roam the property and feel as if they were taking a step back in time. Bespoke experiences included a welcome reception in the Caste Bar, a whiskey tasting, golf, and a falconer experience with the castle as the backdrop.
"Having the kids of the winners in the group run around the property at night on a 'ghost hunt' was also super memorable," said Pirigyi, who added that an attendee was quoted as saying: "The only way you can top this trip is by going to the moon!"
Looking to learn about brilliant buyouts here on earth? We curated a list of a dozen dazzling destinations. (The prices noted for buyouts are general estimates; contact the individual property for complete terms and a custom quote.)
Kilkea Castle | Ireland
Buyout cost: starts at €25,000 (~$24,495 USD)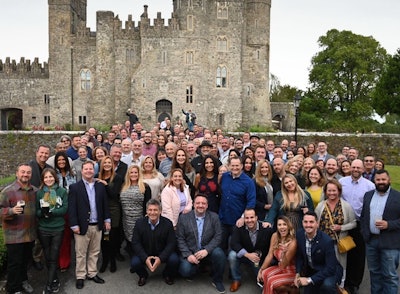 As the oldest continually inhabited castle in Ireland, Kilkea Castle is a perfect fit if you're looking for an Irish castle experience. Situated just one hour from Dublin and located on 180 acres, the estate can facilitate many different types of events. With an 18-hole championship golf course, boutique spa, and more than 140 bedrooms, it's an ideal location for a corporate event.
Chateau du Sureau | Oakhurst, Calif.
Buyout cost: $10,750 per night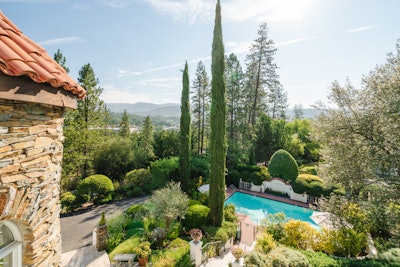 Nestled across nine sprawling acres of rolling foothills at the gateway to Yosemite National Park, Château du Sureau blends the charm and beauty of France's Provencal region with central California's verdant landscape. This luxurious hideaway features 10 elegantly appointed guestrooms inspired by the South of France, in addition to the private Villa du Sureau.
Strawberry Hill | Jamaica
Buyout cost: starts at $7,640 per night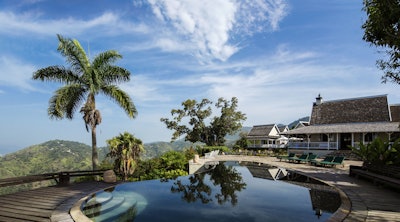 Strawberry Hill is located in the Blue Mountains of Jamaica, a UNESCO World Heritage site 3,100 feet above sea level, and home to the world's most coveted coffee-producing fields. There's no beach or blazing sun—guests can instead expect misty, cool air accompanied by hiking trails and music history. The lush, mountainous terrain provides the ideal playground for nature lovers wishing to explore quietly or get their blood pumping.
Hotel Château du Grand-Lucé | France
Buyout cost: €16,000-€28,000 (~$15,677-$27,435 USD) depending on the season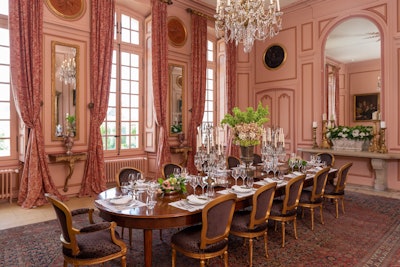 "A buyout at Hotel Château is a truly magnificent affair," says the property's general manager Ludovic Poirier. "The 45,000-square-foot chateau offers a place of respite, tranquility, and luxury spread over 80 acres of gardens, meadows, a lake, historic white-oak forest, and artful statues. With a Hotel Château buyout, no request is too big or too small, making this lavish, renowned retreat feel truly personalized and special. Past buyouts have included custom games throughout the gardens, a Marie Antoinette-inspired ball, spa appointments performed at desired locations, and more. Here, guests can live like true nobles."
Washington School House | Park City, Utah
Buyout cost: $8,500-$35,000 per night depending on the season
The intimate, 12-room hotel offers a luxurious buyout option for groups looking for a space that can be exclusively theirs. Up to 34 guests can occupy the whole venue, with access to a 24-hour concierge, a private chef for meals, and the dedicated hotel team to ensure an easy visit, coordinating all activities and needs. Off-site activities include fly-fishing, skiing, museums, hiking, snowshoeing, dogsledding, and more. And when not inside the cozy escape, attendees can expect no shortage of outdoors activities—and a private meal upon their arrival back to the Washington School
Reid Creek Lodge | Douglas, Wyo.
Buyout cost: starts at $15,000 per night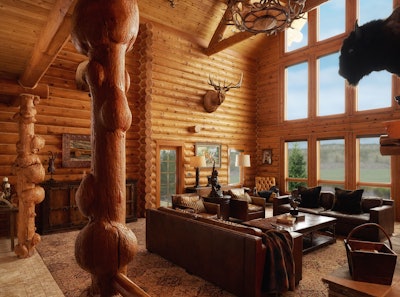 This summer, Wagonhound Land & Livestock Co. announced the opening of Reid Creek Lodge, the brand's first seasonal guest lodge located in the heart of the American West in central Wyoming. Reid Creek Lodge features an 8,000-square-foot lodge with seven beautifully appointed bedrooms, accommodating up to 22 guests in one group at a time. The exclusive experience includes a personal chef, curated programming, cozy gathering spaces, and rustic mountain design.
Little Palm Island Resort & Spa | Little Torch Key, Fla.
Buyout cost: $500,000 for a three-night stay (the minimum)
Recognized as America's only private island resort, Little Palm Island Resort & Spa—nestled just off the mainland of Little Torch Key in the Florida Keys—is the ultimate retreat for seclusion and luxury. As the property is only ever inhabited by 60 guests at any given time, a full island buyout package is the perfect way for groups to escape together and feel a world away, while never stepping foot outside of the U.S.
San Ignacio Resort Hotel | Belize
Buyout costs: starts at $20,000 per night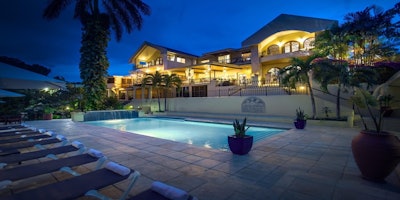 San Ignacio Resort Hotel, located hillside on the Macal River in the Cayo District in Western Belize, is situated on a 17-acre private rainforest estate only five minutes away from the town of San Ignacio—a popular area that features a variety of cultural, adventurous, and culinary experiences. This characteristic has dubbed the resort "the only jungle in town."
Chablé Yucatan | Mexico
Buyout cost: $32,111 before taxes per night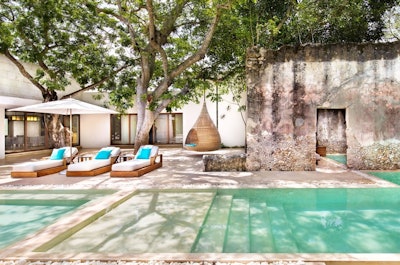 In a unique setting in the heart of the Mayan Forest—just 25 minutes from the historic city of Mérida—Chablé Yucatan is a five-star spa retreat spread across 750 acres on Mexico's famed Yucatan Peninsula. Ideal for any event, the natural environment merges with modern architecture.
Renaissance Tuscany Il Ciocco Resort & Spa | Italy
Buyout cost: starts at $80,000 per night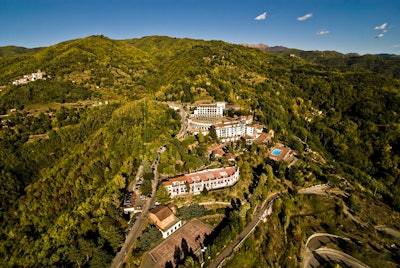 This Tuscan treasure features 180 rooms, a 8,600 square-foot spa, more than 18,000 square feet of meeting space, 11 event rooms, two pools, and two restaurants. "There are so many authentic, Italian experiences to enjoy on and off property, and with buyouts, you have it all at your fingertips," says Georges Midleje, the resort's regional managing director. "When groups want to venture off-property, we highly recommend they say hello to our friends down the road at Podere Concori. It's a family-owned, local biodynamic winery for some of the best organic wine Italy has to offer."
Cali Mykonos | Greece
Buyout cost: €57,000-€75,000 (~$55,830-$73,460 USD) per night depending on the season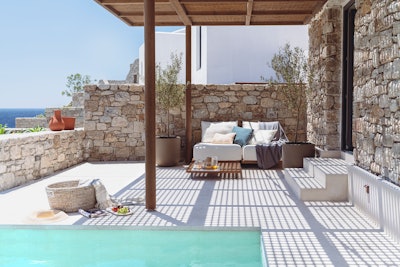 Cali Mykonos redefines luxury in Mykonos, as it is uniquely located on a private beach overlooking the Aegean Sea, making it an ideal location for a brilliant corporate event. The property was designed to blend seamlessly into nature, with an emphasis on privacy. Forty distinctive villas with private seawater pools and expansive terraces effortlessly merge the indoors with the outdoors.
The Hermitage Hotel | Nashville, Tenn.
Buyout cost: starts at $80,000 per night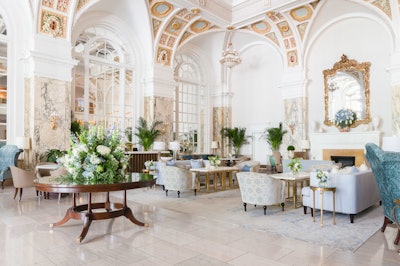 As the city's original million-dollar hotel, The Hermitage Hotel's illustrious halls have served as the backdrop of Nashville's iconic moments for more than a century, making for the perfect wedding venue or social group gathering. With complete access to the property, the hotel will be closed to all outside guests for the duration of the event, making it exclusively yours.