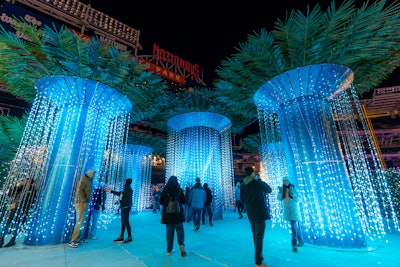 Photo: Courtesy of Destination DC
Sign up here to get BizBash Sports delivered straight to your inbox with steal-worthy event inspiration, top takeaways from the hottest sporting events, updates about live and virtual events, and so much more.
Headed to the inaugural BizBash Sports Summit next week in Washington, D.C.? To drum up excitement and help welcome our sports-loving attendees to the city, we've compiled a quick list of sporty events and activities to fill free time, whether they're die-hard sports fans, fitness enthusiasts, or simply looking for a fun way to explore D.C.
"Washington, D.C., is one of only 13 U.S. cities with franchises in four major sports," said Elliott Ferguson, president and CEO of Destination DC. "Sports fans can enrich their visit with museum exhibits honoring sports heroes; local D.C. brews and spirits; lively sports bars; and pickleball, bowling, or simulated golf. With eclectic dining and seasonal outdoor skating, biking, and hiking options, D.C. wins over fans of all teams."
See for yourself. Below are some sports-centric recs on what to do while in town...
1. Catch a professional sports event over the weekend.
If you'll be in town early over the weekend, there are three professional games/matches to have on your radar. The first two take place at Capital One Arena, home to the NHL's Washington Capitals and the NBA's Washington Wizards. The Capitals take on the Edmonton Oilers Nov. 24, while the Wizards go up against the Atlanta Hawks Nov. 25.
For something a bit closer to the action, the Professional Fighters League (PFL) World Championship takes place Nov. 25 at The Anthem down at The Wharf. The so-called "richest night in MMA" will feature finalists facing off for six world titles and six $1 million champion's purses.
2. Marvel at American sports history at D.C. museums.
The fact that sports can unite people is not a new sentiment, but it's always one worth exploring, and D.C. visitors can do just that at the National Archives. The museum's exhibit All American: The Power of Sports will be in one of its last weeks by the time the BizBash Sports Summit kicks off. The 3,000-square-foot exhibit, free and open to the public, closes Jan. 7, 2024, so now is the time to plan a visit.
On display at the museum's Lawrence F. O'Brien Gallery, All American showcases more than 75 items, including original records, artifacts, and photographs relating to sports in the U.S. These include original sports equipment and jerseys given by star athletes to presidents, early 20th century tobacco baseball cards, trophies, and rare pictures and film footage. Visitors can do things like read letters written by Jackie Robinson to promote civil rights, view pages from boxer Jack Johnson's handwritten autobiography, and see how the 1918 pandemic affected pro-baseball and diminished World Series players and crowds.
Keep the history lesson going at the National Portrait Gallery. The famous museum has an ongoing exhibit dubbed Champions, where visitors can admire portraits of "a diverse mix of legendary individuals whose impact has extended beyond the ring, the court, the field, and the diamond to become a part of the larger story of the vibrant life and culture of our nation." This includes larger-than-life figures like Mickey Mantle, Jim Brown, Billie Jean King, and Mia Hamm.
D.C.'s National Museum of American History also has a collection of sports and leisure gear. There are roughly 6,000 items on display, including a handball used by Abraham Lincoln, Chris Evert's tennis racket, and a baseball signed by Jackie Robinson.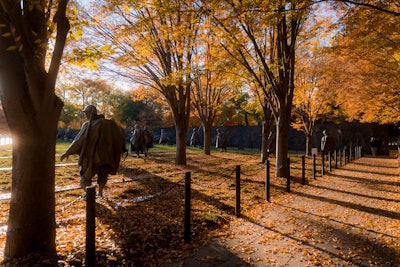 3. Bike, run, or hike through D.C. landmarks.
The National Mall is of course a popular tourist attraction in D.C. If you're an early riser, consider a pre-summit bike or run here, where you can catch views of landmarks like the Lincoln Memorial, the Washington Monument, and the Korean War Veterans Memorial. (The Lincoln Memorial to the U.S. Capitol Building is about two miles.) For something more formally planned, try booking a bike or Segway tour of D.C.'s monuments.
Other prime places for a good walk, run, or hike include Rock Creek Park, which offers asphalt trails, equestrian trails, a 19th century gristmill, a tennis center, and an 18-hole golf course.
4. Get in the competitive spirit.
Want to get in the game yourself? D.C. has plenty of venues for groups to tap into their competitive nature. Georgetown is home to bowling and bocce hangout Pinstripes, which offers a plethora of event spaces and lane rentals. If golf's more your thing, try mini-golfing at Swingers in Dupont Circle or Five Iron in Penn Quarter for a golf simulator experience.
New this year to the D.C. area is Kraken Kourts & Skates, a 70,000-square-foot complex housing 14 pickleball courts, a tavern, and the District's only indoor roller-skating rink. The concept is part of Kraken, which also has axe-throwing locations in Penn Quarter and Baltimore. Visitors can also enjoy darts and indoor lawn games like cornhole and Jenga.
5. Hit one of D.C.'s many sports bars.
If you're looking for a good spot to watch an NFL game on Sunday or Monday, D.C.'s not short on sports bars. A must-hit is Walters Sports Bar and Restaurant, located across from Nationals Park in the Navy Yard neighborhood. It's named after the Washington Senators' pitcher Walter Perry Johnson and has been a go-to spot for nearly 40 years. Enjoy 24 self-pour taps and 30 TV screens. Other notable watering holes include Tom's Watch Bar with 100 TVs and Topgolf Swing Suites and local breweries like Solace Brewing Co. and Bluejacket.