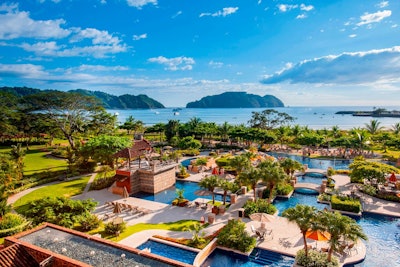 Photo: Courtesy of Marriott International
The pandemic put incentive trips on hold, but in 2023, revenge travel was all the rage and that included the return of these motivating sales rewards as well as destination meetings. According to the 2022 IRF Destination Preferences Study, which was conducted in March and April 2022 and surveyed 405 full-time salespeople, respondents said their top three destination experiences were beach/sunshine, adventure travel, and mountains—a combination uniquely found in Costa Rica.
(As part of the study, Cvent provided its top 20 destinations that were booked in 2021 and 2022; the Guanacaste province in Costa Rica, located along the Pacific Ocean, came in 10th place.)
"Costa Rica and Central America's beautiful natural scenery and geography provide easy access to national parks and reserves from anywhere in the country," explained María Florencia Arenaza, general manager of Los Sueños Marriott Ocean & Golf Resort, about the region's popularity within the meeting, event, and incentive travel industry, adding that "eco-tourism appeal, pleasant weather year-round, and favorable exchange rates to the American dollar" are additional strong driving factors.
The region also offers "convenient air access and proximity to major U.S. cities," and "pairs well with U.S. time zones and provides an exotic but approachable destination for meetings and events," she said. Here are some other key highlights you'll find at Marriott's Costa Rica hotels...
1. Renovated Meeting Spaces
Located on the Central Pacific's Costa Verde, Los Sueños Marriott is currently undergoing a renovation of its meeting and event space, and BizBash was able to get a firsthand look at the new additions thanks to Marriott's Caribbean and Latin America team.
With 37,348 square feet of conference space, the resort will soon boast 10 renovated meeting rooms and outdoor venues for events that blend modern and colonial architectural details, with the decor's ocean-inspired colors complementing the scenic views of Herradura Bay. Local traditional elements are also implemented into the design including hand-painted mosaic tiles that adorn the accent walls and sections of flooring. This tile work can be seen in traditional structures around Costa Rica, as well as on the floors throughout the entire resort, which were specially commissioned when the hotel was built.
"With the renovated space, we are ready to welcome a wide variety of events to Costa Rica´s Green Coast—from intimate social gatherings, corporate meetings, and incentive retreats to award galas and romantic weddings," Arenaza said.
2. Sustainability Initiatives
Protecting the environment is a key aspect of Costa Rican living, which means it's also a foundational component of Marriott's properties; the hotel brand follows a corporate sustainability strategy called Serve360, which is based on 17 sustainable development goals.
This includes eliminating single-use plastics, such as using paper laundry bags. Also, in the banquet areas and restaurants, plastic bottles were replaced with glass and dispensers. And in the renovated meeting spaces at Los Sueños Marriott, the chandeliers now require fewer LED lightbulbs than their predecessors. Plus, Marriott associates are also trained on the issues of the local Indigenous cultures as well as on providing recommendations to guests who wish to know and visit Indigenous territories.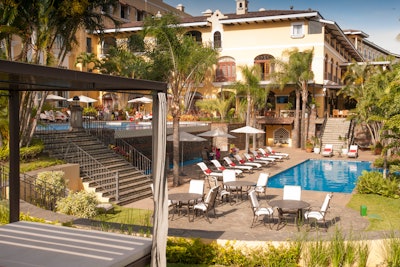 "Both [Costa Rica Marriott Hacienda Belen and Los Sueños Marriott Ocean & Golf Resort] have robust sustainability programs in place for meetings and events since the topic is paramount for both hotels and plays a large role in Costa Rica's culture and country as a whole," Arenaza said. "Costa Rica is recognized worldwide as one of the countries at the forefront of conservation, particularly for its system of protected areas."
In addition to initiatives like eliminating single-use plastics, other efforts include digitizing collateral and signage when possible, sourcing food locally, and offering carbon-offsetting options. At Los Sueños Marriott, volunteerism activities for groups such as planting ylang-ylang trees, beach cleanups, and more are available.
According to IBTM World's latest Incentive Travel Report, employees now place more emphasis on incentives that provide valued experiences, support corporate social responsibility (CSR), and demonstrate concern for employees, with 35% of respondents placing greater value on wellness activities and 44% underlining the importance of CSR-focused team building. This means opportunities that enable employees to connect with the local culture and excursions that counteract loneliness, stress, and burnout should be part of incentive travel schemes.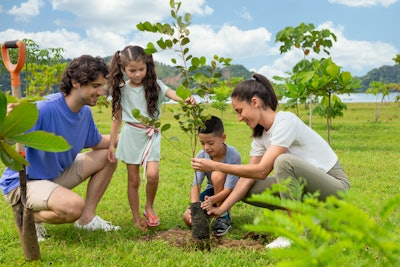 3. Outdoor Activities
Besides eco-tourism activities, groups can also experience some "endorphin tourism" including zip lining in the rainforest, surfing, fishing and sailing, ATV adventures, and horseback riding. At Costa Rica Marriott Hacienda Belen, which is 10 minutes from the Costa Rica Convention Center, tour vendor Swiss Travel Costa Rica is on hand to coordinate off-site outings to Poás Volcano National Park and Hacienda Alsacia, Starbucks' first and only coffee farm, where groups can get an up-close look at production. And at Los Sueños Marriott, groups can visit the adjacent Vista Los Sueños Adventure Park for jungle excursions like canyoning and hikes to waterfalls.
4. On-site Event Planning Services
Along with meeting facilities including ballrooms, breakout rooms, and expansive outdoor event spaces, planners have access to AV equipment, production services, catering, discounted group room blocks, and event management staff to handle logistics at Marriott's Costa Rica hotels.