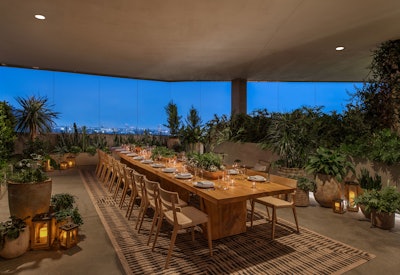 Photo: Courtesy of 1 Hotels
As American Express' 2023 Global Meetings and Events Forecast reports, for many companies, "sustainability has moved from a buzzword to a corporate mandate." What's more, according to the forecast, 71% of companies are considering sustainability when planning their meetings and events this year.
One popular hospitality brand that's taken this to heart is 1 Hotels, the luxury hotel company that launched in 2015 and now has properties in Miami, New York, West Hollywood, Toronto, London, and more. Earlier this month, the brand debuted its new Certified Sustainable Gatherings program, an opt-in initiative that helps clients incorporate sustainable practices into their events.
It's an appropriate choice for the self-described "mission-driven" brand, which has long been at the forefront of sustainability. After all, each 1 Hotels property was built using sustainable design and architecture, and was designed to celebrate the area's natural environment.
"It's very in line with our brand DNA," explains Matt Erickson, president of restaurants, nightlife, and food and beverage for SH Hotels & Resorts, which owns 1 Hotels and sister properties Baccarat Hotels and Treehouse Hotels. "The No. 1 thing we can do is help generate awareness. The specific things we do in our hotels to promote sustainability are great—but what's even more important is that they encourage people to change their day-to-day behavior once they leave the hotel. The real change comes when you generate that awareness."
1 Hotels has partnered with Foodprint Group, a consultancy that helps hotel and hospitality clients adopt zero-waste practices, to offer comprehensive third-party certification. Rather than taking an all-or-nothing approach, the optional program can be completely customized for each client's unique needs. Offerings include support with recycling and composting, finding locally sourced and low-waste menu items, working with reliable vendors, making sustainable decor choices like reusable silk florals, eliminating single-use plastic waste, communicating your low-waste mission to guests and vendors, and more—all with the goal of diverting at least 90% of all waste generated throughout the event lifecycle.
The offering has three main tiers:
Evolve: The most simplified offering—which is complimentary to anyone hosting an event on property—includes guidelines clients can refer to throughout the planning process, along with a list of local vendors the team has vetted. "We're saying if you're new to this and you want to dip your toe in the water, here are some vendors we would recommend to make your event more sustainable," says Erickson.

1 Hotels is currently working to generate preferred eco-friendly vendor lists for each property; the goal is to have a list ready at each property by early 2024. "To someone who is just getting started, even switching one vendor can go a really long way," points out Lena Sotnick, executive director of F&B marketing for SH Hotels & Resorts.


Impact: The second tier includes a few extra steps to help events reach 90% waste diversion, including dedicated hotel support, a comprehensive sustainable gatherings score card, and a certificate of achievement by Footprint Group.


Impact(full): For the third and most comprehensive tier, the team takes it even further with a verified enhanced metrics report that clearly outlines the total waste diverted, greenhouse gas emissions savings, and real-life equivalences (like if, say, it was the equivalent of taking cars off the road for one year.) "And we have an actual sustainability champion who is with you through the entirety of your event to monitor all that stuff," adds Erickson.
While 1 Hotels is no stranger to sustainable practices, the team knew working with a company like Foodprint Group would offer essential checks and balances for the program. As Erickson says, "They're a third party that's testing all this stuff to keep us honest." In fact, in order to officially launch the Certified Sustainable Gatherings program, Foodprint Group required the brand to do one event at each property that hit the 90% waste diversion mark; the events ranged from dinner parties and corporate events to weddings and private celebrations. After the team beta-tested the program at all of its properties throughout the U.S. as well as Toronto and London, the launch became official.
"We actually just hosted our first official event, outside of the pilot testing: a sales marketing revenue summit for our entire organization two weeks ago," says Sotnick, adding that the event hosted 120 people over three days for breakout sessions, dinners, and more. "We just received our certificate. So it's not just something we're pushing out to clients—we practice what we preach."
For other event and hospitality professionals hoping to be more sustainable, Erickson advises taking it one step at a time. "You don't have to go from zero to 100. It's about generating awareness, and showing your clients and your guests that this is important to you, that this was mindfully incorporated into the event program."
He continues, "Every little bit helps. Every step in that direction is healthy. Don't be concerned with being perfect; be concerned with getting better."