Photo: Courtesy of Ernest N. Morial Convention Center
NEW ORLEANS—When's the last time you attended a 4,000-guest lunch—and there wasn't a single trash can in sight? Or enjoyed a delicious gourmet lunch—inside a dumpster? Believe it or not, these are both things the 1.1 million-square-foot Ernest N. Morial Convention Center in New Orleans has offered in the last two months. The out-of-the-box events were intended to showcase the venue's commitment to sustainability.
"We have worked closely with our internal and external partners to create event experiences that reduce environmental impacts, emphasize sustainability, and promote social responsibility," explains convention center president Michael Sawaya. "These practices are vital to the well-being of our environment, and these values align with our mission to be a leading-edge organization known for innovative delivery of exceptional event experiences in a world-class destination."
When Sawaya joined the convention center team in 2018, "there was no sustainability initiative whatsoever," he adds. "And a lot of that was residual from Hurricane Katrina—there weren't suppliers to remove recyclables from the building, for example." The team felt an urgency to catch up in a major way, he remembers. "Our clients expect us to be socially responsible and sustainable. We felt like we need to be a leader in our community and set the example."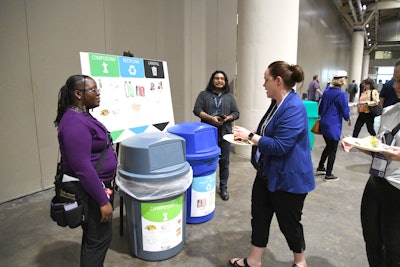 A recent example came from software company Ellucian's "Net Zero" luncheons on March 27 and 28, where all servingware and food items could be recycled and composted. To really show its commitment to this goal—and also eliminate attendee confusion—the regular trash cans were completely removed. Instead, clearly labeled recycling and composting bins instructed the event's 4,000 guests on how to properly dispose of their waste.
The result? The "Net Zero" lunch pilot program delivered more than 1 ton of compostable materials, which will then become fertile soil for New Orleans-area gardens, to Schmelly's Dirt Farm. Plus, any unserved meals were donated to Bethel Colony, an addiction treatment nonprofit serving locals in need. An added bonus? By using the venue's water bottle refilling stations, Ellucian guests saved 4,000 plastic bottles from landfills.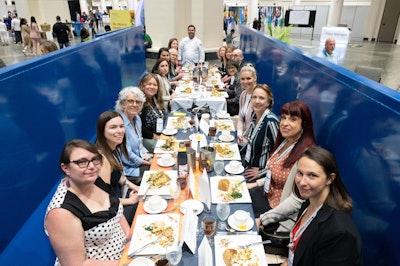 The convention center's team took the creative, sustainable thinking even further on May 2 during the WasteExpo trade show, which drew nearly 11,000 waste management professionals. Brandon Felder, executive chef for the convention center's food and beverage partner, Sodexo Live!, created a gourmet zero-waste meal during the event—made from surplus foods, including leftover coffee.
The menu started with a spring salad featuring strawberries left over from breakfast, while the entree combined surplus seafood to create crab claw salad. A crawfish and crab cheesecake was finished with a barbecue sauce made from unused Abita Amber beer from Sodexo Live!'s bar stock. Chef Felder also used surplus po'boy loaves and coffee left over from breakfast to craft a bread pudding dessert with chicory coffee caramel sauce.
But that's not all: The team drilled the point home even further by hosting the meal inside an actual dumpster on the show floor. "All this equipment was already on-site at WasteExpo, so we had the opportunity to do something creative that aligned with everyone's philosophies," said Sawaya.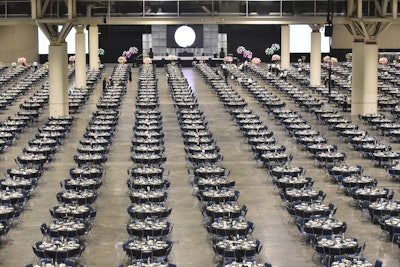 To event hosts and other convention center managers, Sawaya advises holding sustainability as a high priority and guiding principle. "It's just good business sense," he explains. "Our governing bodies or ownership expect us to be the best at what we do, to never settle, and to have continuous improvement. And that means paying attention to national trends and adopting a forward-thinking philosophy for what is expected both now and in the future.