This Jet Found a Parking Spot on Rodeo Drive
July 1, 2013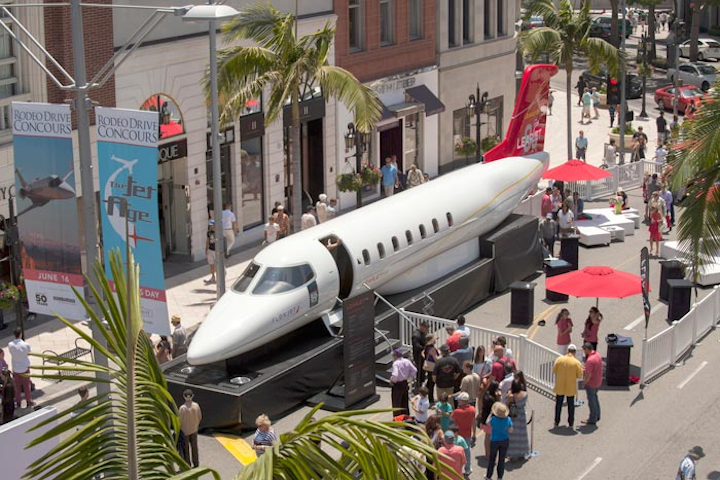 Photo: Jason Tinacci
At the 2013 Rodeo Drive Concours D'Elegance on June 16, a full-scale mock-up of the Learjet 85 Aircraft was parked on a busy Beverly Hills street. This year's event had a "Jet Age" theme and marked the first time that an aircraft was featured among the vintage racing cars and motorcycles. 
Not unexpectedly, parking the jet was fraught with logistics. During the six-hour installation, one semi-truck held the body of the mock plane. A separate semi held the tail, which was assembled on site by forklift. "The most challenging aspect was the space limitation," said event producer Ann Friday. "We had a small, finite amount of space to maneuver both the two semis and ancillary truck ... while ever keeping the fire lane unoccupied."
Then, there were the required permits. Since trucks are not normally allowed in Beverly Hills, each vehicle had to have a heavy hauling permit. To back the plane in at the proper angle, Friday worked with the City of Beverly Hills's filming and special events department to coordinate temporary street closure on Wilshire Drive and arrange for fire, police, and traffic-control officers.
Craig Donahue of the Donahue Group tapped Friday to act as the event's producer. The Donahue Group co-produces the event for the Rodeo Drive Committee with Concours chairman Bruce Meyer.
Featured Venues/Suppliers: