Event Producers Give MTV V.M.A.s a "C": Sponsorship Felt "Heavy-Handed"
Industry pros rated the 2014 MTV Video Music Awards, discussing everything from Beyoncé's performance to sponsorship integration.
August 26, 2014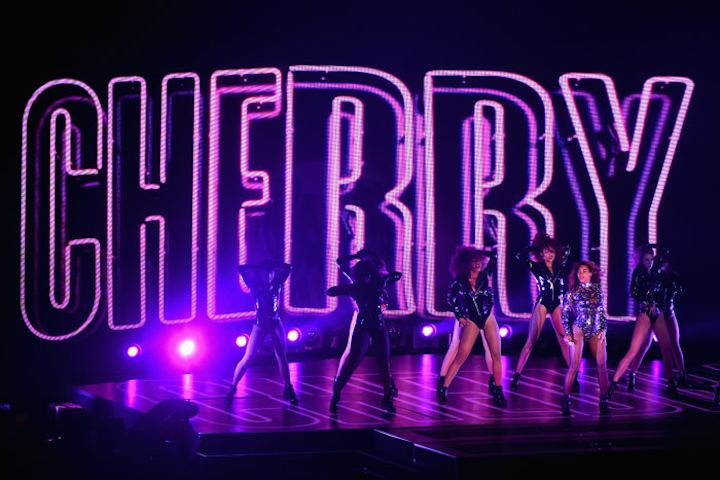 Photo: Michael Buckner/Getty Images
The MTV Video Music Awards took over the Forum in Inglewood, California, on Sunday night, with artists like Beyoncé, Nicki Minaj, and Taylor Swift taking to the stage, and Maroon 5 shaking things up with an outdoor performance. But not all the performers—or the staging, sponsorship integration, and set design—hit a high note with the country's top event planners. Here's what industry professionals liked about the show, as well as what they felt needed improvement.
Jennifer Kurland
What I Liked: "What a fun show! Watching [it] felt like being part of the party. Sensational lighting design and a beautiful nod to the architecture of the Forum in the stage set. All hail Queen Bey and the finale extravaganza."
What I Would Have Done Differently: "The sponsor integration mid-commercial break felt heavy-handed. I kept wondering if everyone was having as much fun as Taylor Swift."
Letter Grade: A-. "The format was somewhat hard to follow, but the Beyoncé performance was definitely worth the wait!"
Kurland is president of Production Glue, a New York-based firm that handles live entertainment design, production, and technical direction for events such as the Talking Transitions pop-up, Nike's U.S. Open promotion, and the N.F.L.'s 2013 season kickoff concert.
Kimberly Krouse
What I Liked: "Having an award show at the Forum is bringing it back, and I loved that. It's an old venue with a lot of history especially with some of the presenters and attendees. The stage, the lights, and the walkways were very simple but original and lent a futuristic aspect to the show. 5 Seconds of Summer blew me away. I was not expecting that. They are a real talent. Rita Ora and Iggy Azalea had everyone on their feet and singing. It's always fun to see artists appreciate their fellow artists. Taylor Swift knew every word to their performance. Maroon 5's twilight performance was a nice transition, and they delivered in a solid Maroon 5 fashion. Miley Cyrus, I'm not even sure what to say. I have never been a fan, but I definitely am now. That was a classy moment. Hats off to her."
What I Would Have Done Differently: "Audio. Seems like the most important aspect of a show of this magnitude and with that kind of talent on stage, hearing walkie communication over some presenters was ridiculous. The transitions were off as well. This is something the V.M.A.s has struggled with a few times. [It's] unfortunate this hasn't yet been resolved. Nicky Minaj. I mean, what do you say? Girl can twerk, but maybe save it for a concert not a televised show. Beyoncé, not very many artists have the power or ability to command the massive amount of fans that she has. She is a deserving receiver of the Vanguard Award but she didn't prove that in tonight's performance. I expected more from this performance. However, bringing her daughter on stage was heartfelt and a testament to her being a powerhouse and a mother. That is no easy task."
Letter Grade: C. "Audio really needs to be addressed and rectified if you are going to continue to air this show live. A few performers killed it but not enough to make this the award show that it should be."
Krouse is owner and partner at Toast, a New York- and Los Angeles-based production firm. She works on roughly 50 events per year, ranging from award shows and after-parties to charity galas for clients such as Rolling Stone magazine's Super Bowl Weekend, In Touch Weekly's "Icons and Idols" MTV Video Music Awards after-party, and events for Target, U.S.O.C., Pepsi, Montblanc, Coors Light, and Rolls Royce. 
Liza Nikitas
What I Liked: "The spiral-shaped set was not only visually interesting, but also seemed purposeful, as it served to get artists on and off the stage quickly, resulting in less dead time. Numerous dynamic stages helped maintain show flow and also helped to break down the fourth wall for a more engaging, informal feel."
What I Would Have Done Differently: "The Robin Williams tribute (if you can even call it that) was quite obviously a complete afterthought. His legacy would have been better served by no acknowledgement at all."
Letter Grade: B-. "Overall, a stilted, awkward series of acceptance speeches and transitions bookended by two incredible performances. The opener was impeccably timed and exciting, and Queen Bey killed it as always, but everything in between felt too loose and disorganized."
Nikitas is a producer at AgencyEA, a Chicago-based experiential marketing agency that produces nearly 100 events annually for clients including Hilton Worldwide, the White House, and General Electric.
Nicole Phillips
What I Liked: "This year's show took place at the fabulous Forum in Inglewood, California. The seating format was flexible and friendly for at-home viewers, allowing the big stars of the night to be all in a row and visible and easily panned for reaction shots, high-fives, congrats, and more.
Jay Pharoah, of Saturday Night Live's current cast, created a nice continuity to the show, which again went with a host-free format. His impressions lent some humor to the proceedings.
Miley Cyrus made a completely different type of statement this year when she allowed a young man representing homeless youth speaking about their role in the background of the entertainment industry to accept the Best Music Video Award for 'Wrecking Ball.' The artist known for showing a lot of skin (especially in that video) showed a lot of heart with that move and additional support via her social media channels.
Can I also give a shout out to Katy Perry and date Riff Raff, whose coordinating denim-and-diamonds wardrobe was an homage to 2001-era Britney Spears and Justin Timberlake? Genius."
What I Would Have Done Differently: "While the V.M.A.s allow each performer to create a custom stage setup, it was clear that Beyoncé's performance really drove set design for the night. And it was great—wonderful use of moving walkways, giant backdrops, lighting—everything was on point. But all the other sets seemed kind of jammed into the foreground of Beyoncé's vision. It was probably very efficient, but everything felt pretty muted comparatively—even Maroon 5's performance to fans outside the venue. (That was no Brooklyn Bridge, was it, Katy? No, it wasn't.)
And seriously? The anaconda bites one dancer and they drop him (or her) from the show? Boooooo. Bring back the snake! It worked for Britney back in the day."
Letter Grade: C. "Where were the surprises? Where were the epic pairings, the jaw-dropping moments, the OMG shenanigans that force viewers to take to social media? This was a show that, from an event planning perspective, seemed to go precisely to plan. But let's face it, the V.M.A.s are best when things get a little crazy. And there was no cray-cray to be had in 2014. (Cue yawn.)"
Phillips is director of strategic planning and business development for Switch: Liberate Your Brand, an experiential agency headquartered in St. Louis that creates and activates major events, business meetings, and experiential programs for such clients as AB InBev, Nascar, Muscle Milk, and FedEx.
Javier Velarde
What I Liked:"This show was perfection on so many levels. From a flow perspective, MTV's formula of short, energetic performances, and doing away with speeches, made this a fast-paced show designed to keep viewers tuned in. From a design standpoint, the LED set was stunning, and the runways thrusting into the center of the room and close to the audience gave the show an intimate feel. Camera angles were mostly done from the arena floor point of view, allowing television viewers to feel like fans. The consistent blue and white lighting color palette gave the show a clean and cutting-edge look. The talent was all current and relevant. It's always awkward to watch presenters read from teleprompters trying to be humorous. MTV solved that by only letting comedians like Jimmy Fallon do the humor. Finally, every act was produced to the nth degree with impressive choreographies, costumes, sets, lighting, and special effects. It was clear from the beginning that this show was going to be all about the performances."
What I Would Have Done Differently: "This was a tough one because the show was so well-produced. Beyoncé's performance dragged too long and turned into a concert, killing some of the momentum and energy. I would have done a shorter performance saving room for a big finale with special effects filling the entire arena and ending on a climax."
Letter Grade: A+. "You have to give the plus to MTV for incorporating public service announcement's supporting social issues. The 2014 V.M.A.s were a perfect mix of fast-moving performances, brilliant scripting, and relevant talent that appealed to their demographic. Brand cross-promotions blended into the show making, commercials easy to watch. MTV certainly raised the bar for future live award shows."
Velarde is founder of Triton Productions, a full-service event design and production firm with teams in Miami and New York. Clients include Turner Broadcasting, Bacardi, and Miami Open Tennis.
Chris Gasbarro
What I Liked: "I loved Adam Levine's passive tribute to Chevy Chase (wearing the Lakers Jersey from Fletch). Online, they had eight different live camera angles streaming (audience, camera 2, talent prep 1, etc.). That was a unique and interactive feature I enjoyed and helped to pass commercial breaks. I enjoyed a good deal of the choreography, which provided some entertaining and unique sequences (kudos to Taylor Swift's men). Technically, I thought there was some really beautiful lighting programming moments, specifically Jessie J's segment—LED tiles and back-lighting techniques."
What I Would Have Done Differently: "I would have made a sarcastic comment over the clear-com when Taylor Swift's A1 started sound-checking her mic, [saying] 'Taylor one, Taylor one, Taylor one' during the introductions. I wouldn't have let Usher sing. I was totally captivated during his dancing sequence … and then he approached a microphone … and then he picked up a bass guitar. I don't think Jay Pharaoh was necessarily a good fit. I found that the show flowed better in the moments of transition when there wasn't a host (I only mention him as host since he appeared several times). The final thing I would have done was impose a donation fine to a worthy charity for every time the director cut to a Taylor Swift audience lip-singing-dancing cutaway—that, and I would have started the show at 8 p.m."
Letter Grade: C. "There was no moment that I went, 'Ahhhhh sh*t, I wanna do that!' At the core of any awards show, celebrating music and performance in 'video' form is the live performances. I believe the show was lacking in diversity of performances (which may be a reflection of music today). I think of the 1991 show which had live performances from Don Henley, Van Halen, Mariah Carey, LL Cool J, Metallica, and Prince—a little bit of a talent gap from last night. Don't just give me Sambora-level talent. I want Jovi and Sambora, and then you'll get an A rating."
Gasbarro is chief creative officer of Creative Community Connection (C3), a Boston-based meeting and event agency with a client list that includes Saucony, Bauer, and Hanover Insurance.
Cara Kleinhaut
What I Liked: "I loved the circular, spiral main stage and set design, with the deep, spiraling ramps and pathways on and off stage. They did a great job accenting the spiral effect with their overhead camera shots. The multiple performance sets also allowed for truly seamless, quick transitions between artists. As a television network, they stage this event for what it will look like on the various screens we watch—mobile, TV, computer, etc., not just the live experience. As events are now more than ever vehicles for capturing digital content, we need to think about the 'viewer' experience of our events, not just the in-person experience. This broadcast was a perfect example.
I also really liked the remote Maroon 5 'concert' in the parking lot to change it up visually, and give them a special spotlight. And, of course, we need to discuss Queen Bey! Striking and mesmerizing. And that L-shaped LED wall behind here, so crisp and visually stunning, really accented the drama of it all.
So, major points to the production designers on this years show. Bravo!
Last, the arrivals build out was really striking in the way they built the fan area backdrop structures to match the exterior of the Los Angeles Forum. The red really popped against the white and looked super clean and appealing.
Much better show this year!"
What I Would Have Done Differently: "From a creative and programming standpoint, the girls didn't rule the world on this one. Aside from the Beyoncé show, there was no variety in the type of female performers. It was one booty bumpin' routine after another, in a different sparkly outfit. Lame! So, the guys showcased many types of musical styles, from the next cool rock band to the soulful, gorgeous vocals of Sam Smith, and every choice for a female performance was another bump and grind show of one type or another. Talk about a missed opportunity! Why didn't Lorde perform? And where are the next Adeles, or even Gwen Stefanis or No Doubts of the world? C'mon, ladies, we can do better! And programming execs, puh-leeze! I get it, but try a little variety ok? This was all frosting, no cake."
Letter Grade: Overall set design, staging, and production design: A. "From the striking arrivals to the multiple stages and very cool circular center spiraling stage, the design was mesmerizing." Programming and talent choices: C-. "It would have been a total fail, but Sam Smith and Yonce helped bring up their grade average! But this was really lame."
Kleinhaut is the owner/founder of events, experiential, and creative agency Caravents Inc. Clients include Target, L'Oréal, Elle, and Essence.
Tristan Brennan
What I Liked: "First and foremost, you must respect the magnitude of producing a live show alone, especially one of this caliber. Kudos to the production company for their set design and continuity of it between the segues to the actual main stage, in terms of visual representation. The view to backstage was a good addition, as well as it is what the new generation looks for in terms of access to celebrities off camera and a more personal look at them. The selling of sponsorship to Pepsi on this with a digital tie-in and call to action with driving people online to see more of this was also smart and forward-thinking. The few celebrities taking this forum to acknowledge causes such as homeless youth was a nice change of pace from the typical dog-and-pony show. From an advertising standpoint most were a bit lackluster but, also in the same regard, it was great to see the #Truth antismoking ads and how they were clever to reach the MTV demo and how they targeted awareness to celebrities that they are, in fact, accountable role models to the new generation."
What I Would Have Done Differently: "More rehearsal, and corrected in real time the errors seen in the live execution. What was lacking was a lot of errors on the flow and what was caught on camera, which made for what appeared to be pretty sloppy: For the intro monologue, the 'host' was on stage [and the camera] cut away to at least 30 empty seats in the crowd—this is your opener. As Lorde was introducing Taylor Swift, you could see her running on stage behind her to get ready for her performance. The few celebrities that did attend (seemed much lower than years past and only for plugging or actual winning purposes) were all seen on camera drinking, which is not the best look for the younger viewers who look up to them, or what you would see at an award show of greater merit (same could be said for what seemed to be the year of the as* and the mostly uninspired performances outside of intro collaboration and end). Unfortunately, the design also lead to a lot of stage hands coming on camera when they should not have been seen to grab microphones and lead to sometimes presenters awkwardly trying to run off stage who didn't seem to know where to go. Sound on microphones during the segues were all off and the incredibly young hosts pulled it off transitioning likely without knowing, but you would have expected this to be corrected after the first error, not all the way through the broadcast. Orange Is the New Black stars when presenting had a large shadow cast over the main actresses' lower halves. Random and somewhat disrespectful Robin Williams montage that had no intro."
Letter Grade: D+. "While the design set was on point, as a production company it is your responsibility to deliver a top performance in everything you do and correct mistakes in real time. There is little to no room for error in executing something with this wide of reach and importance for a network, and as a fire comes up you should have a plan B always in place and see through a solution in real time versus letting it run throughout a show or event."
Brennan is the president of TH Productions, an experiential and event production company based in New York. TH produces more than 200 events a year for clients that include Macy's, Mattel, Zappos, Nokia, Western Digital, and Condé Nast.
David Solsbery
What I Liked: "The stage set was amazing. It was a technological masterpiece. The combination of LED screens, video, high-tech lighting effects, and the evolving set design were top of the line. Most of the performances were first-class and professional. That being said, Beyoncé stole the show. Most of the performances were pedestrian in comparison. She is force to be reckoned with. Just when I thought she couldn't take it further, she did. Another bright spot was Jay Pharoah. He offered great comic relief and broke up what was otherwise a boring award show."
What I Would Have Done Differently: "Overall, the program felt like one big commercial. It did not feel like it was a show about the art of music but an advertisement for insert national brand here. I found myself getting more annoyed as the show went on. I wasn't sure where the show stopped and the commercial break began. It was missing drive and direction. I would add a show host to ground it so it does not seem so frenetic."
Letter Grade: C+. "Although some of the performances were great, that is what you expect from a music award show. It was kinda boring. Viewers are sophisticated; they expect more than a cool stage set and some good music. They expect to be entertained on many levels."
Solsbery is the executive director of creative services for Hargrove, a Washington, D.C.-based company that produces thousands of events nationally and internationally every year, including the AIPAC Policy Conference, the Human Rights Campaign's National Dinner, and the 2012 presidential inauguration.
Marcie Allen
What I Liked: "Loved the Beats and Target brand integration because of their creativity and voice. With many award shows, brands have a difficult time breaking through the clutter while still being authentic. As far as artist performances, Sam Smith stole the show. His voice, his look, his smile—perfection. Maroon 5 had the money shot with their outdoor performance with the Forum as their backdrop to the setting sun with the Kia product placement. Iggy Azalea continues to impress and is someone brands should be extremely excited about because of her diverse demographic, and fresh sound."
What I Would Have Done Differently: "A real host was needed. Call Jimmy Fallon! The red carpet was lackluster and MTV's branding was not memorable. This was MTV's moment to shine and their own mark did not pop to viewers. Was State Farm a sponsor of the outdoor stage? Their branding was buried on the stairs. It should have been integrated into the stage backdrop with more creative placement."
Letter Grade: B-. "I'm being generous. Audio issues, camera feed issues, wardrobe malfunctions were just a few of the glaring glitches that plagued the evening."
Allen is president of New York-based experiential music agency MAC Presents, producing more than 30 events per year for brands including Delta, AT&T, Samsung, and Citi, and partnering with the Rolling Stones, John Legend, Billy Joel, Foo Fighters, Lady Antebellum, Green Day, and John Mayer.
Featured Venues/Suppliers: