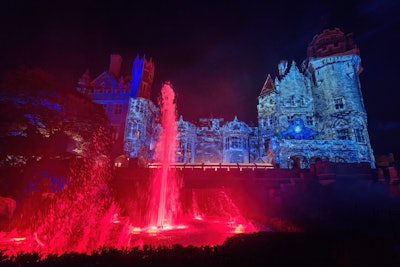 Photo: Edwin Luk, SVPhotography
TORONTO—Nestled on five historic acres in Toronto lies Casa Loma, a Scottish baronial-style castle that's Gothic Revival in its design with turrets, iron crestings, and pointed arches seen in its windows and doors. Once a residence for financier Sir Henry Pellat in the early 1900s, the enchanting estate is now a tourist attraction to more than 650,000 visitors each year and private event space operated by Liberty Entertainment Group. And during the month October, it invites brave patrons into the never-before-seen castle corners in a theatrical experience dubbed Legends of Horror.
The experience—which is open now through Oct. 31—has been welcoming guests through Casa Loma's wrought iron gates and into 65,000 square feet of treed gardens that have been morphed into what Catriona Delaney, the general manager of tourism and operations at Casa Loma, described as "a theatrical, horrific promenade."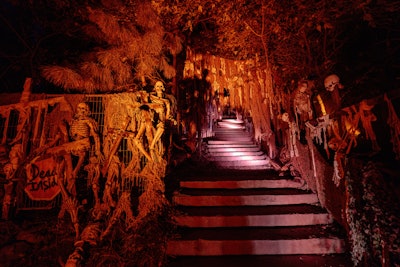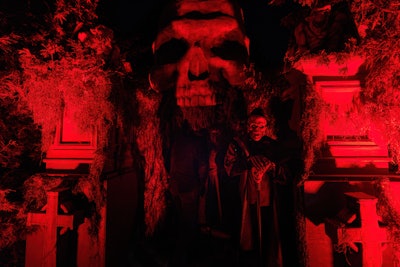 The 1.2-mile (2-kilometer) prowl through the castle grounds are "dimly lit [and] smoke-filled," with forestry that "reaches out its tentacles and embraces guests," Delaney described. Guests should also brace themselves for "ambient noise of screams and ghouls and wicked laughter" that follow them along their route.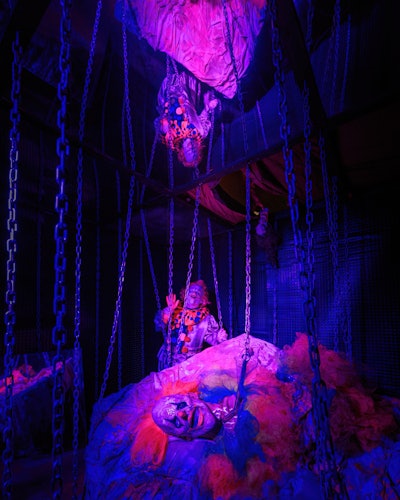 Throughout the hour-long trek, attendees will stumble upon a Haunted House, the Hall of Mirrors, a ghoulish baby room, and "walls of madness" that Delaney said "will bring scare."
And as if that weren't frightening enough, Delaney warned of "various creatures of demonic legend [that] jump out from bushes, luring [guests] in and scaring them along the route; or following guests as they navigate the stone steps up to the castle's Glass Pavilion."
Once at the glass-enclosed space, title sponsor Captain Morgan—which returns for its sixth year—spares guests from more spooks with a namesake bar and lounge serving up themed drinks. Fittingly, mixed potions are served under a fire-breathing dragon "fronting an extraordinary LED wall of horror that spans more than 30 feet," Delaney explained. And "once the drop of courage is consumed, guests then continue their journey into the upper gardens."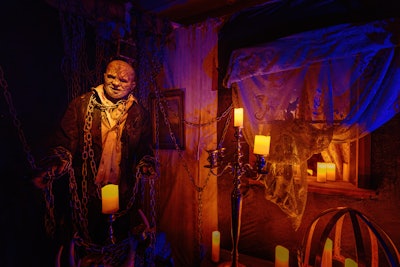 Legends of Horror takes Casa Loma's typically well-manicured Victorian Gardens and transforms them into a decrepit land with "body parts hanging from the gazebo, silent vampires gliding throughout, and an all-encompassing 3D projection on the castle exterior that tells its own terrifying story [of] a haunting, a curse, a fire, and the castle collapse," Delaney said.
Beyond the gardens, 2,624 feet (800 meters) of windowless tunnels wind and twist through Casa Loma's subterranean level—complete with, in true Legends of Horror fashion, jump scares, lighting and phantasmagoric effects, and a boiler room. All of it is outfitted in seance scenes gone wrong, demonic possession, and Frankenstein's Laboratory. Delaney also ensured that while there is "a 'brand' of scare" for everyone from toddlers to seniors, "we keep a strict no-touch policy and an outstanding security team as needed," noting that the Casa Loma team is "mindful that immersive theatrical experiences come with a risk, [and] when one reaches through the fourth wall, audiences may reach back."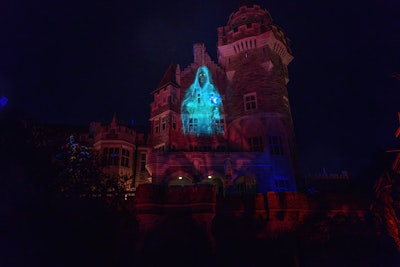 As planners would know, the seemingly magical immersive elements that come with Legends of Horror happen with anything but the wave of a wand. Helmed by Nadia Di Donato, Liberty Entertainment Group's creative director, Legends of Horror is a year in the making. "We opened doors to Legends of Horror on Sept. 30 and immediately started planning for 2023," Delaney said.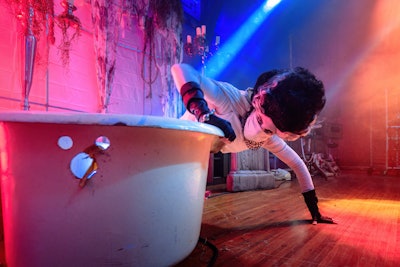 And in preparation for 2022's edition, "Nadia and her team scour the globe, attending trade and tech shows to find the best and newest animatronics, laser, and 3D projection." The result? More than 40 animatronic pieces throughout Casa Loma's gardens this year, working synchronously with motion sensors, light, and sound systems.
Thus, it made perfect sense that when asked about the greatest success of the event, Delaney pointed to technology. It's "an art [that] evolves, changes, grows, and is unique and limitless in so many ways. … The technology has become so precise and sharp that it is breathtaking and mesmerizing."
Experience Legends of Horror for yourself now through Halloween. Tickets are available online for $45.