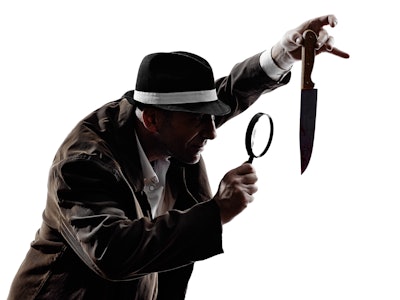 Photo: Shutterstock
The concept of murder mystery first began with the Whodunit detective fiction series that first debuted in the 1800s, but it was in the 20th century that murder mystery found itself at the forefront of gameplay. Jury Box and Clue were the first murder mystery board games that had players working to solve a mystery, and the concept was developed further when Dimitry Davidoff created the party game Mafia in 1986, which became popular to play at dinner parties.
Fast forward to today, and murder mysteries have found themselves in the corporate sector, and are growing in popularity as a way for corporate groups to team build and establish greater camaraderie.
Chris Hill, the founder and owner of Slixer Events & Entertainment, offers live murder mystery events with real actors and customizable themes to incorporate nods to specific corporate culture, as well as virtual options for teams that work from home.
"Virtual murder mystery games have become particularly popular over the last few years due to their accessibility. Everyone is able to join from their own location, meaning it's easier for people from all over the world to participate," Hill said. "With virtual platforms, there are more game tools available such as chat rooms, video conferencing, polls, etc., allowing for more creative solutions as well as richer experiences overall."
It's safe to say the COVID-19 pandemic was the main driver for remote teams having to adapt their work culture—which went beyond meetings to the way teams communicated, held events, and experienced team-building exercises. As a result, fostering an interactive and stimulating work environment for employees, as well as finding space for fun, entertainment, and unique events, became that much harder.
This paved the way for virtual murder mystery events to really soar to new popularity heights, and the momentum has continued despite the transition back to in-person environments.
Why? Traci Connaughton, the executive director of Without A Cue Productions, said it's because "murder mystery is a fun way for a team to connect and interact in a manner they are not accustomed to. Our team builders are geared to letting the guests play to their strengths while learning more about one another."
Pennsylvania-based Without A Cue offers murder mystery in many forms—from dinners at its brick-and-mortar outpost in Bucks County, Penn., to Zoom-based parties, custom-made events, and more. "Our clients have a blast," Connaughton said.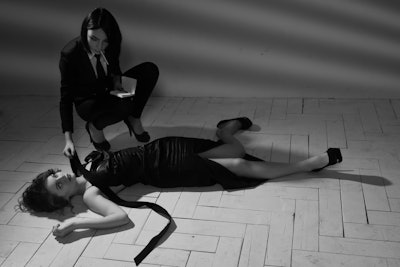 However, for event profs like Hill who provide the service but not the venue, it's vital to choose the right location.
"The venue should be large enough to accommodate all of your guests, but not so large that it feels empty. Additionally, the venue should have a good layout for mingling and for solving the mystery," Hill said.
Meanwhile, Keith O'Leary, the executive producer and director of Murder Mystery USA, said the No. 1 rule when holding a murder mystery event is to avoid amateurs.
"If you are looking for professionals that won't embarrass you in front of your boss, find a full-time murder mystery producer who has made a career of producing and performing thousands of murder mystery public dinner shows, murder mystery weekends, or private corporate events in front of live audiences, preferable with years of theatrical experience," he said.
O'Leary walks the walk: Murder Mystery USA offers everything from small personal murder mystery dinners for 10-12 guests to banquet-sized groups of 100 or more, as well as four different types of virtual murder mystery events, and a more in-depth CSI team-building experiences.
And just how murder mystery has seen an evolution from the time of the Whodunit series, it's still evolving as an event model; overall, customization seems to be an increasingly popular option.
"We have added the ability for clients to become characters, we've expanded our theme options, and, of course, we've added virtual murder mystery with actors in full costume, themed backgrounds, and hilarious plot twists," Hill said of recent add-ons to the mysterious experiences at Slixer Events & Entertainment.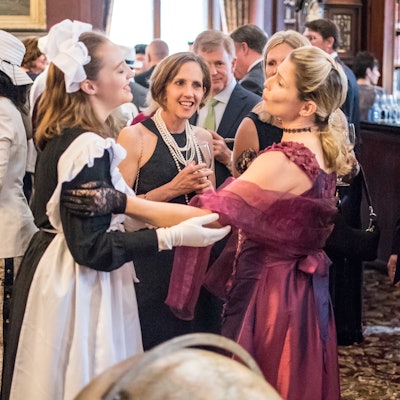 At Murder Mystery USA: "The one big change we made years ago in producing our corporate murder mystery offerings for certain companies where everyone knew each other was to suggest using 3-4 people from the group as culprits in the plot along with our professional actors, without the others knowing about it," O'Leary said. "What this did was effectively make the mystery about the company."
And the murder mystery as a go-to for team-building doesn't appear to be dying down (pun intended) anytime soon. "The advances in technology over the next few years promise exciting new possibilities for both murder mystery dinner theatre and virtual murder mysteries alike," Hill said. "With immersive experiences combining suspenseful storylines with cutting-edge tech, these events look set to remain popular for many more years to come."
O'Leary added: "The sky is the limit. With the advent of AI and robotics, I can see advancement in interactive events across the board with hybrid live and virtual dinners, weekends, and corporate events. Imagine what it would feel like when the man sitting at your table is not only the killer, but a robot!"