Ecuadorian Roses, Dublin Bar Decor, and a Live Pianist Deck Out Spirit Awards Sponsor Lounges
February 28, 2012
With last year's frigid rain still on Film Independent's radar before the annual Spirit Awards on Saturday, the nonprofit painfully allotted $10,000 of its meager event production budget for a berm rental to prevent water from seeping into the main tent—then happily canceled the order when the weather report shined on the casual precursor to the Oscars.

Of course, there are many moving parts to award season, and even the best efforts to prevent disaster can fall short. Certainly no one anticipated the snag at the airport two days before the Spirit Awards when 5,000 roses flown in from Ecuador for sponsor Piaget's backstage V.I.P. tent were held up by U.S. customs officers because they'd spotted an "unidentified insect." The flowers were crucial to the Swiss jewelry brand's tent design, a variation on last year's garden-party theme, envisioned by Piaget's Natacha Hertz. The hot pink blooms were actually Yves Piaget roses, bred by the company founder's great-grandson 30 years ago, and 3,500 of them were needed to cover just the branded wall at the entrance, where they would perfume the air for the revelers inside.
Larry Abel of Abel McAllister Designs, who realized Hertz's vision, settled with the feds by fumigating the roses, which finally arrived at 4 p.m. the day before the event, leaving event staff prepping and positioning them until 8 a.m. Inside Piaget, all was relatively serene during the two-hour show, where guests listened to cocktail music Sean O'Connell played on a white baby grand piano and snacked on tray-passed caviar, mini sandwiches, and desserts atop a plexiglass buffet with columns that enclosed waterfalls. After the show, the well-heeled crowd again surged into the hedge-lined tent, where Hertz gifted The Artist actress Penelope Ann Miller with a delicate gold chain bracelet set with a small diamond.

In the 30,000-square-foot main tent, Spirit Awards executive producer Diana Zahn-Storey, formerly the show's longtime in-house overseer, had her paces down in her first year running the show as an independent producer for Film Independent's new co-president, Sean McManus. With the last decade's technological advances spreading moviemaking around the country, Zahn-Storey opted for a stage backdrop that reflected independent film's increasingly diverse locations. The stage was executed by Joe Stewart, who also designs the stage for the Screen Actors Guild awards. "My thought this year was to make a statement that we are all about American independent cinema, and that doesn't mean just Los Angeles and New York," Zahn-Storey said. "It means everywhere."

Celebs at the podium were flanked by cartoon-style renderings of the Guggenheim Museum, Capitol Records, and the Sears Tower, big-city icons that didn't escape show host Seth Rogen's scathing wit: "Nothing says independent film like every city's most expensive building." The city theme informed the dining area's look, with silver tablecloths topped with bottles of champagne, Jameson, and Fiji water. For dinner, guests dined on Along Came Mary's roast beef, eggplant Italiano, brown rice and quinoa salad, and an array of desserts.

While most of the 1,500 attendees stayed in the main tent during the show, saving sponsor tent visits for before and after, one backstage tent was crammed throughout the day. That was the official gift lounge created by On 3 Productions, where Carson Kressley nabbed freebies from Wella Professionals, New Balance, Tree Hut, and Crunch. The brands were among the dozen vendors whose spotlighted wares popped visually in the darkened black tent, which provided a stark contrast to the bright daylight outside.

Another standout was the Jameson tent, the Irish whiskey brand's first. Working from photographs of an actual Dublin pub, Pernod Ricard U.S.A.'s Jeffrey A. Moran led the team that reproduced a traditional Irish drinking establishment with vintage charm and fresh updates. Tufted leather seating and weathered wood tables and cabinets—even a vintage floor radio—gave the room a traditional feel, while large arrangements of green cymbidium and black roses coupled with manzanita driftwood and ginger (a nod to the brand's signature drink served on the red carpet, Jameson and ginger ale) added style. With plenty of green light filtering through the clear green tent's entrance panels, designer Elias Soto Jr. of ESE Lifestyle was able to use ceiling fixtures solely for branding, creating circular chandeliers decorated with Jameson bottles. "I like to think of it as the Soho House meets the Irish pub," Soto said. Ryan Kenney served as DJ.

Next door was another new tent sponsor, Audi, which parked a sleek red-and-black Audi R8 Spyder sports car near one of the campus entrances. The Audi lounge, pulled together by in-house marketing event specialist Amy Ford with the help of Abel McCallister Designs, was cloaked in the brand's signature colors. Red flowers and pillows popped against the black-and-white striped walls and cocktail table umbrellas, adding variation to white tufted seating and black artificial turf and tables.
Available to all guests of the show was a popular attraction from sponsor Nokia: A vending-machine-like prize box beckoned guests to check in on Foursquare to win items like speakers and phones.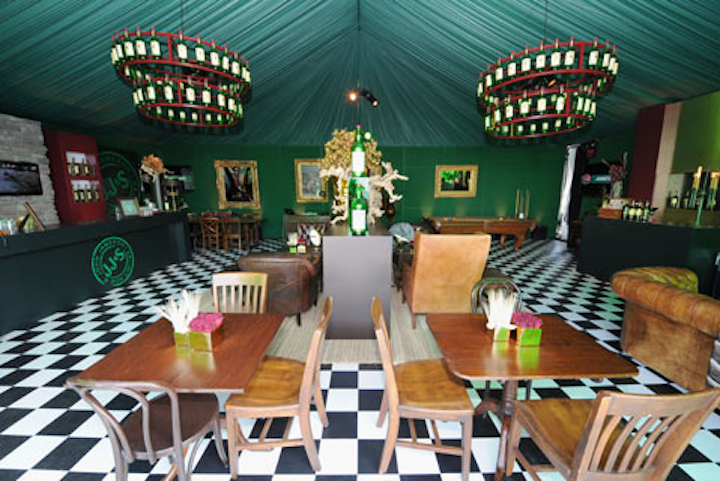 Photo: Dimitrios Kambouris/Getty Images For Jameson Irish Whiskey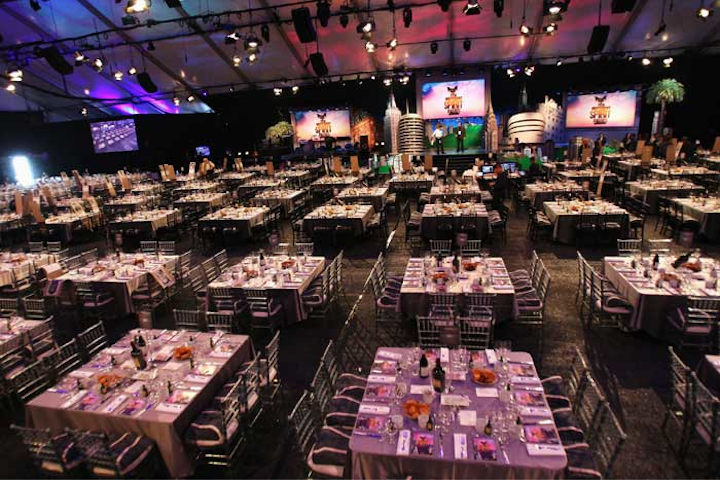 Photo: Joe Scarnici/WireImage, Courtesy of Film Independent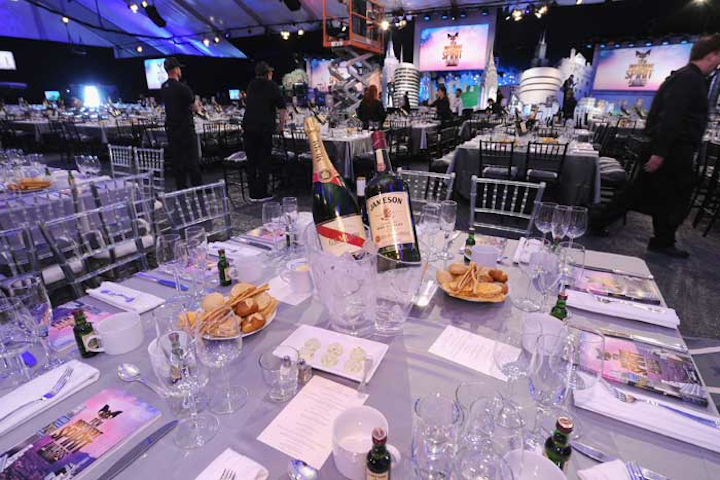 Photo: Dimitrios Kambouris/Getty Images For Jameson Irish Whiskey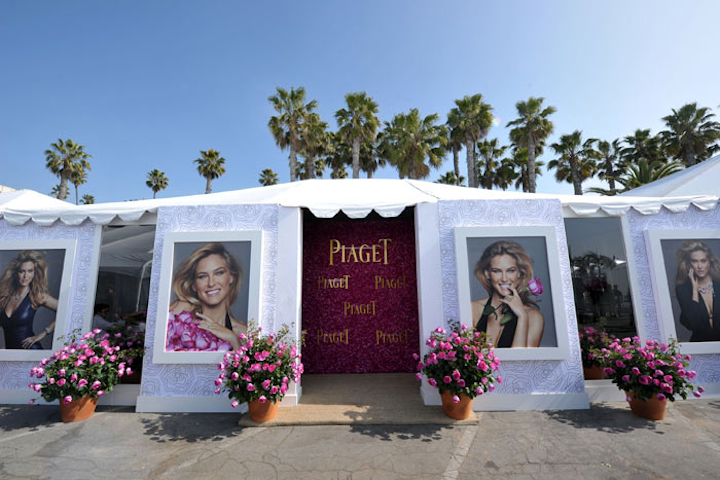 Photo: John Shearer/Getty Images for Piaget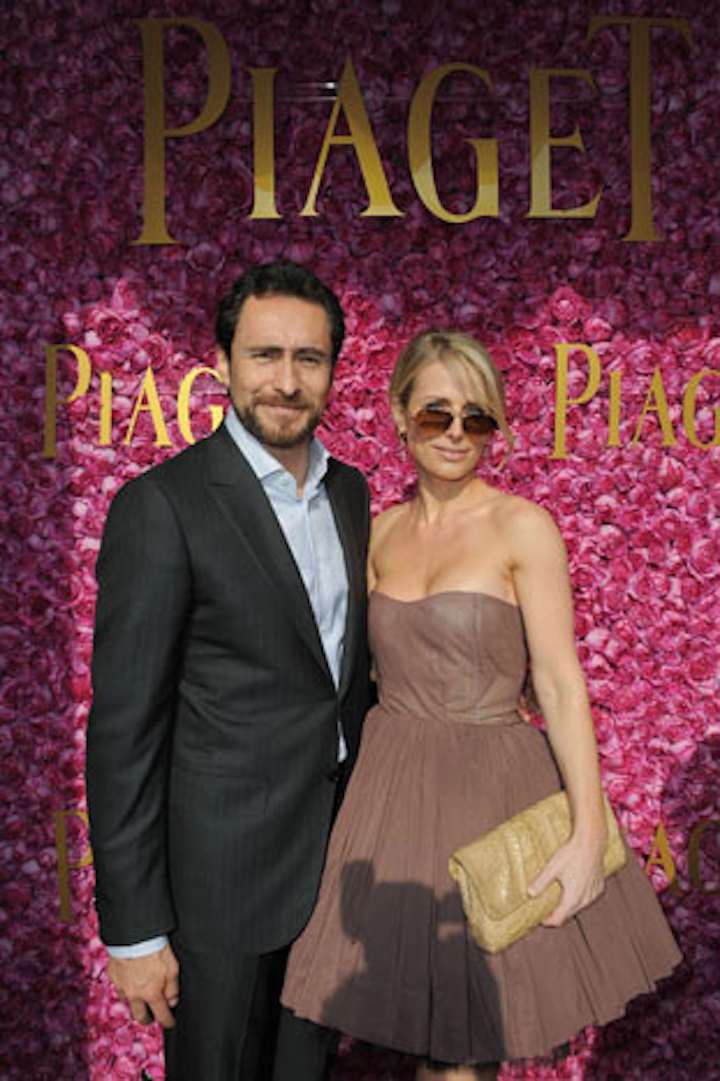 Photo: Jordan Strauss/Getty Images for Piaget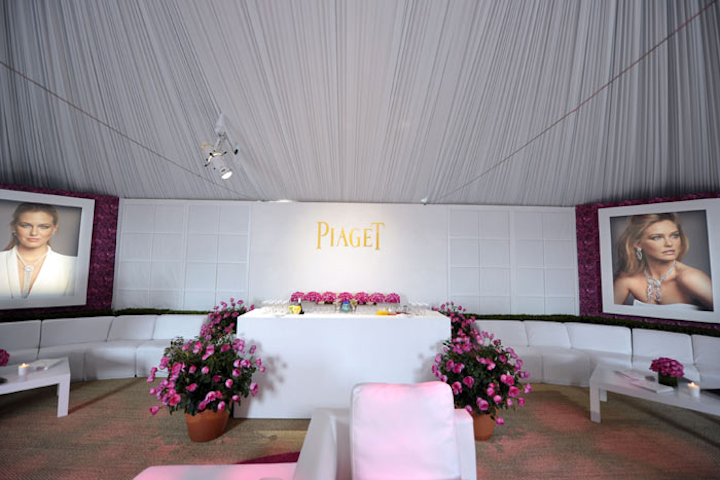 Photo: John Shearer/Getty Images for Piaget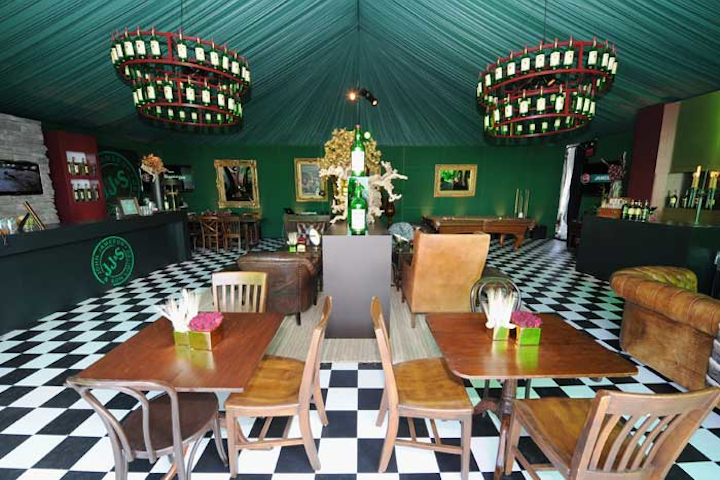 Photo: Dimitrios Kambouris/Getty Images for Jameson Irish Whiskey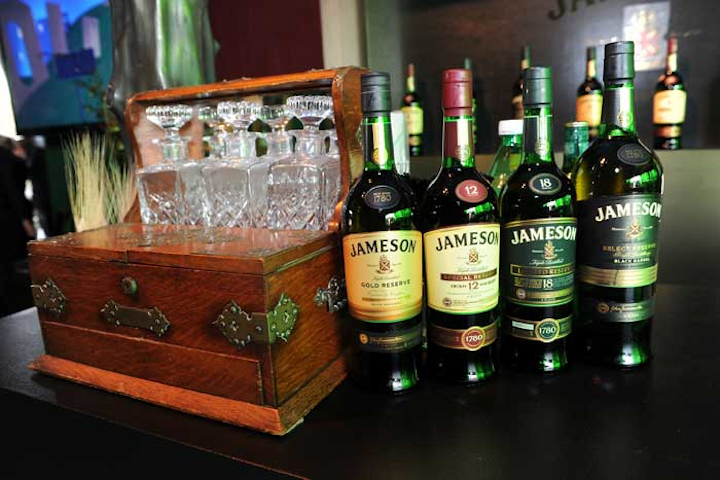 Photo: Jamie McCarthy/Getty Images For Jameson Irish Whiskey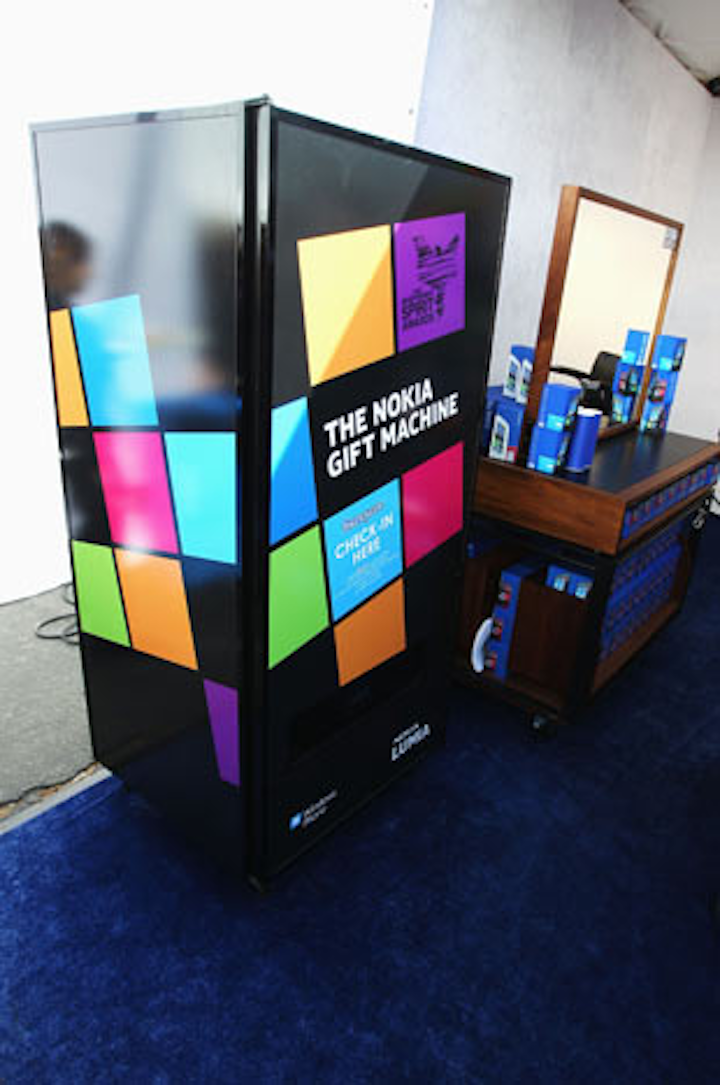 Photo: Joe Scarnici/WireImage, Courtesy of Film Independent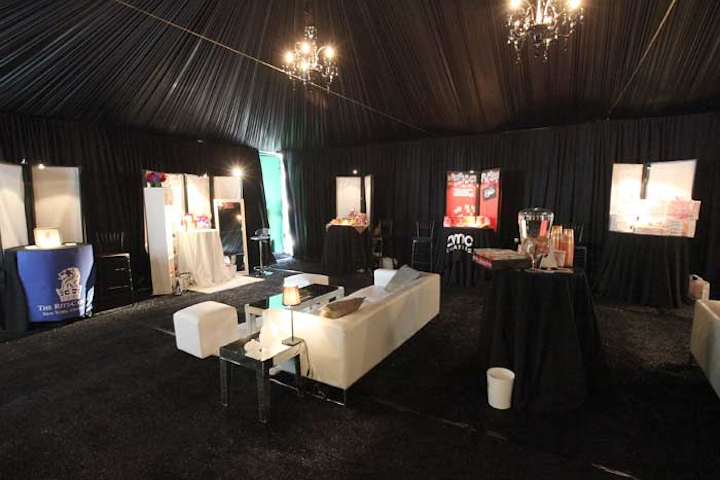 Photo: Jesse Grant/Getty Images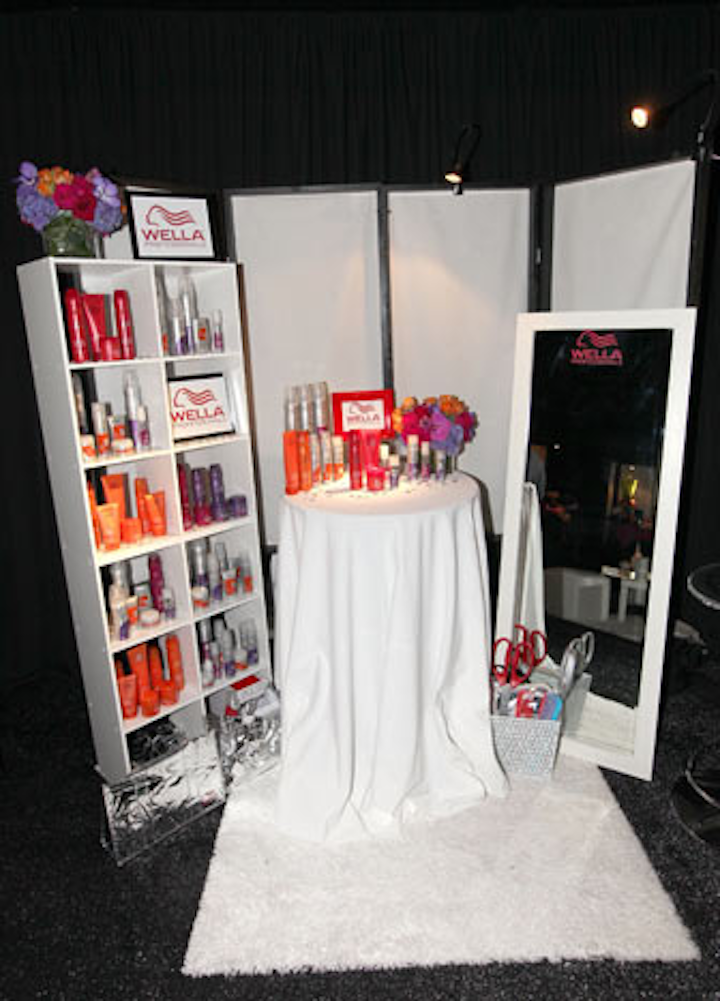 Photo: Jesse Grant/Getty Images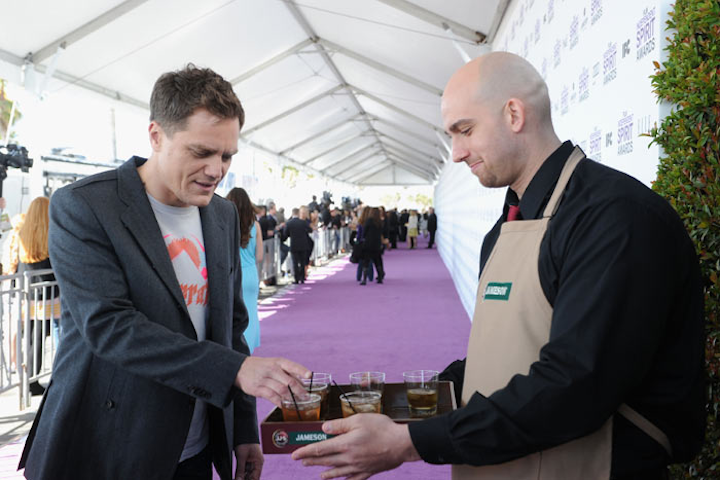 Photo: Jamie McCarthy/Getty Images for Jameson Irish Whiskey
Featured Venues/Suppliers: