Benefit Puts 9/11 Artifacts on Stage
The gala for the National September 11 Memorial & Museum previewed items that will be exhibited at the soon-to-open museum by incorporating them into the stage design.
November 6, 2013
In a bid to capture the past and look to the future, the gala for the National September 11 Memorial & Museum incorporated artifacts from the 2001 attacks into the modern design of the stage and room. Unlike previous years, which centered on the memorial, the benefit held on September 3 put the spotlight on the soon-to-open museum and the recovered items that will be on display in the exhibition space.
To showcase the artifacts without cluttering the stage at the Waldorf Astoria's grand ballroom, 360 Design Events used images rather than the actual pieces, installing oversize light boxes above the stage and arranging them in a custom proscenium. As presenters on stage referenced each item, revealing the story behind a pair of heels or a lanyard, the corresponding image was illuminated.
The producers incorporated other thoughtful design elements such as sky blue and white lighting to set an uplifting tone in the ballroom. For the dinner tables, the 360 Design Events team created intricate, puzzle-like centerpieces comprising cards printed with images of memorial visitors, construction workers, first responders, and others affected by September 11.
Jeffrey Immelt hosted the evening, which included performances by Bernadette Peters and the Broadway Youth Ensemble. Alongside Robert De Niro and Jane Rosenthal, co-founders of the Tribeca Film Festival, children born on September 11 presented the Visionary Distinction award to Mayor Michael Bloomberg who gave $15 million to the National September 11 Memorial & Museum.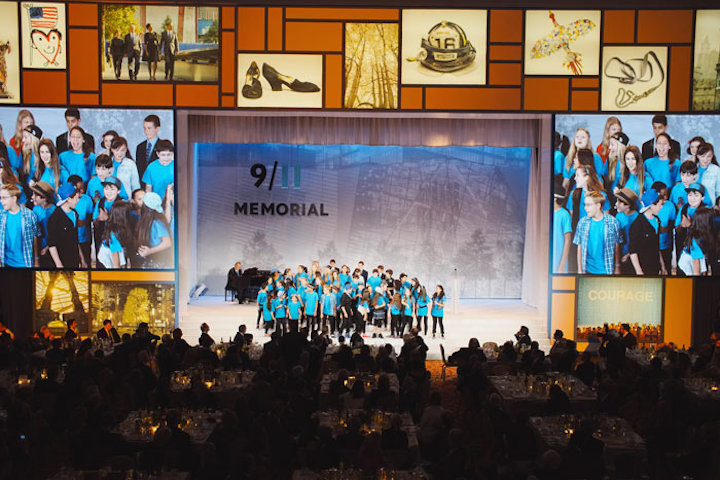 Photo: Jamie Watts Photography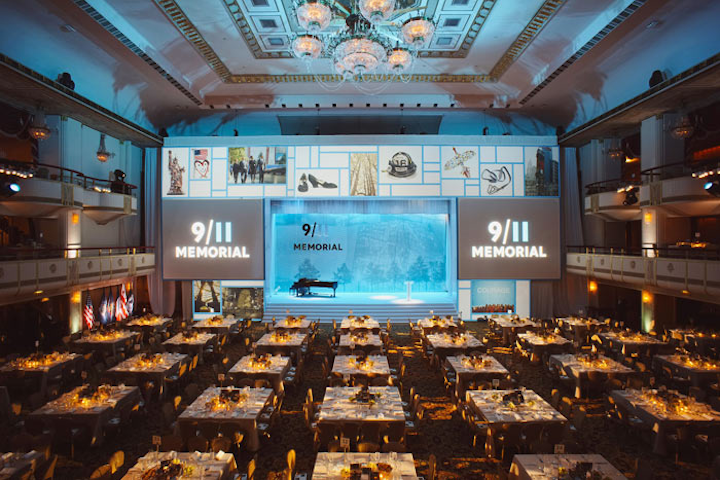 Photo: Jamie Watts Photography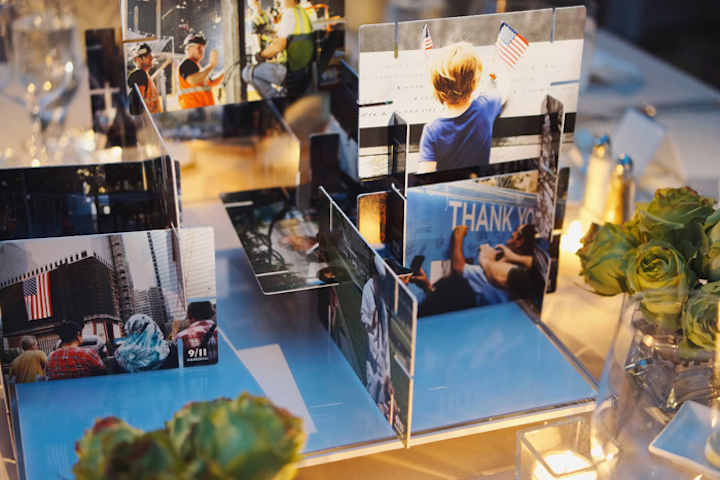 Photo: Jamie Watts Photography
Featured Venues/Suppliers: