Amid Powerful Storm, L.A. Marathon Adapts With Added Shelter and Heat
March 22, 2011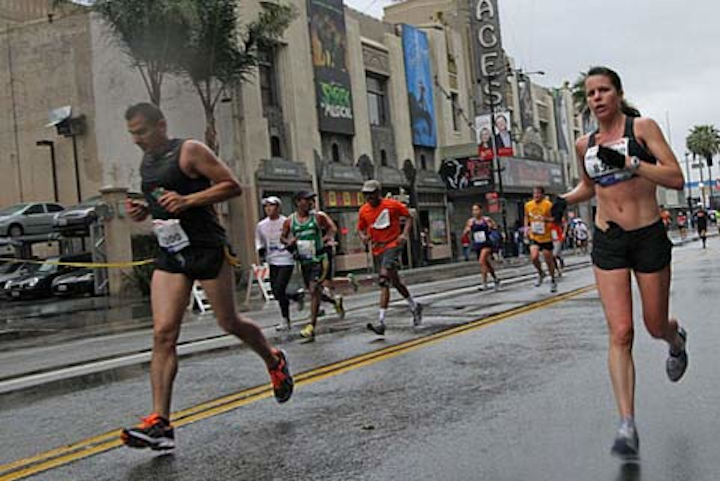 Photo: Shiggy Chinomiya
With thousands of volunteers, tens of thousands of participants, and hundreds of thousands of spectators, the Honda Los Angeles Marathon presented by K-Swiss took to the streets on Sunday—amid the worst weather in the race's history. "It was held in the most challenging conditions ever for the 26-year-old marathon in Los Angeles," race press officer Rich Perelman said. "The cool temperatures, heavy rain, and high winds at the finish may have been uncomfortable, but an amazing 97 percent of all of the runners who started actually finished the race."

To get runners out of the cold, eight hotels in Santa Monica opened their ballrooms to allow participants to dry off and warm up; it was widely reported on race day that runners were checked for hypothermia in a ballroom at the luxe Fairmont Miramar. The city of Santa Monica provided city buses equipped with heaters to provide additional shelter, and a group of Metro buses augmented the normal van service that collects runners who stop along the route, bringing them to the finish area to meet up with their families and friends.
"It's not an overstatement to say that the runners showed remarkable determination in finishing the race, and the professionalism and flexibility of the race volunteers and the public safety and transportation departments from the five involved jurisdictions ensured that everyone overcame the conditions just as they overcame the distance and the elements," Perelman said.
Featured Venues/Suppliers: