What Do Millennials Actually Want From Brand Experiences?
A new study from event marketing software platform Splash found that millennials care about attractive invites, memorable swag, and personalized post-event offers.
May 13, 2019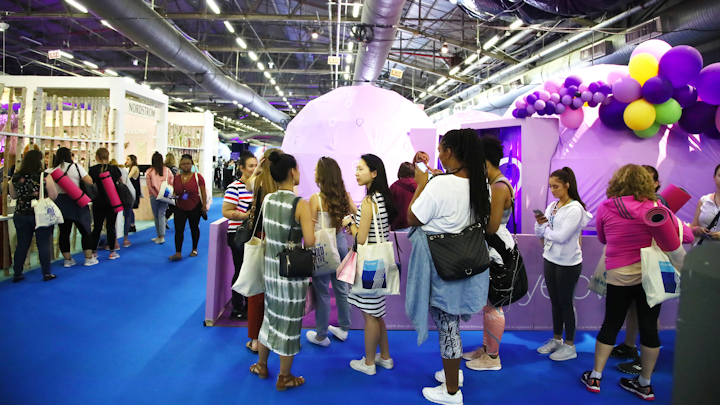 Photo: Astrid Stawiarz/Getty Images for POPSUGAR Play/Ground
Last year, a study conducted by the McCarthy Group found that 84 percent of millennials distrust traditional marketing. This finding has only amplified the need for brands to target the sought-out demographic through experiential marketing. But to keep driving Generation Y to their events, brands have to know what they want and constantly evolve their event strategies. So in 2019, what exactly should brands be doing at their events to cater to millennials?
Splash, an event marketing software platform based in New York, recently conducted a study focused on what millennials want from brand events by surveying 785 millennials from around the world. Splash C.E.O. Ben Hindman said the study was conducted for the event and experiential marketing community to "better understand what makes millennials click, attend, buy, and move through the event lifecycle." 
Among the findings: 40 percent of millennials said if an event invite is ugly, they wouldn't attend; 56 percent said the reason they signed up for a brand's email list is because of the experience they attended; and 47 percent said they attend brand events to get memorable swag. 
"This is huge," Hindman said of the event invite stat. "Losing almost half of your audience to bad design means event producers need to invest in an amazing experience at every single touch point, even before your event begins."
A recent study found that nearly 30 percent of millennials consider attending an event an act of brand loyalty, while nearly one-quarter attend just for social media bragging rights.

During an event, aside from getting swag, the study also found that memories from an event are important to millennials. Fourteen percent said they remembered an incredible performance, and the same amount said they remembered when a brand surprised them with something unexpected.
The study's findings of what millennials want after an event included 92 percent saying they would be open to receiving personalized email offers or loyalty rewards from the brand. And when it comes to post-event photos, 75 percent said they would expect a brand to let them know where and when the photos are posted within two days.
"One thing that surprised me is the expectation that millennials had about the entire event experience, pre- and post-event." said Hindman. "One thing most event organizers forget about is the power of a post-event strategy and how it can continue to impact revenue way after the event."
Allen Yesilevich, vice president of marketing and growth for MC2—a brand experience solutions company with clients such as Netflix, Toyota, and Canon—said millennials care more about brand purpose and authenticity. Yesilevich, who was not involved in the study, noted that because of a digitally crowded landscape and increasing skepticism of social media messaging, brands should make it a priority to convey meaningful stories across multiple platforms.
"Combining digital with experiential activations presents an opportunity for brands to genuinely connect with an audience and immerse them within a tailored environment," Yesilevich said. "Consistency throughout the event ecosystem is critical to providing a seamless experience and nurturing a relationship that goes from visitor to customer to evangelist. From the very first email invite to the swag giveaway, millennials and Gen Zers want to feel as if their own values align with a company's mission. Any hiccup along the way can jeopardize that."
Anna Plaks, senior vice president of creative development and innovation at PopSugar, said the findings from Splash's study correlated with events she helps execute for the millennial-minded media company, including the PopSugar Play/Ground, a two-day interactive festival in New York geared toward women ages 18 to 34. The festival's inaugural edition took place last year and drew around 10,000 people to see panels with celebrities such as Mindy Kaling and Yara Shahidi; participate in workouts led by fitness professionals; and experience 14 sponsor activations and a market that included 61 exhibitors selling festival-exclusive products.
"The reason we created PopSugar Play/Ground is because we wanted to connect with our core loyalists. It was about creating the PopSugar brand in real life and celebrating with our audience on the ground," said Plaks. "We work hard to make the event look like a wonderland and in terms of what people value at the event, programming is number one for us."
The festival's upcoming second edition, taking place June 22-23, will feature headliners such as Issa Rae, Chrissy Teigen, and Mandy Moore. The festival will have a returning retail hall and interactive experiences such as a gamified beauty carnival and a Samsung Galaxy-sponsored wellness area. Creating memories for attendees with immersive activations also is a top priority, said Plaks.
"We have 20 sponsors [this year] and each sponsor activation is something we're building from the ground up," Plaks said. "The experiences need to add value, add interactivity, and be super playful. Every brand that participates will have a fun, interactive build that either offers some sort of giveaway or programming, which is spot on with the study's findings."
One aspect of Splash's study Plaks didn't agree with was the notion that millennials won't attend a brand event if the invite is ugly. Plaks explained having a pretty invite was probably necessary five years ago, when more brands wanted their events to have an aura of exclusivity. Now, she said, brands should put more time into programming and ensuring the event represents the brand identity.
"I don't think you have to have a super glossy event page," she said. "The mood and the culture of the event, and making it feel like your brand, is really what's important. There needs to be a mood attached to it. I don't actually think the invite has to be beautiful anymore."
Offering value is one thing brands always should consider if they want to keep attracting millenials in the future, noted Plaks. "Whether it's in the programming or in terms of sales, you really have to put more effort into the value," she said. "It's not about a flower wall or providing an Instagram moment. It's about attendees learning something, or participating in a workout, or gifting them something valuable. There should be more of a long-term connection than a short branding moment."
Hindman added to this idea, noting that events drive brand engagement. "Brands need to understand that in-person experiences can help nurture and build long-term relationship with new customers."