See These Cliff Divers Plunge From Crazy High Heights
Red Bull showcases this extreme sport with its annual series featuring events around the world.
August 7, 2019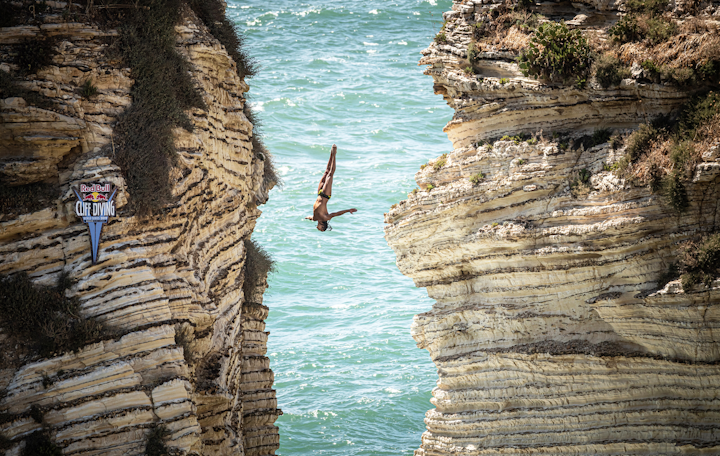 Romina Amato/Red Bull Content Pool
In April, the Red Bull Cliff Diving World Series kicked off its 11th season with 10 men and six women competing in seven competitions across seven international stops. The global series wraps up on September 14 at Bilbao's La Salve Bridge in Spain, which is located next to the Guggenheim Museum Bilbao.
Descending from heights of up to 90 feet (27 meters), the cliff divers can reach speeds in excess of 53 m.p.h. in less than three seconds. (Olympic divers do it from 10 meters.)
The series, which started in La Rochelle, France, in 2009 and is produced internally by Red Bull, showcases divers in the water surrounding natural and urban environments as well as remote venues around the world. This year, three new locations were introduced: El Nido in Palawan Island in the Philippines; Dublin; and Beirut. Former Olympic diver Greg Louganis currently serves as sports director for the series, which drew 170,000 spectators last year, with many watching from the water.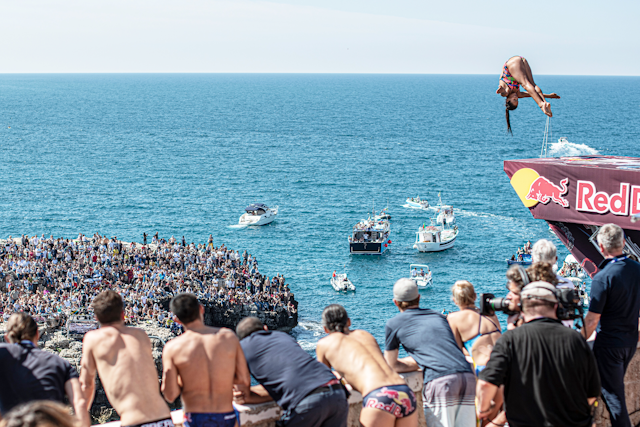 Maria Paula Quintero of Colombia dives from 70 feet during the third stop of the series in Polignano a Mare, Italy, on June 2.Dean Treml/Red Bull Content Pool

The highest risk of injury happens during the landing phase. Immediately after hitting the water, the athletes have to dive away to avoid compression or contortion of body parts caused by the hardness of the water. Plus, they're going from 53 m.p.h. to zero in less than a second. There are rescue divers on standby next to the diving and landing points, as well as an ambulance. But because of the divers' technical training and experience, mistakes are rare.
Five international judges award points between 0 and 10, in half point increments, based on take-off, execution in the air, and water entry. The series champion is awarded the King Kahekili Trophy, in honor of the Hawaiian chief who leaped from the lava cliffs of Kaunolu, which was the birthplace of the sport in the late 1700s.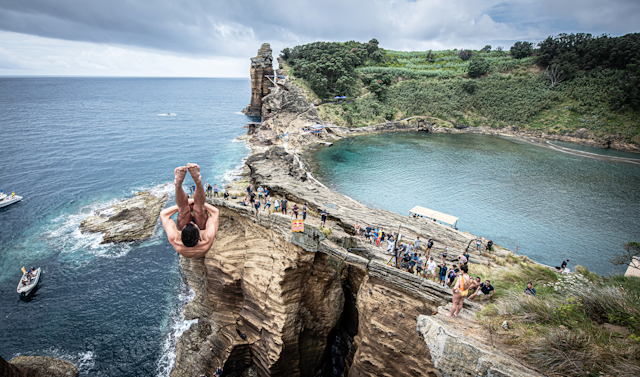 Jonathan Paredes of Mexico dives from almost 84 feet at Islet Vila Franco do Campo during the fourth stop in Sao Miguel, Azores, Portugal, on June 20.Romina Amato/Red Bull Content Pool

On July 14, for the first time, divers took flight from a limestone outcrop outside Lebanon's capital city, known as Raouché, into the Mediterranean Sea. Watch the competition below:
Broadcasts of the competitions are available on redbullcliffdiving.com, Red Bull TV, Facebook, and Youtube.