What You Need to Know About That Controversial Hamptons Concert
The large-scale drive-in fundraising event included a performance by The Chainsmokers and lots of questionable behavior. Before the concert, event organizer Seth Kaplan spoke to BizBash about the safety protocols being put in place.
July 29, 2020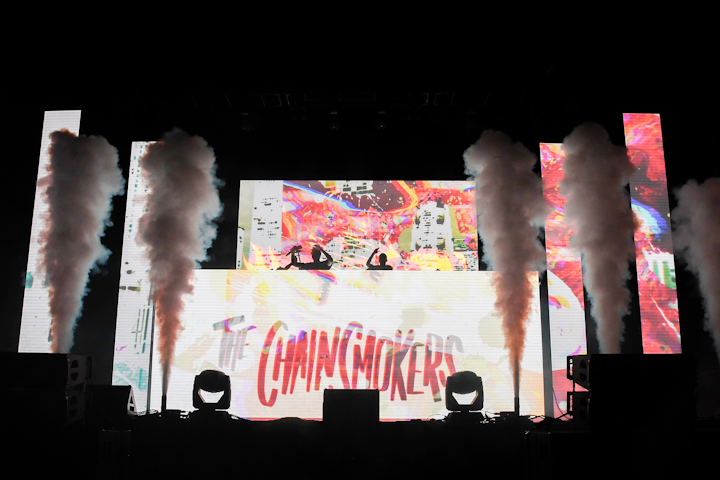 Photo: Kevin Mazur/Getty Images
WATER MILL, N.Y.—On July 25, In The Know Experiences and Invisible Noise Productions teamed up with JAJA Tequila to co-host "Safe & Sound," a drive-in fundraiser concert that included a performance by The Chainsmokers.
Nova's Ark Project, a 100-acre property in Water Mill, N.Y., served as the outdoor venue for the socially distanced festival, housing 500 cars with a total attendance of 2,000 people. And although safety protocols were put into place, several news outlets have been reporting on viral videos from the concert, including one posted by CEO of Disruptor Records Adam Alpert, that appear to show crowding and front-row guests without masks. Because of this, the state of New York has launched an investigation into the event, noting that "no non-essential gathering is permitted in excess of 50 individuals."
A spokesperson on behalf of event organizers In The Know Experiences and Invisible Noise issued a statement to BizBash, saying "the Safe & Sound drive-in concert fundraiser followed the guidelines created by the Centers for Disease Control and Prevention and made best efforts to ensure New York's social distancing guidelines were properly maintained throughout the event. We collaborated with all state and local health officials to keep everyone safe, create awareness for local businesses, provide work to over 350 people who have been unemployed as a result of the pandemic, and to bring some joy into people's lives during these difficult times."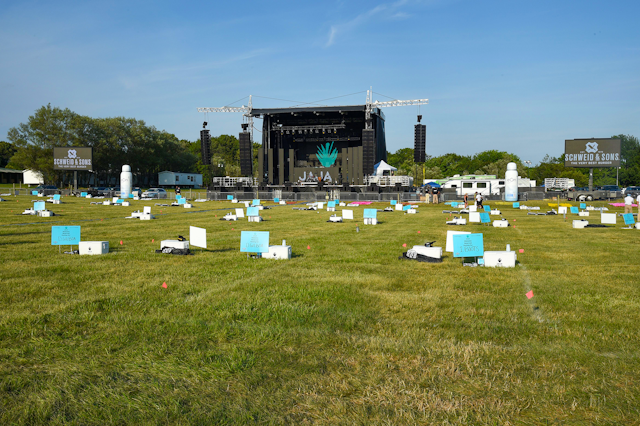 Concertgoers were able to purchase reserved parking zones that were designed for four to six people per car and were spaced six feet apart.Photo: Kevin Mazur/Getty ImagesWe chatted with In The Know Experiences' co-founder Seth Kaplan last week before the fundraiser to learn about the public safety measures that were being set up. "We've gone over and above," he said when discussing the guidelines, "for the safety of both the people working this, the artists, and also the client and the fan."
He added that guests were to receive PPE upon arrival including branded masks and sponsored hand sanitizer, as well as a temperature check. Attendees were also required to complete an online COVID-19 questionnaire before the event. "What's important is making everybody feel comfortable and following standards," he said.
There were to be hand-sanitizing stations in every row; socially distanced exits in the bathrooms, which would be disinfected every 10 minutes; and an on-site physician who would be performing temperature checks on all staff. Plus, the amount of security was tripled (over 80 guards) in order to monitor guests, and instead of the usual round-the-clock 100-person crew, the work schedule was divided into 20-person shifts to help maintain social distancing. "The back elements to this are as important as the front elements to keep everybody safe," Kaplan said.
In the statement to BizBash, the event organizers added that "guests were also instructed that they would not be allowed to leave their designed spots for any reason other than to use the restroom facilities. Announcements and reminders were made every 30 minutes from the main stage, and security guards regularly patrolled the area to encourage mask-wearing and promote social-distancing guidelines."
Back in January, In the Know Experiences had produced a Chainsmokers concert in Miami, in conjunction with Super Bowl LIV. "That was one of the last big events that took place in the U.S. and globally," Kaplan said. It was a desire to bring back that type of experience safely that led to the drive-in fundraiser idea.
But because there aren't any uniform safety protocols for hosting such an event, Kaplan and his team needed to devise a plan. It's "almost a chicken before the egg [scenario] where we had to come up with this guideline. We had to submit it to the city. We had basically put over $50,000 in the legal and permitting to even get this package together. So it was a risk on our end before we had any brand involved, but we knew there was something here," he explained, adding that the fundraiser was planned in three weeks.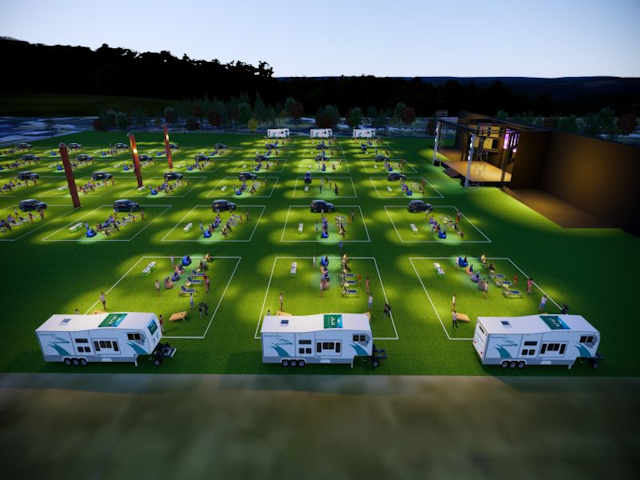 This rendering illustrates the venue layout for the drive-in fundraiser concert.Rendering: Courtesy of Safe & SoundFor the Saturday-night event, concertgoers were able to purchase reserved parking zones, which were designed for four to six people per car and spaced six feet apart. Each came complete with custom coolers stocked with goodies including non-alcoholic beverages, sparkling water, and snacks, as well as carnival-type games such as Jenga and cornhole.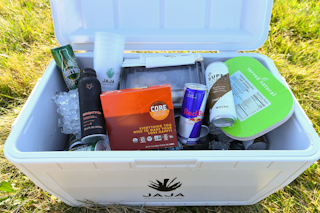 Parking areas included custom coolers stocked with goodies including non-alcoholic beverages, sparkling water, and snacks.Photo: Kevin Mazur/Getty ImagesKaplan explained that the areas were "really self-contained" by stanchions and metal barricades, and that guests "never have to leave if you don't feel comfortable being in the larger crowd." Masks were required if guests left the area to use the restroom.
Ticketing tiers ranged in price from $1,250 to $25,000. The Jaja Like a Rockstar Package (which cost $2,500 per person) included a private, fully furnished 30-foot RV for 10 guests within a 20-foot-by-20-foot area equipped with lounge chairs.
"People were doing the movie drive-ins and they were, in my mind, kind of stale, not really interactive. And I thought, what if we could find a space where we could have a client arrive and create a full experience?" Kaplan said.
To replicate a music festival atmosphere, he said that attendees could interact with brands and participate in an online auction, all via text. Plus, guests could pull up to a "drive and repeat" for a photo op.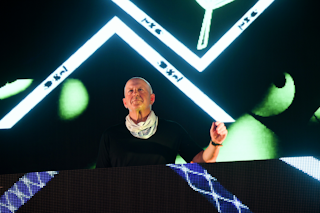 DJ D-Sol (also known as Goldman Sachs chief executive David Solomon) opened the night, which has also been a point of contention for critics.Photo: Kevin Mazur/Getty ImagesIn addition to headliner The Chainsmokers, DJ D-Sol (also known as Goldman Sachs chief executive David Solomon) opened the night, which has also been a point of contention for critics. Southampton town supervisor Jay Schneiderman and Southampton mayor Jesse Warren emceed the evening.
It should also be noted that JAJA Tequila is the brainchild of Elliot Tebele, founder of Jerry Media; Tebele's team helped promote the ill-conceived Fyre Festival. Alex Pall and Drew Taggart of The Chainsmokers are also part owners of the tequila brand.
Proceeds from the event will be donated to No Kid Hungry, Southampton Fresh Air Home, and Children's Medical Fund of New York.
Kaplan said that he's currently planning similar events such as a glamping festival, a drive-in food festival, and a picnic with social-distant circles in other cities including Miami, Atlanta, Nashville, Los Angeles, and Chicago. Given the surge in COVID-19 cases in some of those cities, it's unclear whether the events will take place as planned.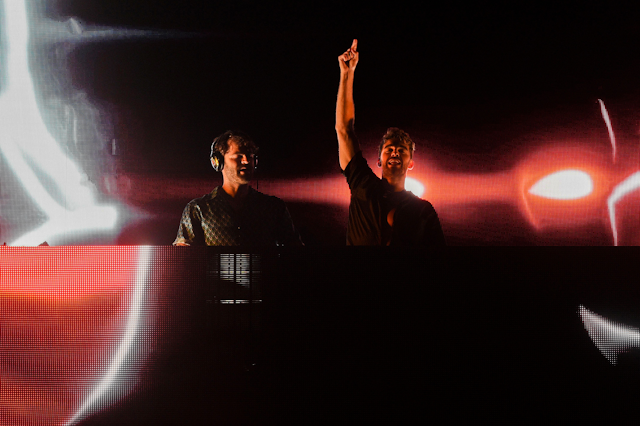 The Chainsmokers were the night's headlining act.Photo: Kevin Mazur/Getty Images