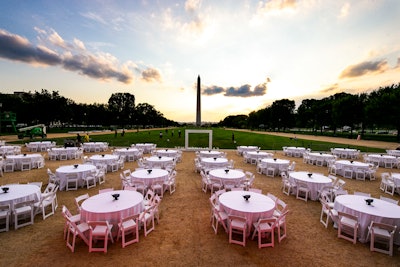 On the evening of Aug. 5, an event took place. But no one showed up. And that was the point.
As part of its ongoing efforts to bring much-needed attention to the industry, the Live Events Coalition, a volunteer-run nonprofit organization created in response to the COVID-19 pandemic, hosted an "Empty Event" on the National Mall in Washington, D.C., within eyesight of the U.S. Capitol.
Nancy Shaffer, founder and CEO of BRAVO! Events and the newly elected president of the coalition's board, says that these staged events, which so far have taken place in D.C., Dallas, and New York with more on the way, are designed to "to showcase and remind people that [an event] doesn't magically appear. That there are these extremely talented and highly skilled and trained professionals that build this."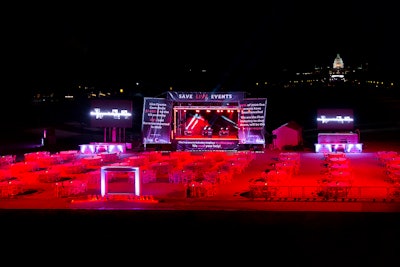 The grassroots organization, which grew out of a Change.org petition, aims to provide a voice to the oftentimes "invisible" industry of professionals who toil behind the scenes at galas, concerts, fundraisers, sports games, banquets, weddings, and more. "We're not supposed to be seen," Shaffer says.
But the live event industry is a huge economic driver, contributing roughly $1 trillion to the economy prior to COVID-19. That's partly because its ecosystem touches many other upstream and downstream markets. According to the coalition, the industry is expected to lose up to 80% of its overall revenue.
"Not only am I not working—my florist isn't working, my wholesaler isn't working, and the farmer who was planting those crops is not working," says Shaffer.
And because of the industry's inherent segmentation, with different associations formed around certain specialty groups such as caterers or rental companies, Shaffer says that there needed to be someone to lobby on behalf of everyone—the planners, caterers, talent, musicians, producers, technicians, general contractors, engineers, suppliers, manufacturers, and others. "There was no umbrella organization. ... The national Live Events Coalition is attempting to become that entity and to be that voice."
"Our needs are extremely unique in comparison to any other industry," she explains. "We consider the restaurant industry our brothers and sisters. We consider the hotel industry brothers and sisters. But they're different. When they say you can come back to work, you can come back to work. The next day they are up and operational. For the live events industry, I am sure that we will be, by far, the last to reopen and we can't do it until it's safe. And we also cannot reopen technically until people feel safe going to events."
The organization has enlisted the help of creative advocacy firm Subject Matter to create a communications plan to promote its efforts. In addition to the "empty events," the coalition also launched a hashtag campaign called #WishIWasThere. Event pros are encouraged to share behind-the-scenes images from events via social media and explain how the lack of events is affecting them financially. They are also asked to tag their representatives in Congress.
To help with the economic burden, the coalition is currently lobbying Congress for an updated and improved Paycheck Protection Program (PPP); an updated and improved Economic Injury Disaster Loans (EIDL) program; the ability for businesses who have already received PPP and EIDL assistance to reapply based on need; easier access to SBA 7(a) funding; and an updated and improved Pandemic Unemployment Assistance (PUA) program.
As of last week, the Senate and House had agreed to delay their planned August recesses in order to vote on a pandemic relief package.
Shaffer says that her pivot into politics is unexpected but perhaps not surprising. Having grown up in Berkeley, Calif., "I was raised to fight for what I believe in. I was raised to never cross picket lines. I was raised to stand up for those who could not stand up for themselves," she explains. Her father was a community organizer, so her involvement in the coalition seemed to be destined. "I believe that is him within me, pushing me forward on this. ... That's my pivot—to bring recognition to our industry, make sure that legislators provide us with relief because we're going to need it longer than anybody else, and that long term we create an entity that will always be there for the live events industry."
The national organization boasts over 1,000 members, so far, with smaller state coalitions in California, California, Colorado, Connecticut, D.C., Florida, Illinois, Kentucky, Louisiana, Maryland, Massachusetts, Minnesota, Nevada, New Jersey, New York, Oregon, Pennsylvania, Tennessee, Texas, Utah, Virginia, Washington, and Wisconsin. (The California coalition will host an activation on August 12 at Xbox Plaza in L.A. Live in Los Angeles, where producers Sterling Engagements are coordinating a mix-media art installation and a car parade.)
In addition to lobbying Congress for federal aid, Shaffer says that the coalition will continue to provide resources and support for the industry. "Our hope is that some of these cities and states will look to us for reopening guidance, but also as we move forward, as the world of events changes and how we experience those events from a safety standpoint and experiential standpoint, a revenue standpoint, etc. [changes] that we are there as a resource to those as well."
D.C. EVENT COALITION VENDORS (products and services were donated): All Stage (stage) | Allied Party Rentals (tents) | Atmosphere (lighting) | Brandvizion (signage and centerpieces) | Control Video (video) | CPR MultiMedia Solutions (LED screens) | CVW Event Productions (video curation) | Design Foundry (decor) | Design Cuisine (vendor meals) | Revolution Event Design (decor) | Hargrove (stage banners) | Massive Security (security) | MBK Photography (photography) | MHA Audio (audio) | Occasions Caterers/Peach Perfect (vendor meals) | Perfect Settings (tables and chairs) | Pixelme Studio (photography) | Relish Catering (vendor meals) | Ridgewells Catering (vendor meals) | Revamp Photography (photography) | RSVP Catering (vendor meals) | Sunbelt Rentals (lifts and gator) | On Line Suburban Video (video) | Syzygy Events International (decor) | Table Manners (linens) | Temp-Power (generators) | Temperature Check (temperature checks) | United Site Services (restrooms) | Van Dalen Industries (bike racks) | Well Dunn Catering (vendor meals)
N.Y./N.J. EVENT COALITION VENDORS (products and services were donated): Creative Video Worldwide (video) | Concepts AD (banners, masks, stickers, signage design, and printing) | DragonFly Imaging (table and sign printing) | Eclipse Events (video, generators, audiovisual, videography/livestream) | EK Event Group (signage, graphic design, and masks) | Everything Entertainment (chairs and tents) | Hechler Photographers (photography) | Mark Doyle (photography) | New York Marriott Marquis (tables) | Natural Expressions (photography) | NYC & Company | Partners in Sound Productions/ Pro Sho Productions (staging and press riser) | Party Rental Ltd. (linens) | Silvercast (digital sign) | Times Square Alliance (stanchions, barricades, podium, and supporting staff)
TEXAS EVENTS COALITION VENDORS (products and services were donated): Greg Blomberg (photography) | GTexas and The Party Resource (round tables, chairs, linens, buffet tables, highboys, decor, and chargers) | Hello! Texas (website design) | Omni Hotel (venue) | Onstage Systems (stage, video wall, and video production) | Shag Carpet (decor, long tables, stools, hand sanitizing station, and centerpieces) | Sparks Agency (live armadillo racing) | Ultimate Ventures (event design, production, and table place cards) | Wicked Apple Media (PR & communications)
See more from Events Coalition rallies and events around the country.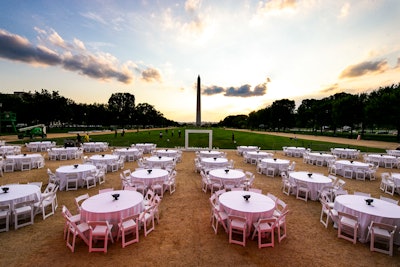 Photo: Michael Kress Photography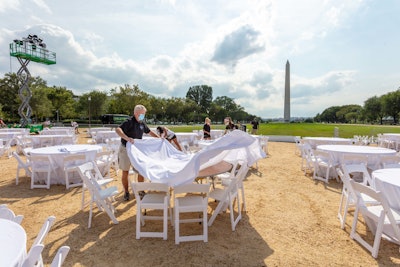 Photo: Pepe Gomez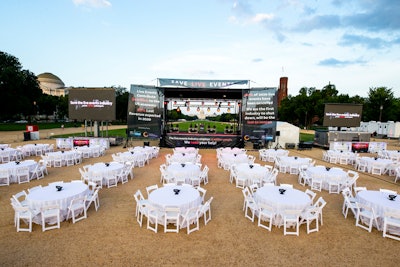 Photo: Michael Kress Photography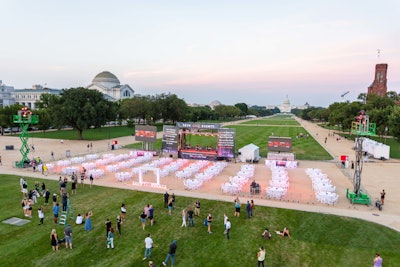 Photo: Pepe Gomez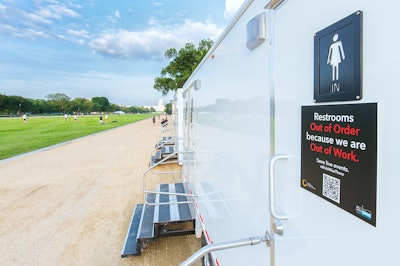 Photo: Daniel Swartz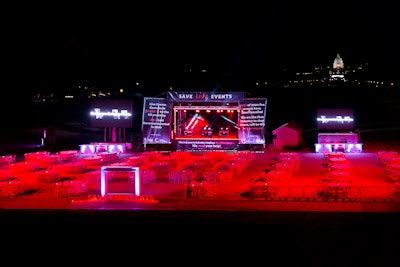 Photo: Daniel Swartz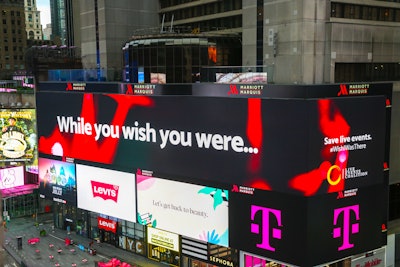 Photo: Natural Expressions NY/Hechler Photographers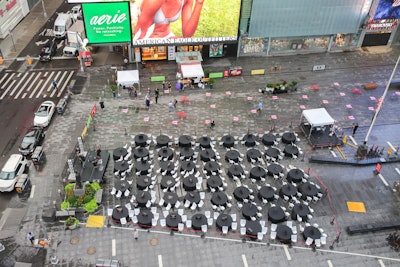 Photo: Natural Expressions NY/Hechler Photographers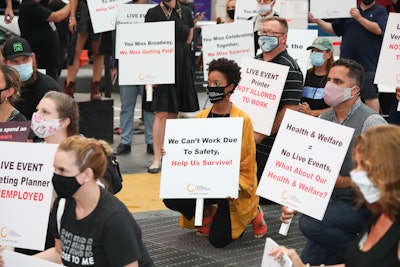 Photo: Natural Expressions NY/Hechler Photographers
Photo: Natural Expressions NY/Hechler Photographers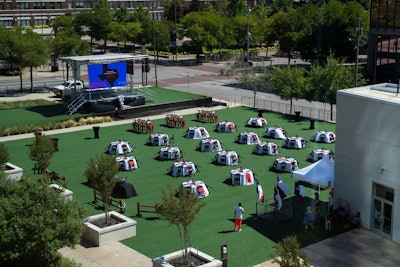 Photo: Courtesy of Live Events Coalition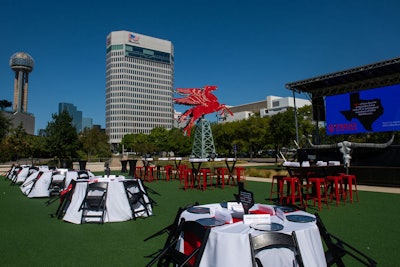 Photo: Courtesy of Live Events Coalition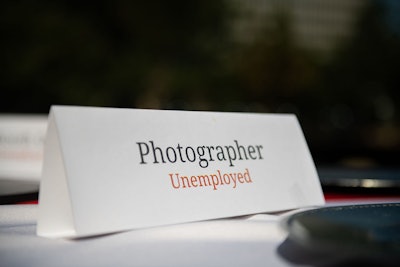 Photo: Courtesy of Live Events Coalition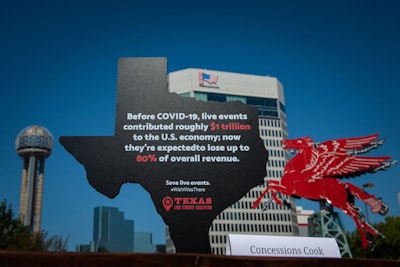 Photo: Courtesy of Live Events Coalition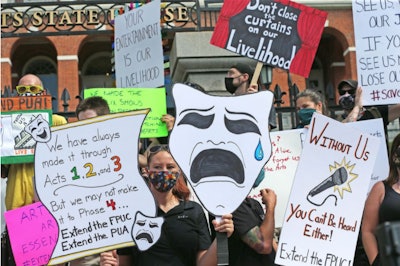 Photo: Ella Kang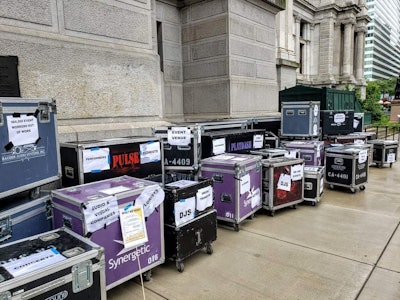 Photo: Courtesy of Live Events Coalition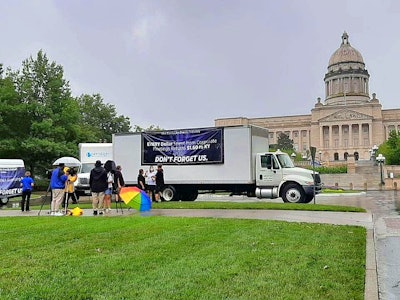 Photo: Courtesy of Live Events Coalition