As we've seen, brands have been giving the USPS a run for its money with special at-home deliveries. The latest: Corona Beer is now serving up a decked-out game day activation with prizes directly to the doorsteps of football fans. Produced by Cogent World, the sweepstakes features a shipping container filled with branded goodies for an at-home viewing experience. It even comes with a team of masked movers to unpack the truck.
"We had to adjust our approach this season to reflect how our consumers would be experiencing their football moments this fall given the pandemic," explained Rene Ramos, vice president of field, lifestyle, and experiential marketing at Constellation Brands, which owns the Corona brand. "We dissected the typical pregame gatherings such as tailgates and house parties and asked ourselves, 'How do we over-deliver that energy and mood in a restricted environment?' That was the inspiration for bringing the Corona Game Day Beach to consumers this year and providing them all the gameday necessities to enjoy football from the comfort of their own home."
Ramos said that the brand evaluates "a variety of factors such as target audience, market share, and competitive activity as we select which sports and partners we align with, and in turn the types of activations we execute." For example, last college football season, Corona, in partnership with Ohio State University, activated tailgate parties for consumers with live music, yard games, player meet and greets, a beer garden, and oversize screens showing the games.
For the Game Day Beach experience, winners are selected in Columbus, Ohio, and Chicago each week for 13 weeks. Ramos explained that those locations are "key growth markets for our target Corona consumer. Calculated investments like these will be volume-drivers for us in the coming years." (Corona Extra is growing at +14% in Columbus and +8% in Chicago, according to stats provided by Ramos.) Adding that, "These cities are known to have passionate sports fans dedicated to their hometown teams."
The celebratory container is retrofitted so that the sidewall can be electronically raised to reveal all the prizes as music blasts, lights flash, and CO2 cannons erupt into the air. The prizes include a 70-inch TV, wireless surround sound system, football helmet throne, a personalized sports locker filled with game day swag, an outdoor grill, a custom Corona Lime football trophy, and other surprises. (But no actual alcohol for legal reasons.)
As to be expected, "the logistics of coordinating a large, 20-foot shipping container for 13 deliveries across two states over the football season in a condensed time period can pose its challenges," Ramos said. "We have leaned into our partners to strategically organize the routes while being mindful of proper protocols to fulfill white-glove delivery service."
Plus, he noted that the weather can also be a factor in executing an outdoor activation, especially during winter in the Midwest. "But we know how committed Midwest football fans are to their teams, so we are prepared to address those challenges and bring consumers their Corona Game Day beach this football season."
Starting this month, six fans in Columbus and seven in Chicago will score the special delivery, with the campaign ending in January 2021. "We've seen a lot of interest in only the first few weeks of the program, and anticipate raising engagement as we continue to generate awareness with geo-targeted POS, PR, and paid social throughout the season." Consumers can enter at gamedaywithcorona.com or by scanning a QR code on products.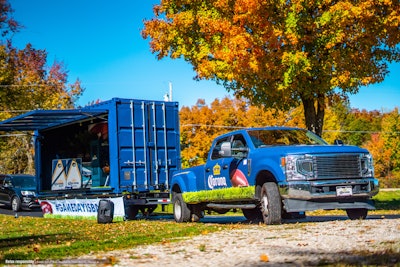 Photo: Courtesy of Constellation Brands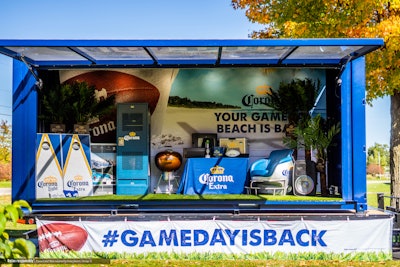 Photo: Courtesy of Constellation Brands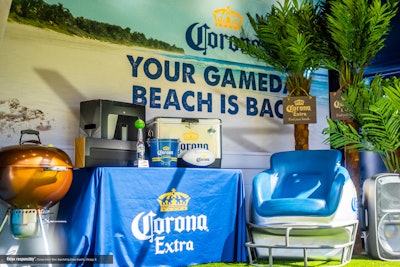 Photo: Courtesy of Constellation Brands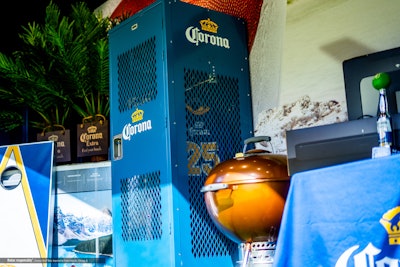 Photo: Courtesy of Constellation Brands