How a Nonprofit Used Hybrid Events to Grow its Audience
March 12, 2013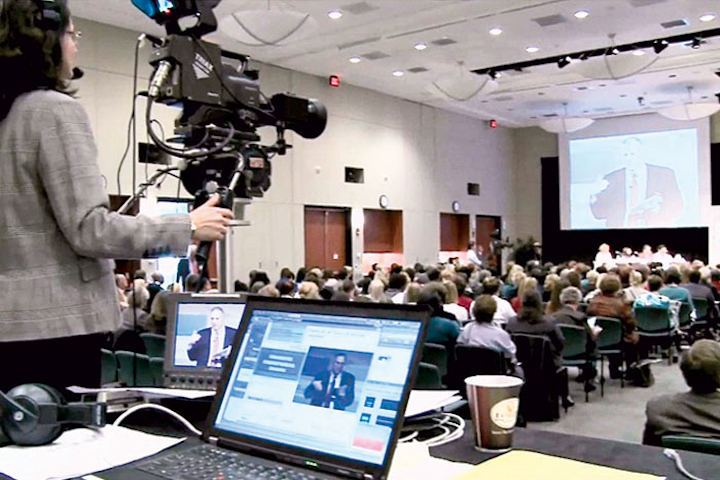 Photo: Courtesy of Educause
Educause is a nonprofit association for information technology leaders in higher education. Its members include more than 1,800 colleges and universities around the world, as well as more than 300 technology providers and state and federal agencies. The organization added a virtual component to its annual conference in 2009, and since then the online effort has steadily grown in both size and scope. For its most recent annual conference in November 2012 in Denver, the association offered more than 100 online sessions, a "speaker concierge" to provide support and training to online presenters, and a hosting kit to encourage team participation.
The face-to-face event has also experienced steady growth since 2009, quelling the association's initial fear that adding online opportunities would hurt in-person attendance. "We've found with the online event we are hitting a brand new audience of people who may never have the finances to go to our conference," said Victoria Fanning, director of hybrid and online meetings. In 2009, 3,784 people attended the Educause annual conference; that number grew to 4,563 in 2012.
Each year, Educause hosts five hybrid conferences, several online-only events, and more than 60 webinars. The largest event is the annual conference in the fall. When the organization added the online component in 2009, it chose not to market the online element until close to the early registration cut-off date for the face-to-face meeting. "But we rapidly found that cannibalization was not an issue. So in 2010, '11, and '12, we changed our marketing tactics to show it is one meeting with two ways of distributing information. We put all the information up at the same time, including the homepage, and the program. And the online piece gets its own marketing plan and support staff working on it," Fanning said.
Registration for the online conference is $100 less than the face-to-face event, but the focus is on participation more than profit: The organization provides a hosting kit to encourage groups of people to experience the online conference together, using just one purchased login. "The kit has helped to underscore our goal to encourage team participation," Fanning said. "We want people to get the biggest bang for their buck. I've heard people say they get so much benefit by interacting with their colleagues [while participating in the online conference]." The kit includes items such as promotional flyers as well as information on how to set up the technology, suggestions for food and beverages, and tips for facilitating discussions. In 2012, the online conference garnered 400 logins from 14 countries; many sessions had multiple people participating, including one group of 200 people in Canada using a single login.
As the marketing and attendance for the online conference has grown over the years, so has the programming. Since the online conference began, it has offered a mix of sessions streamed live from the face-to-face event and sessions created exclusively for the online audience. There were 28 Webcasts and 10 exclusive online sessions in 2009, and by 2012 that number grew to 63 and 40, respectively. Still, it's substantially less programming than what is offered to face-to-face attendees, which in 2012 totaled 240 sessions. The conference program committee determines which face-to-face sessions will be shared online. Fanning said in the future, Educause might ask online attendees for input on which sessions they would like to view.
The exclusive online sessions offer greater interactivity than the Webcasts. "We use Web conferencing software tools that are built for collaboration with speakers and attendees," Fanning said. "This is content you are only going to get online. It allows the online audience to have their own community, so it's more than a window into the face-to-face event." Through the call for proposals system, speakers can indicate if they want to present for the online audience only, and those sessions can originate from a studio at the face-to-face conference or from an off-site location. Fanning said this online-only option has expanded the pool of available presenters. In 2012, about 30 percent of the speakers involved in exclusive online sessions participated remotely.
The organization provides tips and training for speakers—participating in-person or online—through a dedicated "speaker concierge" Web site. Online presenters have access to additional resources such as one-on-one coaching on how to use the technology and promote engagement through video, polls, whiteboards, and audience verbal participation.
Along with education sessions, the conference includes a trade show that had 2,600 exhibitors last year. Online participants could click on an exhibit hall Web camera. "People could go online and take control for up to a minute, zoom in and out, cruise around virtually. Our point was just to give them a view to see what else was going on and feel more connected," Fanning said. The Web camera logged more than 1,800 hits from both online and in-person attendees, and the system also provided a vendor directory to connect with exhibitors for more information.
In addition to working with Sonic Foundry and 323 Link for streaming services, Educause also uses a virtual conference platform from INXPO that serves as the hub for online attendees. "It has a welcome lobby with a video and information and an auditorium to get sessions live and on demand," Fanning said. "There is also a networking lounge for online attendees, and we post questions throughout the day for people to answer. We also have a game room where we have Trivial Pursuit. It keeps the experience together in one big environment."
One future change is in the works: a single registration that provides access to both the in-person and virtual conferences. "We got a little feedback this year where people saw online programs on the agenda and mistakenly thought they were face-to-face [events] and wanted to go to them and weren't able to," Fanning said. "So I think our next point of evolution will be an all-access pass."