Who's Speaking at BizBash Live: Florida
Event industry pros will cover topics like multicultural marketing, fund-raising events, and sponsorships at the May 4 event in Fort Lauderdale.
April 4, 2017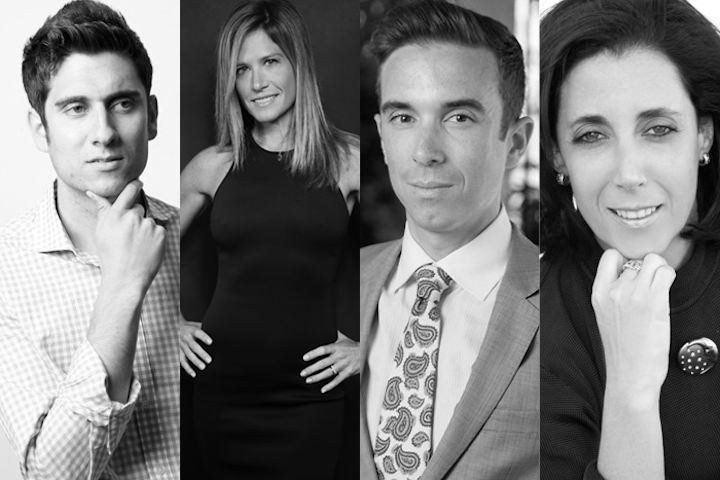 Photos: Courtesy of speakers
From creating attention-grabbing brand activations to developing successful social-media strategies to creating can't-miss fund-raising events, sessions at BizBash Live: Florida are designed for a variety of event planners attending the May 4 event at the Greater Fort Lauderdale/Broward County Convention Center.
The Event Innovation Forum—an education conference—and the Workshop Series—a collection of hour-long seminars—will tackle a variety of topics, from the latest technology for events to growing your business. For the first time, BizBash will offer a Spanish-language workshop on adding "wow" factors to events.
Registration for the Event Innovation Forum and the Workshop Series includes admission to the trade show floor.
EVENT INNOVATION FORUM
Crafting Your Message Through a Multicultural Lens
Cassandra Clark, Global Marketing Solutions, Facebook
No two events are exactly the same, and your messaging shouldn't be either—especially when trying to reach a new audience. As more brands in Florida and across the United States expand into the Latin American market, it's imperative to reassess how you're customizing your event, marketing, and brand messages. Listen as Cassandra Clark, client partner for Global Marketing Solutions at Facebook, provides an overview of this ever-changing landscape and shares strategies for tailoring messages to specific audiences. From understanding how consumer behaviors vary across markets to leveraging social media (such as Facebook and Instagram), these tips will help ensure your experiences are making an impact.
From Zika to Hurricanes: Overcoming Unexpected Event Challenges
David Sinopoli, co-founder, III Points: Music, Art, and Technology Festival
What do you do when a Category 5 hurricane is expected to hit on the day of your event? How do you overcome a disease-related travel advisory to convince guests to attend your event? David Sinopoli, co-founder of III Points: Music, Art, and Technology Festival, tackled these challenges—and more—for the 2016 edition of the popular festival. Get a behind-the-scenes look how his team moved beyond the hurdles to create a successful event packed with immersive activations, groundbreaking technology, and a sense of community.
Maximizing Your Investment in Nonprofit Events
Christopher Pastor, director of corporate and foundation relations, Pérez Art Museum Miami
Year after year, nonprofit pros run into the same challenges—increasing attendance, revenue, and excitement around their annual event. Sound familiar? Nearly all event organizers can relate to issues that arise with evolving and expanding galas, trade shows, premiers, and launches. Listen as Christopher Pastor, director of corporate and foundation relations at the Pérez Art Museum Miami, reveals his team's strategy for creating can't-miss experiences, like the annual Pérez Art Museum Miami gala. Whether he's discussing attracting the right crowd or capturing the attention (and dollars) of an influential audience, Pastor will share fresh ideas, tactics, and strategies to help you surpass event goals and maximize your nonprofit's investment in a way that leads to future fund-raising opportunities and partnerships.
Beyond Words: The Art & Science of Live Experiences
Michael Blatter, founder and C.E.O., Mirrorball
Every event organizer strives to create an experience that leaves a lasting memory with his or her attendees—but truly innovative event professionals use their resources to choreograph a deep emotional journey. That's the creed Michael Blatter and his team at Mirrorball, an award-winning experiential agency, live by for the events they create. In this session, Blatter will take attendees behind the scenes of awe-inspiring campaigns for brands such as Harley-Davidson, Jack Daniel's, and Dos Equis and reveal the secrets behind the art and science his team employs. Get an inside look at how Mirrorball uses research in the fields of psychology, sociology, and anthropology and learn how that research shows that experience and emotion form the foundation for memory, influencing specific consumer behaviors and leaving guests with transformative memories.

Plus presentations from Miami nightlife entrepreneur David Grutman, as well as Erinn Bisping, sponsor business director for the IMG/Miami Open tennis tournament.
WORKSHOP SERIES
What's Next in Tech: New Trends, Platforms, and Tools for Your Events
DJ Saul, C.M.O. and managing director, iStrategyLabs
With technology constantly evolving, it's crucial for event pros to stay on top of the latest trends, platforms, and tools. From pre-event planning to on-site execution and post-event analytics, technology has the power to transform live experiences. In this workshop, DJ Saul, C.M.O. and managing director of iStrategyLabs, will examine the transformation of the event landscape. Covering everything from live streaming and virtual reality to emerging technology and connected devices, Saul will review new products, share examples of successful tech-enabled activations, and predict where event tech is heading.
Expand Your Experience: Tips and Tricks for Growing Your Personal and Professional Brand
Melissa Katz, senior vice president, Black Flower Agency
Whether you're looking to take your career to the next level, grow your client list, or expand your business into new territories, it's critical to have a plan. But where do you start? Join Melissa Katz—who recently merged her brand, In House Ideas, with Black Flower Agency—as she answers this question and many others. From negotiation tactics and budgeting strategies to the importance of nurturing relationships and standing out from the competition, discover new ways to transform your personal and professional brands.
360-Degree Design: Crafting Cohesive Experiences
Bruce Orosz, C.E.O., ACT Productions
Whether drones are flying overhead, television cameras are stationed everywhere, or photographers are positioned on the ground to capture the best shot, it's more important than ever to ensure every angle of your event is perfect. But where do you start? Join Bruce Orosz, C.E.O. of ACT Productions, as he reveals his secrets to creating cohesive and groundbreaking live experiences. Drawing on his work at the Orange Bowl halftime show, Swatch Beach Volleyball, and Sports Illustrated "Swim Beach," Orosz will discuss the importance of crafting a thoughtful mix of elements that will leave guests, and the Internet, buzzing.
Bright Ideas: Finding Inspiration to Shake Up Your Events
Telsys Tarallo, owner and director, Afterglow Marketing
Where do you find event ideas that will impress your guests? How do you unearth creative inspiration that will wow existing and potential clients? Join Telsys Tarallo, owner and director of Afterglow Marketing, as she divulges her tips and tricks for designing mind-blowing live experiences. Tarallo will go behind the scenes of campaigns for HBO, Serena Williams, Cinemax, and Lululemon, sharing the process that gets her thinking outside the box and shaking up her events.
Adding Wow and Avoiding Oops: 7 Steps for a Successful Event
Gladys Mezrahi, president, Indigo Events
You can plan an event's decor, catering, lighting, branding, and other elements—but when is it too much? And when it's not enough, how do you find that "wow" factor? In this workshop, Gladys Mezrahi, president of Indigo Events, will share her seven steps for creating a successful event. From pre-event planning to on-site implementation and post-event follow up, Mezrahi will share new tools, ideas, and strategies to transform your live experiences, leaving guests sharing, talking, and wanting more.
Spanish-Language Workshop: Como Agregar el Wow y Evitar Oops: 7 Pasos Para un Evento Exitoso
Gladys Mezrahi, presidenta, Indigo Events
Se puede planear la decoración de un evento, el catering, la iluminación, branding, y muchos más elementos, pero como podemos saber: ¿Cuándo es demasiado? O cuando no es suficiente, cómo puede uno encontrar el factor "wow"? En este taller, Gladys Mezrahi, presidenta de Indigo Events, compartirá sus siete pasos para crear un evento exitoso. Desde la planeación previa al evento hasta la implementación en el lugar y seguimiento posterior al evento. Mezrahi compartirá nuevas herramientas, ideas, y estrategias para transformar experiencias en recuerdos memorables y así, crear una red de invitados queriendo compartir y volver por más.
Featured Venues/Suppliers: