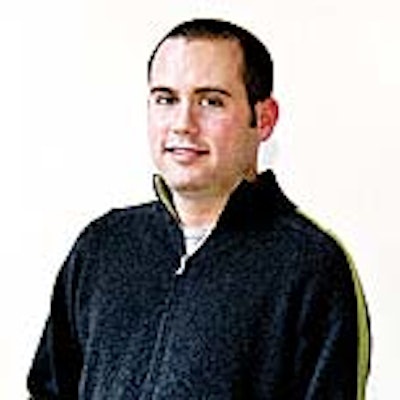 Title
: President
What he plans
: When Berger co-founded the firm in 2000 with partners Noah Tepperberg and Jason Strauss, they mostly promoted nightclub events. This year the firm is planning about 70 marketing events for clients including
Stuff
magazine, Allied Domecq and Brown-Forman—twice the number it planned in 2002.
Staff
: 12
Budget
: "Zero to a million. We can do a $20,000 event or a million dollar event."
Career Path
: Berger got an MBA and a law degree at the University of Miami. "I practiced law for three years until I realized that event planning was my true passion."
Age
: 30
Favorite hors d'oeuvres
: Pigs in a blanket
Where he goes for ideas
: "My partners, who are incredibly creative, and my vendors, who I trust implicitly."
Where he grew up
: Philadelphia
Where he lives
: Gramercy
How has the economy affected your events this year?
The downturn in the economy hasn't hurt business in a traditional sense. In fact now more than ever clients are looking to agencies they trust. Brands return to us when planning their annual budgets to ensure they are covered in the event marketing discipline.
How do you make an event effective when budgets are going down?
It all comes down to clients' objectives. For example, if we know electronic press is important to the client, we will lower the catering and décor budget to have a more significant talent budget, which will ensure celebrity attendance at the event. It's really about understanding client objectives and catering the budget to meet those objectives.
What do today's guests expect at an event? How are those expectations changing?
I think guests are expecting more. New York is the event capital of the world. Here people see everything, so the market can be somewhat jaded. Generally guests' expectations are set when they receive the invitation. What separates us is our invitations are second to none. When the expectation is set at the receipt of the invitation, they know they have to come to our events.
How do you meet those expectations?
By being creative and having the trust of your client and your vendors. To think out of the box sometimes means trying a new material no one would ever think of printing an invitation on, doing an event at a space where no one ever thought about doing an event. Consistently thinking out of the box really comes from giving people on my creative team incredible leeway and discretion to feel as though nothing is beyond a recommendation or putting it out there as a possibility.
What trends are you seeing in event style?
The trends are going in two directions. One direction is toward celebrity endorsements. At the same time there seems to be a backlash against that because people just want a good party. It goes back to my favorite food, pigs in a blanket. A company like
Match Catering
offers the most sophisticated food but they can get down and dirty and give people what they want. The trend is just to have a good party, with good food, music, entertainment—that's great makes people have a good time.
What's your biggest challenge right now?
My biggest challenge is continuing to find the right place to do an event before anyone gets to it.
Is the definition of a successful event changing?
The success of an event comes back to what the client wants. We make sure that when we are working with clients, those objectives are clearly defined upfront so we can measure and evaluate. Sometimes measurement will be press, or attendance of a certain group of people, or the launch of a product and getting it into consumers' hands.
How has technology affected the way you plan events?
One of the ways we've used to grow and evolve our company is by using custom projections and content for events. We use one company in particular—
Dorian Orange
. They are always evolving and getting the best technology for mixing, editing and putting our clients into an event in a subtle, believable and legitimate way. A lot of times clients may not be the sexiest or most fun. A new gin that launches isn't always the most exciting thing. So we have to figure a way to incorporate gin besides lining up bottles on a bar. We appeal to the consumer through subtle integrated branding, so the consumer doesn't feel bombarded. They should be able to find the product, experience the product in their own way that is less intrusive and more integrative.
How has your company grown in the past few years?
Where we're really growing our company is based on clients' objectives. Clients say, "This is amazing—now roll this out in Las Vegas, Miami, Phoenix." Although we may not have prior experience there, we give ourselves those capabilities by networking with vendors in those markets. That's one of the main ways we have grown and will continue to grow.
What is the biggest lesson that you have learned?
You cannot do it all yourself. A truly successful event planner knows that it all comes down to the details. Managing, controlling and understanding those details is the difference between a good event and a great event, a great event and ran amazing event, an amazing event and a once-in-a-lifetime experience. My job is to manage the details but at the same time let everyone I work with do their job without micromanaging them. You cannot do it all yourself.
—
Jeanie Casison
Posted 04.21.04
Photo by Anna Persson for BiZBash.
This Q&A originally appeared in our newspaper, the BiZBash Event Style Reporter.