Think Like TED: Smart Meeting Strategies From TEDx Planners
February 27, 2013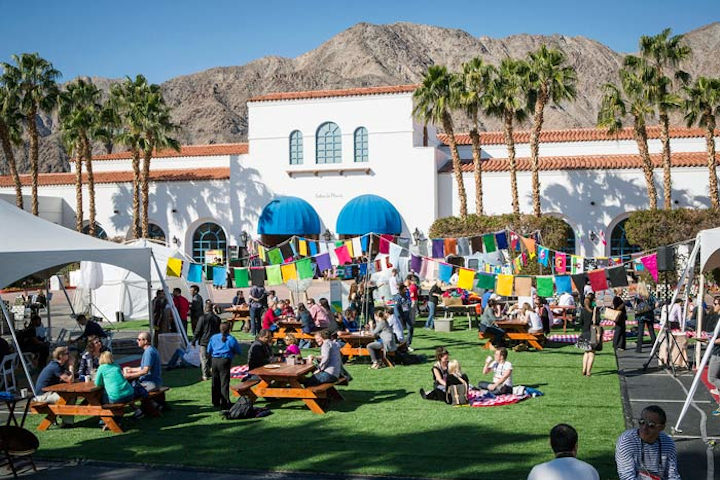 Photo: Marla Aufmuth
Attending the TED Conference simulcast in Palm Springs this week, known as TEDActive, are more than 200 organizers of TED-style programs around the world known as TEDx. They're here to get inspired and make connections for their events—and a few also shared their own smart strategies for making meetings more interesting.
Ramy Nassar, TEDxWaterloo, Canada
"For this year's event, we're going to have a puppy room. There will be 20 puppies or so available for hugging—just to make people feel good. It's those tiny little things, it's not the big things [that make the conference]. Plus, puppies will come from the Humane Society, and people can adopt them—so that's extra happiness.

Further, we don't print titles or companies on name badges. We leave 40 characters instead for the answer to the question 'I'm chasing…' to get conversations started.

Also—cheap booze and no free booze. With cheap booze, everyone has a great time. Free booze, everyone gets drunk and stupid. Our drinks are $1. $1 is still enough that people don't want to leave it on the table."

Jack Abbott, TEDxSanDiego, U.S.A.
"I believe being intentional about the attendee, speaker, sponsor, and crew experience is a point of differentiation for us and it's what really fosters interaction. We carefully create experiential paths for each of the types noted. We talk to them in advance and afterwards to see what will make this an extraordinary experience for them. We make no assumptions and we follow up afterwards asking how we did and how we can do better. Example: After we heard from speakers that interactivity with other speakers was a key reason to come, we made sure to create multiple opportunities to do just that. We also assigned speaker guides, and now partner guides, to each speaker to ensure they have a fabulous experience. We also found that enabling a meet-the-speakers area after each session and allowing long enough breaks for people to connect is very powerful.

At the youth event we did things like distribute seven colors of lanyards and making [attendees] fill the rainbow—in other words, find six other people with different lanyard colors before picking up a group lunch packed for seven.

You have to be relentless in preserving the purity of the event when doing TEDx. Not just avoiding the corporate agendas, but being certain you are executing at the very highest level. We never think about how we compare to other TEDxs, but to TED. We raise the bar every year. Do the unexpected. So for one, be thoughtful about giveaways: We worked with local colleges to create 600 unique ceramic sculptures, one for each participant. Two, mix it up and take risks: We kicked it off with four musical genres doing mini solos then jamming. They never met before the rehearsal. Amazing reaction. Three, surprise and delight: a TEDxSanDiego mocktail served as you exited to the post-event soiree, bean bags on the lawn looked like giant Pop Chips bags. And four, [it's] always good to have one major recognizable name, and then push [attendees] out of their comfort zone."
Patricia Zougheib, TEDxBeirut, Lebanon
"One interesting thing we did was to introduce the theme 'all we need is …' Attendees' thoughts on the theme appeared on their badges, and then we weaved them into foldouts that they could fill out and we displayed on a wall at the event. There was also a game to find the other people who chose their same word or idea, and they won prizes from our partners [for doing so].

We processed all the data from peoples' responses and came up with a sort of cloud of general themes that we used as both a design [element] and theme for the breakout sessions. It was [a filter] through which to discuss the TED Talks. And it was a conversation starter—everyone was looking for the 'all we need.' It was also on social media, with an #AllWeNeed hashtag for our event."

Ajit Sharma, TEDxJaipur, India
"For this year's TEDxJaipur 2013 edition, we built a small game for our audience that surprisingly worked very well during the coffee breaks and lunch break. This was one of our attempts to let people involve themselves in a live-art-cum-technology project. We distributed 10 tablets in the audience and wanted to collect their feedback of the conference via a visually appealing online feedback form, the responses of which were played live at a screen in front of them."