BizBash and the Event Leadership Institute Launch First Event Innovation Forum—Los Angeles
April 22, 2013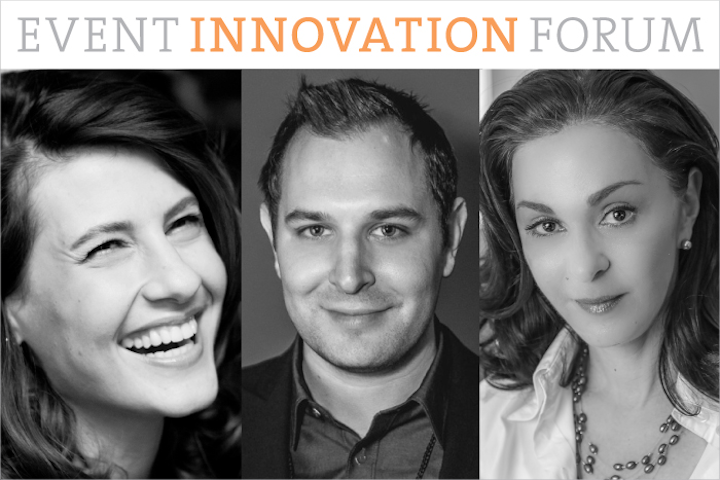 Photos: Courtesy of Cara Kleinhaut, Brett Hyman, and Elaine Honig
After revamping the conference at the BizBash IdeaFest New York last year—and successfully taking the new concept to the recent show in South Florida—BizBash and the Event Leadership Institute are bringing the Event Innovation Forum to the BizBash IdeaFest Los Angeles.
Divided into two 90-minute sessions packed with a mix of presenters and presentation types, the forum will cover an array of topics, from sponsorship and social media to tracking attendee behavior and growing an event business. Speakers will include event producers and designers, experts from app makers and online event registration providers, and seasoned fund-raising professionals. There will also be a seated lunch and opportunities for attendees to speak directly with the presenters.
The BizBash IdeaFest and Event Innovation Forum will take place in Los Angeles on June 19 at the Los Angeles Convention Center. Registration opens today at bizbash.com/ideafestla.
Below is a sample of the topics and presenters; we'll be announcing more participants in the coming weeks.
How I Landed My Event Company on the Inc. 500 List of Fastest-Growing Businesses
Brett Hyman, president, Night Vision Entertainment
Top companies in the event industry are recognized for their creative work through industry awards, media profiles, and the occasional book and TV appearances. Rarely, however, are they acknowledged for the way they run their businesses. In this session Brett Hyman, the producer behind Seth McFarlane's Oscar party, will share strategies that helped Night Vision become one of the country's fastest-growing companies. Learn how to analyze your business for its scalability, how to take a critical eye to your company's true capabilities, how to aggressively build contacts through every job, and smart ways to drive sales and marketing.
How I Created (and Licensed) a Successful Charitable Event Concept
Elaine Honig, founder and president, Wine, Women, and Shoes
Ever wondered how to take a smart idea and turn it into a nationally recognized brand? Elaine Honig, founder of Wine, Women, and Shoes, not only created an innovative fund-raising event, but also successfully licensed that concept to nonprofit organizations around the country. Learn the secrets behind her organization's success and how Honig leveraged the platform to achieve a variety of goals, including raising awareness for charitable causes and helping net $15 million for various nonprofits around the country.
The Future of Mobile Apps: Unlocking Attendee Behavior
Lawrence Coburn, C.E.O. and founder, DoubleDutch
Every conference has an event app now, providing attendees immediate access to schedules, sessions, speakers, sponsors, and more. But those benefits are only the tip of the iceberg—the real treasure for the event organizer lies in the trove of data these apps are starting to uncover. In this session you'll learn how today's apps can provide insight into attendee interests and behavioral trends that will allow you to develop targeted prospect lists for sponsors, even if they never set foot in an exhibitor's booth. With an overview of what's new and available, as well as a peek into what's coming soon, you'll never look at apps the same way again.
Amplify: Integrating Social Media into Your Event Design
Cara Kleinhaut, founder, Caravents Inc.
Using social media to leverage an event's reach isn't new, but weaving it into the fabric of an event so it feels organic is a fine art. In this session, Cara Kleinhaut will share insight from Samsung's event initiatives and strategies for creating smart activations around the event space to engage guests and amplify the brand messaging through guests' social networks. Learn how to integrate R.F.I.D. and custom apps into photo stations, catering, and music in a way that extends the brand's messaging. Plus learn how to preprogram the messaging to eliminate pilot error on hashtags and handles and even eliminate the need for guests to use their phones at all.
How Million-Dollar Fund-Raisers Land Mega Sponsors
Judy Levy, founder, Levy, Pazanti & Associates
Every fund-raising event is chasing the gold-level sponsor with the big check, but the typical offer of top-tier logo placement and prime table location rarely gets the job done. In this session, one of L.A.'s top fund-raising event consultants, Judy Levy, will share several case studies around creating unconventional sponsorship programs that resulted in major wins for her nonprofit clients and successful R.O.I. for the sponsors. Find out how Levy designed two completely different out-of-the-box solutions to bring Harry Winston and Virgin America in as key sponsors and how you can apply the same thought process to your events.
Using Data & Analytics to Crush Your Sales Goals
Megan Buell, lead generation manager, Eventbrite
With the increasing number of analytical resources available to event marketers, now is the best time to utilize these tools and increase event attendance. In this session, Megan Buell will share practical tips and recommendations to help you exceed your event goals through tracking and analytics. Learn the importance of creating a marketing and editorial calendar, tracking your marketing efforts, collecting attendee information during registration, gathering the most important event reports, and tracking social media to take your event to the next level.
Attendees can register for the Event Innovation Forum—Los Angeles at bizbash.com/ideafestla.
Featured Venues/Suppliers: