SXSW 2014 Preview: What to Expect at This Year's Festival
From IFC's fairgrounds and Pennzoil's Mario Kart experience to the return of the Fader Fort and the Filter on Rainey block party, brands have plenty of activities, events, and entertainment planned for this year's South by Southwest.
March 6, 2014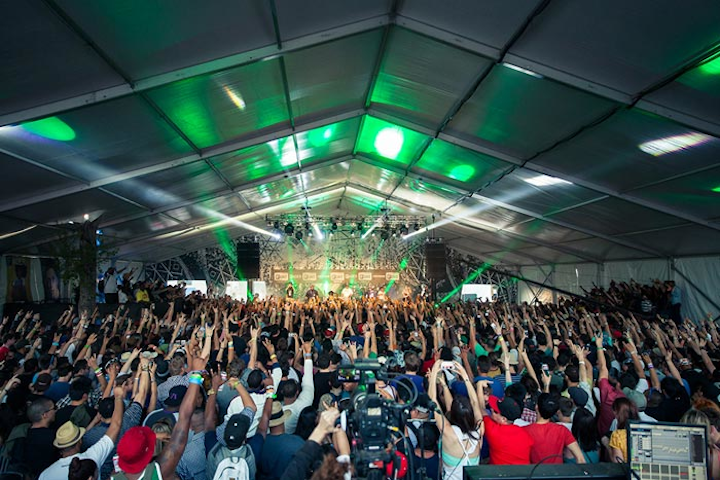 Photo: Rachael Wright
Tomorrow the 12-day South by Southwest begins, a festival that seems to gets bigger year after year as more and more creative and influential people in technology, film, and music convene for the event in Austin, Texas. Like previous years, there are numerous brands competing for the attention of some 30,000 attendees, so marketers are stepping up their efforts.
IFC is going larger this year with its three-day IFC Fairgrounds in Palm Park, an activation that aims to emulate a state fair and carnival in one. Along with music, there will be carnival games at Joe's Game Shack, sponsored by Joe's Crab Shack, and a food truck park. Coolhaus will debut a celery-flavored ice cream, inspired by that week's Portlandia episode. V.I.P. guests, known as Blue Ribbon Guests, will have access to two lounges with open bars and picnic tables. The biggest feature will be the Twizzler Fun Slide, a three-story, three-lane slide.
Similarly, Airbnb will set up shop in Austin with its Airbnb Park. The main draw will be three curated pop-ups designed by Snoop Lion (better known as Snoop Dogg), Capital Cities, and Allen Stone, in collaboration with HGTV designer Emily Henderson. As part of a contest, Instagram users were encouraged to upload photos of their own welcome signs. The artists picked their favorites, and the winners will get to use the pop-up rooms as their own V.I.P. lounges. The design trio will also extend their impact throughout the park with musical performances. Snoop Lion will host a Wake and Bake Brunch offering his favorite breakfast sandwiches. The park will also have other programming and amenities, like coffee, juices, yoga, and the Hangover Haven, complete with a Bloody Mary bar.
Just as interactive is Pennzoil's initiative, a partnership with Nintendo to bring Mario Kart to life with go-karts on a customized outdoor track for a live experience of Mario Kart Reimagined. Riders will don helmets equipped with video cameras, which will be available for sharing purposes.
Game of Thrones is bringing its traveling exhibit to Texas, along with an immersive 4-D virtual reality experience, exclusive to SXSW, using Oculus Rift technology. Participants will be able to travel to the Top of the Wall from the HBO series.
There are also plenty of brands bringing back events and activations that proved successful in previous years. Filter magazine and Tumblr are returning to co-host the Filter on Rainey block party. This year the Fader Fort celebrates its 15th anniversary of presenting artists that have been there since the beginning, and first-time sponsor Mazda will provide shuttle service. SpinMedia is teaming up with House of Vans to take over local music venue the Mohawk to present daily showcases from its outlets, including Spin and Stereogum. Spin will also have a separate showcase at Stubb's with a Nokia activation to be determined. The Spotify House returns with a mosaic photo booth as well as an interactive playlist generator and music trivia installation, developed specially for the brand.
Less expected? The festival will get a taste of New York this year. Shake Shack is shacking up with NBC's Late Night host Seth Meyers for a food truck that will serve burgers and fries and offer free bottles of water, as well as play live episodes of the show every evening. In addition to hosting the SXSW Comedy Opening Party, Late Night will also brand SXcycles, the bike-sharing program. Baker Dominique Ansel will serve his trademark Cronut at Allison & Partners' Late Night Saloon on March 9, and he will debut a new item: a chocolate chip cookie shot with milk.