More Speakers Added to Workshops and Second Los Angeles Event Innovation Forum
BizBash Live: The Expo in Los Angeles will include conference presentations and workshops on contracts, social media strategies, and event marketing.
June 4, 2014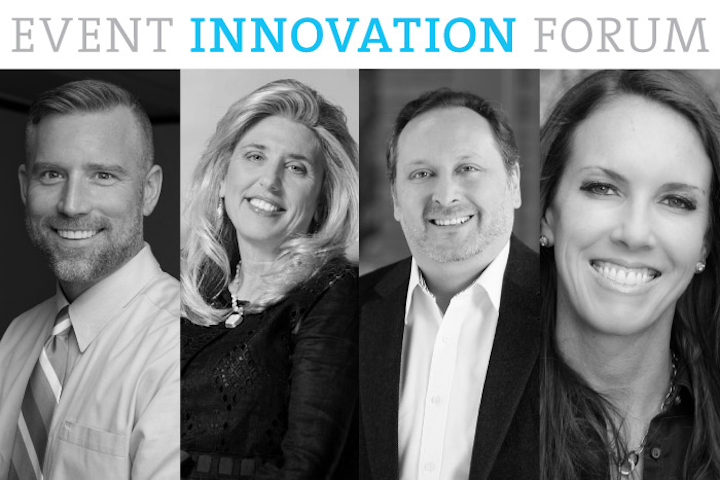 Photos: Courtesy of Ryan Zynger, Leroy Hamilton (Sion), Vetale Hawkins/Filmateria Digital (Schenker), Courtesy of Meg Hall
Want to know how to make the most of your vendor relationships? Need tips for smarter social media strategies? These topics and others will be covered at the Event Innovation Forum and the Workshop Series, part of BizBash Live: The Expo in Los Angeles, which is scheduled for June 19 at the Los Angeles Convention Center.
The morning workshops are hands-on seminars designed as a way for meeting and event professionals to learn new skills and discuss topical issues. Attendees will have the opportunity to choose from one of two sessions or participate in the Plan-A-Thon, all of which are scheduled from 9 to 10:15 a.m. Registration to the Workshop Series includes admission to the Expo's trade show floor as well as the pre- and post-event parties.
Divided into two 90-minute sessions, the forum is a single-track conference with presentations from industry thought leaders and a networking lunch for attendees. Blueprint Studios is the executive designer for the Los Angeles Event Innovation Forum. Registration for the forum includes admission to the luncheon as well as the trade show floor and the pre- and post-event parties.
Below is more information about the educational programs scheduled for the Los Angeles expo; the full schedule, registration details, and other information can be found here.
EVENT INNOVATION FORUM
Demystifying the Big Buzzwords In Events
Scott Schenker, general manager of worldwide events and production studio, Microsoft Central Marketing Group
These days it seems the event and meeting industry is obsessed with a constant stream of new buzzwords, like gamification and crowdsourcing. But are they really as original as they seem? Do bright and shiny ideas blind us to the lessons—and the smart practices—of the past? In this session, Scott Schenker, Microsoft's general manager of worldwide events and Microsoft Production Studios, will examine some of the latest buzzwords in a brighter light, exploring their origins to discover the core lessons they offer planners and marketers now.
Are Your Assumptions About Gen Y and Social Media Wrong?
Nicole R. Matthews, lifestyle architect & founder, the Henley Company L.L.C.
When a generation grows up with a smartphone in hand and social networks at their disposal, you might think that hiring a social-media phenom would be the answer to creating engagement at your event. Think again. In this session, Nicole Matthews, founder of the Henley Company, will discuss how the next generation of event planners may not be the best equipped to transition their personal social media experiences into the world of events. Matthews will examine the generational disconnect between social media and social engagement, and how event professionals shouldn't assume that just because someone is social-media savvy, he or she has what it takes to bring an event to life through social media.
The Future of Food & Catering at Events
Meg Hall, owner, Made by Meg L.L.C.
Carolyn Dent, director of events, Omni Dallas Hotel
Vanessa Shay, vice president of corporate sales, AEG Global Partnerships
(moderated by Anna Sekula, editor in chief, BizBash)
Food is no longer an afterthought, but an essential component of crafting entertaining and engaging experiences, especially when it comes to tastings and food festivals. With more health-conscious, food-savvy event guests comes the need for event and meeting professionals to focus what's being served and how. In this panel, Meg Hall, Carolyn Dent, Vanessa Shay, and Anna Sekula will discuss how event catering has evolved, what guests—and chefs—expect now, and key elements to keep in mind when rethinking what's being served at events and meetings.
WORKSHOP SERIES
Storytelling: Inspiring New Ideas to Foster Creativity
Cara Adelman, creative director, Jack Morton Worldwide
In the digital age, event marketers are storytellers. It's the job of all event and meeting professionals to tell a story—to drive differentiation and get the attention of audiences—whether it's to a prospective client or to a brand's target customer. From captivating pitch techniques to creating authentic brand experiences, all aspects of the marketing process should be a part of a powerfully told, compelling brand story. In this session, Cara Adelman of Jack Morton will divulge the secrets behind successful storytelling and share tips on how to foster creativity, garnering new ideas for marketing your events by creating a story that sells.
How to Make the Most of Your Client/Vendor Relationships
Ryan Zynger, director, Zynger Event Designs Inc.
Christina Sion, vice president of food and event services, California Science Center
The client/vendor relationship is an important component of any business endeavor. Nurturing relationships while still being able to negotiate and get the most for your event is a skill that everyone should master. In this workshop, Ryan Zynger of Zynger Event Designs and Christina Sion from the California Science Center will share key insights on how to master the client/vendor relationship from both the planner side and from a venue's perspective. Zynger and Sion will additionally share tips on how to better-read contracts, what to look for when negotiating with vendors, the questions that should always be asked, and event budgeting tips that event professionals should never forget.
Plan-A-Thon: Brainstorming Your Way to Better Events
David Adler, C.E.O. and founder, BizBash
Hillary Harris, executive director, Warner Brothers Studios Special Events
Heidi Mayne, owner, Red25 Events
Michael Vargo, director of special events, Disney Corporate Creative Resources, the Walt Disney Company
Russell Harris, president and C.E.O., Russell Harris Event Group
André Anthony Wells, founder and C.E.O., Events by André Wells
Tahira Endean, manager of event marketing, QuickMobile
Judy Levy, founder, Levy, Pazanti & Associates
Kimberly Seeherman, owner and founder, Events by Fabulous
Paul Dreher, assistant director of catering, the Beverly Hilton
How would you dream up the ultimate Oscar party? If resources were endless and the budget limitless, how would you plan Coachella? How would you reinvent the Tournament of Roses? If an event budget was cut, how would you reallocate resources, yet still create a memorable event? After examining key strategies for brainstorming techniques, participants will learn how teams successfully gather ideas and devise a plan to implement these concepts into real-life scenarios. David Adler and a lineup of industry experts will work with participants in this hands-on workshop where attendees will discuss how to reinvent key event formats including award shows, gala fund-raisers, and product launches.
Featured Venues/Suppliers: