How to Use Word Clouds to Track an Event's Trending Topics
Infomous helps planners navigate and discover what's being discussed about an event on social media.
June 10, 2014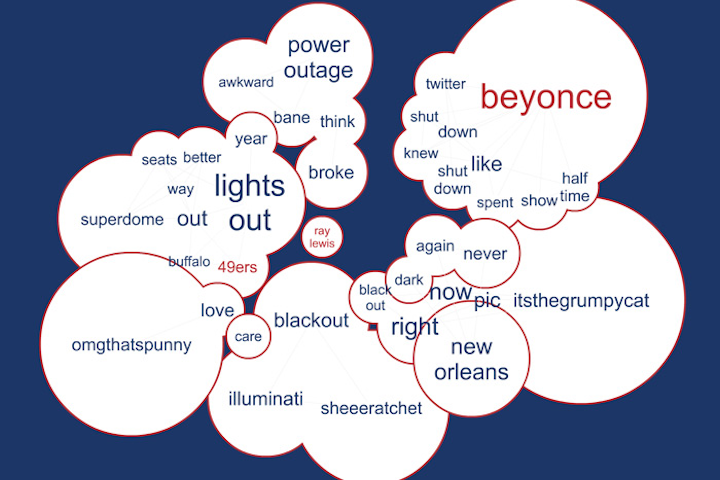 Photo: Courtesy of Infomous
A hashtag makes it easy for event guests to post photos and comments on social networks in one categorized conversation. Nowadays it is not uncommon for an event to generate thousands of tagged posts in a single day. But the volume and frequency of those posts can make it difficult for planners and attendees to follow the conversation in a meaningful way. Infomous is a product that turns online content into an interactive word cloud that highlights prominent keywords and allows users to see how topics evolve over time.
"We can give you visualization where out of maybe 10,000 tweets you can see all the main keywords people are discussing and then as you click on the keywords, you see the list of individual tweets. We found it to be a very compelling way for people to see and follow in real time what's going on in social media," says Paolo Gaudiano, founder and president of Infomous. In addition to Twitter, the system can pull in posts from RSS feeds, Facebook, and Instagram—in which case clicking on the keyword in the cloud displays the related image.
Gaudiano says most clients use Infomous for internal monitoring of social media conversations related to an event. At the London Summer Olympics in 2012, the event's media staff tracked posts using hundreds of Infomous clouds that tracked specific keywords, including some that also used geolocation to filter tweets from specific locations, such as the aquatic center or Wimbledon. The size of each word in the cloud reflects the frequency with which it appears in the source, and links between words show their relationship within the source.
Infomous can also include an interactive timeline, so users can scroll to a specific time to see what was being shared at that moment. For the Super Bowl in 2013, Gaudiano says organizers were able to see how the online conversation shifted at the moment the power went out at the Mercedes-Benz Superdome in New Orleans.
Planners can also share the interactive visualization with attendees by embedding it in the event website or a mobile app. In addition to making it easier to track conversations during an event, the Infomous cloud can remain live indefinitely afterward, so users can go back to see what people were talking about. Gaudiano says this can be particularly useful for speakers and sponsors to be able to gauge sentiment related to their activities.
Infomous can also be used to track the impact of voting, for example during a contest or instant survey at an event. As guests vote by posting a tweet with a specific hashtag, words in the cloud would get bigger or smaller to reflect the volume of votes.
Featured Venues/Suppliers: