Share the Wealth: 7 Ways Nonprofits Can Use Social Media
Here's how to harness the power of social media and maximize the reach of fund-raising efforts.
July 30, 2014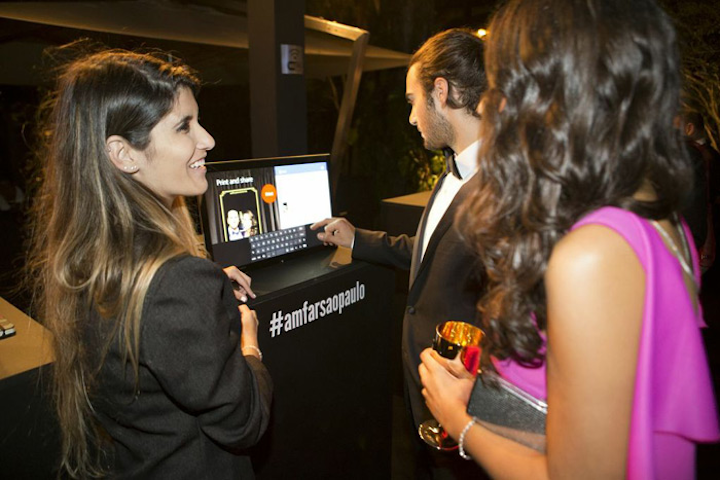 Photo: Kevin Tachman
Social media holds great potential for nonprofits to publicize and promote their fund-raising initiatives. To make the most of Facebook, Twitter, and Instagram for a benefit event, follow these easy-to-do suggestions.
Leverage the power of hashtags
"Making sure you're alive on those social media platforms lets you create buzz around your event," says Todd Hawkins, president of the Todd Group. For Tie the Knot, a marriage equality group co-founded by Modern Family star Jesse Tyler Ferguson, Hawkins produced a pop-up shop in Los Angeles's Beverly Center where the group sold bow ties designed by celebrities like Ferguson and George Takei at the organization's opening party last December. "We knew Ferguson had celebrity friends coming to the event, and we made sure they had the hashtag so they'd be able to talk about it on social media," Hawkins says. "The key was driving traffic to the store, where people would buy bow ties. Every time someone was tweeting, it was encouraging someone to check out the store."
Run a social sweepstakes
In connection with its Beverly Center pop-up event, Tie the Knot ran a contest where contestants could win a day on the set of Modern Family for a $5 donation. It used Omaze, a platform that lets nonprofits solicit donations in exchange for the chance to win experiences with entertainers or sports figures. Hawkins says the group used a dedicated link to post to Facebook and Twitter and a simplified URL for the group's "celebrity ambassadors" to tweet out.
Make a picture worth thousands of donations
For this year's São Paulo gala in April, Amfar, the Foundation for AIDS Research, and sponsor Microsoft implemented a fund-raising social media campaign. "In advance of the event, we created a social media campaign that donated money to [Brazilian AIDS charity] Viva Cazzuza whenever people posted, shared, or tweeted an infographic with H.I.V./AIDS statistics and information about Viva Cazuza," says Josh Wood, president of Josh Wood Productions, which produced the event.
Let people earn points for sharing
In 2012, the Global Poverty Project distributed tickets to its Global Citizen Festival in New York's Central Park via a lottery. Along with volunteering or signing petitions, people could also earn points by social media sharing. Building on that initial success, which raised $1.3 billion, the organization has expanded the lottery platform to a year-round initiative. With Global Citizen, "you can go on, take action, and be rewarded," former U.S. country director of the Global Poverty Project and Global Citizen Festival executive producer and creative director Michael Trainer told the audience at BizBash's Event Innovation Forum in New York last fall.
Get leaders involved in crowdsourcing
NTEN, the Nonprofit Technology Network, raised more than $33,000 last year for its annual NTEN Challenge campaign, despite the lack of a corporate sponsor to match the first $10,000 in donations as it had in years past. C.E.O. Amy Sample Ward credits a social-media-led initiative in which board members joined the organization's volunteers and local leaders in creating pages on charity crowdsourcing fund-raiser site Crowdrise to share the campaign goals and stories. "It helped that there was social promotion from familiar, trusted sources outside the organization," she says. "A larger visible presence increases the number of people tweeting and sharing."
Remember the technophobes
At its Leukemia Ball 2014 in Washington, D.C., the Leukemia and Lymphoma Society hosted nearly 2,000 guests and raised more than $3 million. And for the fifth year, organizers used BidPal to deliver real-time updates of the event's auction to participants' smartphones. Ritu Sharma, executive director and co-founder of Social Media for Nonprofits, says that by giving non-smartphone users devices to utilize during the event, the L.L.S. and BidPal were able to bring even non-tech-savvy guests into the fold—and get them interacting in real life. "Many times people quite enjoy learning from others at the table, as this becomes a great conversation starter," she says.
Don't forget to ask
"Many nonprofits create profiles, post regularly, and wonder why money is not falling from the sky," Sharmu says. Sometimes, it's just because they don't ask. "If they're just online, potential donors oftentimes don't think to give," she says. "People aren't walking around thinking, 'Who can I give money to today?'" That said, Sharmu cautions that groups need to be judicious in their donation requests or they risk having donors tune them out.
Featured Venues/Suppliers: