Does Your Annual Benefit Need a Format Change?
Get inspired by these fund-raisers that have used decor, technology, event layout, and more to refresh the attendee experience.
June 6, 2019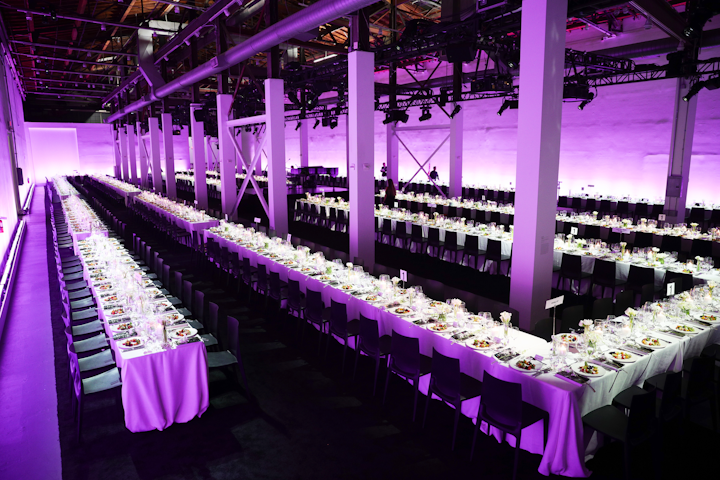 Photo: Zack Whitford/BFA.com
The Museum of Contemporary Art's annual gala has been one of Los Angeles's most heavy-hitting and star-studded fund-raisers for almost four decades—so it was a surprise when the event was canceled in 2018 after complaints about a lack of diversity among its honorees. 
A new version of the gathering came back this year on May 18, using a new, more community-minded approach: In addition to a new venue, the benefit had no corporate sponsor, half the seats were given away for free, and guests sat at one long, winding table so everyone could be at "table one."
The new approach paid off, with the newly minted MOCA Benefit raising $3 million and drawing about 700 attendees, and gaining positive buzz for new museum director Klaus Biesenbach. (Of course, it didn't hurt that during the dinner, board president Carolyn Clark Powers announced a $10 million gift that will allow the museum to offer free admission for the foreseeable future.)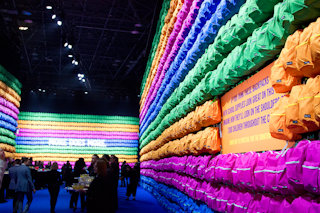 New York's Robin Hood Benefit had a math theme with 7,000 backpacks arranged in colorful rows; they were filled with school supplies and later donated. Designer David Stark suggests starting with the event's messaging and building visuals around that.Photo: Lisa Vecchione/BizBash
Generous donations aside, event pros can learn a thing or two from the benefit, and others that have shaken up their formats in recent years.
"There are so many important fund-raising events out there, and so many people that need to be helped," says David Stark, C.E.O. of New York-based David Stark Design and Production who handles annual fund-raisers for the Robin Hood Foundation, the Whitney Museum, the Brooklyn Museum, and more. "We think about how to differentiate each experience from other equally important experiences that are out there."
Read on for some smart ways nonprofits have revamped their fund-raising efforts through new layouts or venues, effective new decor, immersive technology, and other clever changes.
1. Refresh the dinner layout. 
L.A.'s MOCA Benefit made a dramatic—and meaningful—statement by foregoing the individual tables for one long, snaking table. The Alvin Ailey American Dance Theater's 19th annual gala, held in Washington in February 2018, had a similar idea: Event organizer André Wells wanted to make sure there were no "good" seats or "bad" seats in the T-shape venue.
"[The seats] are all just different," Wells told BizBash shortly after the event. "If you're at the base of the T, we have to make it as inviting as if you were in the center of the top of the T." Round tables allowed for easy maneuvering and a bar at the far end of the T created a new gathering area for conversation. Dessert bars throughout the whole space encouraged guests to mingle and dance.
In Chicago, meanwhile, the Joffrey Ballet's 17th annual gala in April also changed up its traditional seated dinner format. Calling itself an "UNgala," the benefit had no assigned seating or plated courses; instead, guests helped themselves to food at buffet stations and sat wherever they liked—candlelit rounds, lounge seating, or highboy tables.  
"Any [change] can work depending on how you do it," notes Stark. "It just needs to be done thoughtfully. I'm never afraid of a new idea or a new way of looking at something."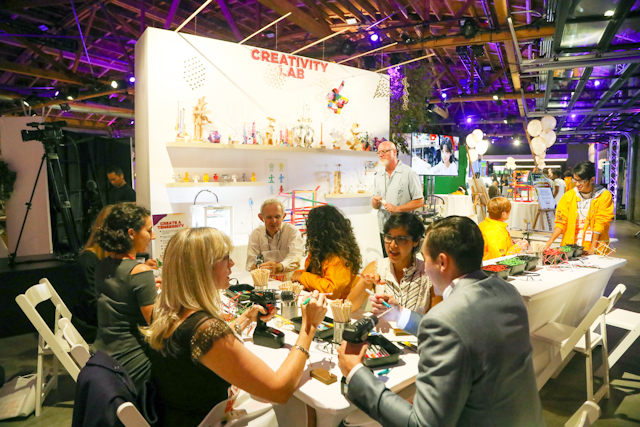 Inner-City Arts' Imagine Awards in Los Angeles skipped the traditional gala and dinner. Instead, producer Stoelt Productions created mini studios that showcased the organization's work and capabilities.Photo: AXYZ3 Media
2. Or, forego the seated dinner format entirely.
Inner-City Arts, a nonprofit that provides arts education to children in Los Angeles's poorest neighborhoods, shook up its 2018 Imagine Awards in a big way. Instead of a traditional gala and dinner, the organization worked with Stoelt Productions to create mini, interactive studios that brought attendees inside the campus's various visual, media, and performing arts activities. 
"C.E.O. Bob Smiland wanted to break the mold of the traditional, expected gala format to make it more of an engaging and immersive experience," explains Matt Stoelt, the production company's founder and creative director. "I suggested that we create vignettes of all of the different studios that they have at I.C.A., with the objective of communicating the amazing work that they do every day for underprivileged children in Los Angeles."
Organizers also evoked the greenery-filled campus through live trees and festoon lighting. "The overreaching idea was to put the guests on the I.C.A. campus, and let them experience firsthand where the funds go that are donated annually and at the Imagine awards," says Stoelt, who noted that each mini studio was full all evening and that the organization hit its fund-raising goal.
3. Use new decor and technology to enhance the experience and messaging.
Some fund-raisers, like New York's high-profile Robin Hood Benefit which supports the foundation's work to end poverty in the city, change their decor and theme every year to keep the messaging fresh. "For many years we've thought about Robin Hood through its connection to New York City," explains Stark, who has been designing and producing the event for 17 years. "And that has allowed us to create varying looks and feels that are inspired by aspects of New York City ... We've looked at New York City as a place that metaphors could be built to tell the story of what Robin Hood is doing on behalf of all New Yorkers."
For the 2019 event on May 13, though, Stark and his team changed their approach. "This year, we looked at it programmatically and thinking about math," he explained. "A math problem is something that you can solve. Robin Hood is very much about the metrics, and if math was a problem we could solve—is poverty like a math problem? Something that if we come together we can solve?"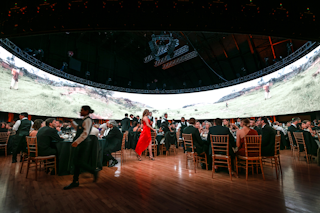 For Charity: Water's latest gala—held in San Francisco and produced by Trademark Event Production—a 360-degree LED screen immersed guests in an Ethiopian woman's daily trek for water.Photo: Claudine GossettThe important thing, says Stark, is to start with the messaging and metaphor and build the visuals around that. Another event that used this idea was Charity: Water's most recent gala, held in San Francisco in December. At past galas, guests experienced activations like a virtual-reality film depicting a girl drinking clean water for the first time, plus a video-matching program that connected eventgoers with similar people in a village without clean water. (For example, an American couple married for 20 years would be "matched" via iPad with an Ethiopian couple married for 20 years).
But for its first West Coast gala, the nonprofit upped the tech ante by surrounding the evening's 522 dinner guests with a 40,000-pound, 360-degree video experience, plus a custom app and personalized iPads that allowed for easy, real-time donations. The emotional video, produced by Canadian director Drew Lightfoot and Bodega Studios, documented an Ethiopian woman's daily trek for water. 
The ease of donating, and the immersive video experience, inspired guests to donate $7 million.
4. Don't neglect the power of Instagram.
While benefits focus on a nonprofit's message first and foremost, there's no denying that a great photo op can draw interest—and spread awareness well beyond the event itself. 
"Now more than ever with the rise of social media, photo moments, and the expected pop-up moments at events, I think producers need to start with a clean slate each year, dig into the creative, and focus on creating an experience across all facets of the event," says Stoelt. "It only takes it one profound moment or memory from an event to create a lifelong bond with supporters."
One nonprofit that effectively used this idea recently was the Princess Margaret Cancer Foundation in Toronto. To promote its upcoming fund-raiser, which challenged Canadians to dye their hair during the month of May to raise money for cancer research, the nonprofit created a public pop-up that featured vintage hair salon booths in the colors of the rainbow.
"Our fund-raising program is very visual by nature and an integration with an attractive and engaging experiential space, where many Instagrammable moments could be captured, seemed a great strategic fit to create awareness and engagement," said Nick Taylor, senior director of corporate and community partnerships for the Princess Margaret Cancer Foundation, in an interview with BizBash in April. 
Meanwhile, the nonprofit It's a Thing—which raises funds for head and neck cancer—used a similar idea at a pop-up in New York in November. Art from popular street artist Mr. Brainwash celebrated body functions that are made possible by the head and neck, thereby educating attendees on the relatively unknown cancer.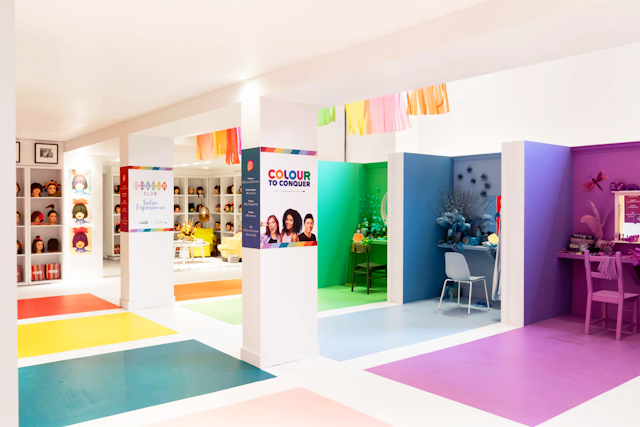 Toronto's Princess Margaret Cancer Foundation capitalized on the success of Instagram-friendly pop-ups to raise awareness for its fund-raiser. Tiffany Pratt handled the design.Photo: Lauren Kolyn
5. Try out a new location.
Sometimes, a new location can shake up a benefit for the better. The MOCA Benefit in Los Angeles, for example, moved from a vast party tent into the museum's Geffen Contemporary satellite space in Little Tokyo, creating a more down-to-earth feel. Similarly, the Joffrey Ballet Gala in Chicago moved from a downtown hotel ballroom to the Lyric Opera House, the company's new home base for the 2020 season. Guests were invited to explore entertainment and food stations across the venue's three levels, adding a more casual, attendee-focused feel to the evening while also showcasing the space.
New York's Museum of Modern Art hosted its annual Party in the Garden in a new spot in June 2018: the museum's actual garden. The layout of the party, which was designed and produced by the museum's in-house special events team, was flipped to allow for more seating capacity to accommodate the draw of a popular honoree. The new location and its existing trees required organizers to consider new sightlines and create two speaking areas with screens—which gave every attendee a good view.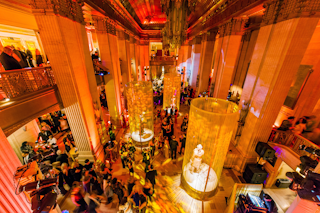 At Chicago's Joffrey Ballet's gala, designers HMR Designs skipped the assigned seating, instead allowing guests to visit food stations and explore the venue.Photo: Cindy Fandl
6. Reward top donors with a V.I.P. experience.
If an entire event can't be revamped due to budget or space concerns, one way to draw attention is through a new V.I.P. experience. That's what the Humane Rescue Alliance (formerly the Washington Humane Society) did for its annual Sugar and Champagne event in Washington in 2015, when it added a private tasting and interactive reception prior to the main event limited to 50 guests. The new offering sold out at an extra $250 per person.
Think about what already works at your event and enhance it, Emily Miller, the nonprofit's director of special events, told BizBash at the time. "What works is that we offer all these awesome food and beverage tastings that would take you weeks, or even months, to [try] on your own. .. That is when we decided to create the extra ticket for the Exclusive Experience and make it more high-end to drive interest."