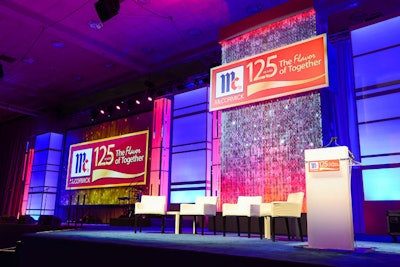 Photo: FotoBriceno LLC
Yes, it is possible to reduce the cost of meetings and events without skimping on the experience. Here are eight tips from event professionals that can boost your bottom line.
1. Be flexible. "The market has turned to a seller's market, which means hotels can pick and choose their business," says Marcy Rodner, national account manager at Experient, an event management company headquartered in Ohio. Planners can create cost-cutting options for themselves by considering multiple locations and dates for their meetings. Adjustments to the event schedule can also save money. For example, start a multiday event after lunch to eliminate the need to provide an extra meal.
2. Plan ahead. Rob O'Brien, sales and operations manager for PTE Productions, an Orlando-based full-service audiovisual production company, equates an event to building a house, with audiovisual production as part of the framework; delays in that area slow down the entire project and can increase costs. "Early planning provides vendors and suppliers with more options, which will always save the client money. It allows us to ensure the equipment and labor needed for the job is confirmed and available," he says. Remember, vendors are likely working on multiple events at one time, so last-minute changes to an event can interrupt other projects. "It's the proverbial 'headache fee.' If the vendor has to jump through hoops and disrupt his operations to get the client what he wants, there's a price for that."
3. Maintain open lines of communication. "So many planners work with each vendor directly and don't encourage or allow cross-communication," says Ron Bracco, executive director of events for Washington, D.C.-based trade show and event production company Hargrove. "The result is a bunch of silos that can end up costing you money. Let them work together to solve challenges and help you achieve your goals." One strategy: Gather everyone for a face-to-face meeting when planning begins, and then host regular conference calls or virtual meetings to touch base in the months leading up to the event. "Also, share your budget up front. If we know what you need to achieve, we can help you get there," he says.
4. Reduce power consumption. Pasquale Semeraro, general manager of PTE Productions, says modern equipment such as battery-powered lighting and energy-optimized audio systems can potentially cut electricity charges by thousands of dollars. "This is the one element that benefits everyone regardless of the event size, location, or hosting party," he says.
5. Shop around for Wi-Fi. Fast, free, reliable Wi-Fi is a must, so understand what it will cost to ensure you have it throughout your venue. The contract may say the venue is the exclusive provider, but consider negotiating to remove that restriction because independent providers may offer better pricing and more up-to-date equipment.
6. Invest in reusable materials. Think long-term to get the most bang for your buck. Develop graphics that can be reused from meeting to meeting, year after year. Invest in a stage set that is adaptable, with elements that can be moved around. "For example, lighting and imagery can be used in different ways to make the same stage always feel fresh and interesting," says David Solsbery, executive director of design for Hargrove. Also, look for multipurpose technology products, such as online meeting planning systems that can accommodate multiple events, and mobile apps that can be maintained and updated for future meetings.
7. Eliminate printing. There are dozens of options to create a mobile app for events, from super-affordable D.I.Y. solutions to more robust custom products. The question is not if you should use one; it's simply which one. According to eMarketer, more than 50 percent of the United States population will have at least one smartphone by the end of 2014, with nearly 164 million users. Attendees will expect an app, and it will allow you to eliminate printed agendas, maps, and session materials. Signage is also going digital in more venues. "These signs can be programmed to change as needed, designed to your event brand, and generate revenue from sponsor ads," says Donna Jarvis-Miller, conference manager for the American Public Human Services Association based in Washington, D.C.
8. Get creative. "If you need decor for a reception, work with your audiovisual company to include LED uplights to throw color in strategic spots," Jarvis-Miller says. Another option: Ask the venue to provide complimentary food and beverages for an attendee reception. "When I have done this, I provide tickets to limit the number of free drinks and will augment with additional food and beverage items to be a real partner with the property," she says.