This Week in Los Angeles: an Effective New Gala Format, a Social-Media-Friendly Jack-o-Lantern Festival, L.A.-Inspired Vodka Flavors
West Coast bureau chief Claire Hoffman recaps the week's biggest event news.
October 26, 2018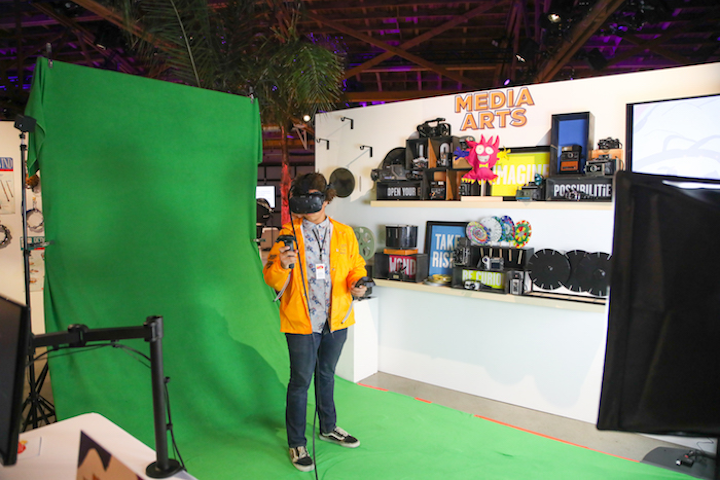 Photo: AXYZ3 Media
Welcome to BizBash's new Los Angeles-based column, where West Coast bureau chief Claire Hoffman recaps the week's biggest local news. Got a tip? Get in touch!
In Case You Missed It
We took a look inside the Nights of the Jack pumpkin festival, a buzzy new public project from a group of local event and hospitality veterans. 
In the News
Our/Vodka, owned by Pernod Ricard, has opened a new Our/Los Angeles distillery downtown with flavors inspired by the city. The brand's partners are also launching an L.A.-inspired podcast. Los Angeles Daily News: "Our/Los Angeles features a two-wheat blend and non-GMO yeast. The wheat mixture makes the liquor soft and smooth, while the yeast, which is traditionally used in wine-making, gives it a light citrusy, floral aftertaste with natural sweetness." https://bit.ly/2Sfrkuz
The 2019 Tournament of Roses named its 101st Rose Queen on Tuesday. Pasadena Star News: "[Louise Deser] Siskel is very involved in her school, Sequoyah High, an independent day school in Pasadena, as well as her community. … The Rose Queen and Court will keep busy the next few months with appearances throughout the community and Los Angeles County. They will ride on the Royal Court float in the 130th Rose Parade and attend the 105th Rose Bowl Game on New Year's Day." https://bit.ly/2EIuSTt
A new measure in Santa Monica would make it harder for developers to deviate from the city's building height limits. Curbed Los Angeles: "If Measure SM passes, for the next 10 years, developers wanting to build taller or denser would need a 'yes' vote from five of seven members of the City Council. Right now, the threshold is four votes." https://bit.ly/2EFp3px
Moves & Milestones
Donna Gigliotti and Glenn Weiss will produce the 91st Academy Awards, with Weiss also directing the broadcast. Gigliotti, who won an Oscar as a producer for 1998's Shakespeare in Love, will be overseeing the broadcast for the first time. The awards take place on February 24.
L.A. Promise Fund's Girls Build Summit—which took place on September 28 with speakers including Shonda Rhimes, California secretary of state Alex Padilla, and survivors of the Marjory Stoneman Douglas High School school shooting—drew 10,000 middle- and high-school-age girls. The event registered over 600 people to vote in a single day, making it the largest voter registration event in the nation. Extraordinary Events produced the summit, which took place at U.S.C.'s Galen Center.
The 271-room Marriott Irvine Spectrum, which opened last December, has named Dianne Markis general manager. 
Venue Buzz
The Waterfront opened in Venice Beach on Wednesday. The all-day dining destination has a full-service restaurant, a patio, an oceanfront beer garden, a lounge area, and a taqueria; the entire space seats 250 or holds as many as 500 for buyouts of all the different areas. The Waterfront aims to be a positive addition to the community through partnerships with the L.A. Community Healing Garden and other local organizations.
Overheard
"In L.A. we shop, we eat, and we go to movies—we don't hang out in the woods at night because there's really not a lot of woods to hang out in. So I think … that's what scares Angelenos: taking this environment and doing something new in this space where they can get annihilated in the dark."
—Melissa Carbone, talking to Time Out L.A. about what makes her decade-old Los Angeles Haunted Hayride attraction such a success. The spooky, 30-acre takeover of Griffith Park runs through October 31.
On the Scene
We checked out Politicon last weekend, the bipartisan political convention that took place at the Los Angeles Convention Center. The two-day event, which had record-breaking attendance in its fourth year, drew speakers including Kathy Griffin, Chris Christie, Michael Avanatti, Tucker Carlson, Ann Coulter, and Alyssa Milano. Booth highlights included MSNBC's "Morning Joe" coffee shop and the Washington Post's sleek, neon-lined stage.
What's Next 
Unsurprisingly, this weekend will see a slew of Halloween parties, highlighted by KCRW's annual Halloween Ball on Saturday. This year's event will take place at the Los Angeles Theatre and feature live music from White Denim, Cherry Glazerr, Shannon Shaw, and Wajatta, plus circus performances from Lucent Dossier. There will also be a live recording of the wildly popular My Favorite Murder podcast on Wednesday at the Microsoft Theater, and a Day of the Dead celebration, sponsored by Time Out Los Angeles, at OUE Skyspace on Thursday.
Another weekend highlight: On Sunday, the Elizabeth Glaser Pediatric AIDS Foundation will celebrate its 30th anniversary for the annual A Time for Heroes Family Festival. Honoring journalist Willow Bay, the event will take place at Smashbox Studios in Culver City.
The Los Angeles Convention Center also has a busy few days, with Los Angeles Comic Con running today through Sunday and the California Bridal & Wedding Expo on Sunday.
Featured Venues/Suppliers: