How to Attract YouTube Audiences to IRL Events
Popular vlogger David Dobrik designed a pop-up shop for his new clothing line—and his fans.
June 5, 2019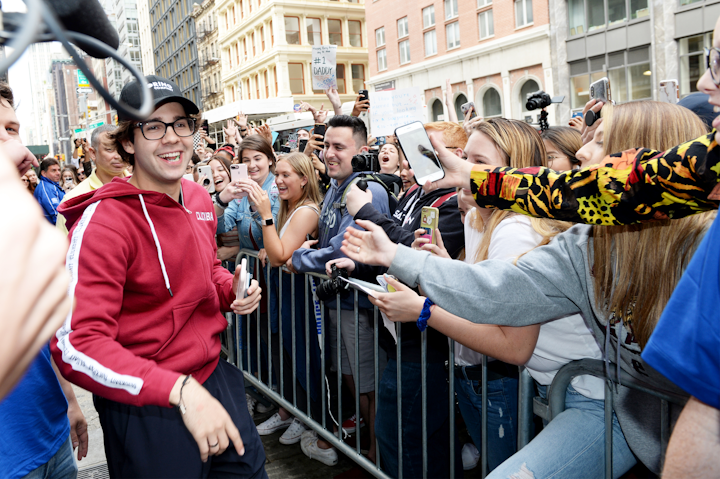 Photo: Andrew Toth/Getty Images for Fanjoy
NEW YORK—David Dobrik is a household name—well at least in houses with a teenager. With more than 12 million subscribers on YouTube, he's one of the most sought-after social media influencers today. Having started his channel in 2016, the 22-year-old is now one of the platform's most popular vloggers. His day-in-the-life-style videos, which he films with friends as well as big-name celebrities like Jennifer Lopez, generate millions of views. He also records a podcast called "Views with David Dobrik And Jason Nash."
But how do you translate that online success into a brick-and-mortar pop-up shop? To launch Dobrik's new "Clickbait" merchandise line with apparel brand Fanjoy, creative agency Movement Strategy produced a two-day event where fans could shop the collection and, perhaps more importantly, meet the YouTube star.
"Our team knew that his online reach would spill over into the real world. As we prepared for the pop-up installation, we knew that he would be the main attraction, but that the space should be a true reflection of his brand," said Jason Mitchell, C.E.O. and co-founder of Movement Strategy. "We created Instagrammable photo moments, showcased the product in an eye-catching way, and created opportunities for them to interact with David."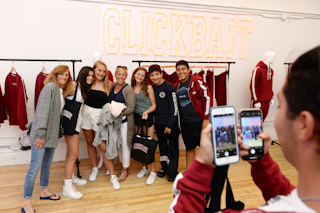 More than 6,000 visitors passed through the 368 space over the 48-hour period.Photo: Andrew Toth/Getty Images for FanjoyThe pop-up featured a partnership with ticket search engine site SeatGeek that included toy sports cars on display, as a nod to Dobrik's designer car vlog moments, along with a raffle. Guests could also pose in front of a backdrop showcasing some of his most recent thumbnail images from YouTube.
"From a creative standpoint, you really have to put yourself in the mindset of those megafans and figure out the moments from David's vlogs that will strike a chord with the audience and make them feel like this space was built with them in mind," Mitchell said. "That's a more complex challenge than building a branded space, where you're more likely to draw off a stylistic formula or pre-existing brand guidelines."
Juliette Richey, head of production at Movement Strategy, added that "the space had to convey the distinct character and sense of humor that fans associate with David. That meant fighting a creative instinct to build something more involved in favor of installations that granted plenty of appealing, immediately recognizable quick-snap photo ops."
Overall, the space was designed to maximize flow in an effort to expedite purchases; guests were given strict 15-minute intervals to browse and shop. And the concept seemed to pay off. According to Movement Strategy, 3.5 items were sold per minute within 16 hours.
The pop-up shop was held on May 18 and 19 in New York's TriBeCa neighborhood at 368 Broadway, a three-level space owned by another popular vlogger and YouTube personality, Casey Neistat.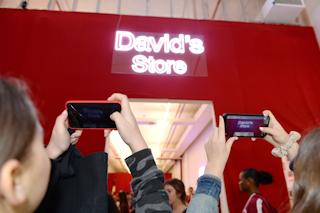 "We kept things bright and inviting with LED 'neon' signs, which integrated well into the 368 vibe… and peppered the walkable space with allusions to David's vlogs, including framed thumbnails of memorable moments and miniaturized versions of his iconic cars. Both installations had inherent social magnetism, connecting with both hardcore and casual fans," Richey said.Photo: Andrew Toth/Getty Images for Fanjoy"Movement, Fanjoy, and David wanted to ensure that the event space chosen in New York was authentic to the David Dobrik brand and the 368 space was a perfect home because of its deep roots within the YouTube community," Richey explained. "The 368 space is a collaborative workspace in New York City, which serves as a hub for fellow filmmakers, YouTube stars, musicians, and podcasters. David Dobrik and Casey Neistat are both prolific YouTube content creators with an existing friendship, so the collaboration was fluid for the two."
Much like a rockstar, YouTube personalities such as Dobrik are able to generate buzz and excitement in real life that most corporate brands can't imitate. With the Fanjoy x David Dobrik pop-up, the producers aimed to capture that energy and convert it into an inspiring event.
"YouTube audiences are extremely attuned to the vloggers they follow and feel an immensely deep connection to them. I think that's why you see the kind of displays of emotion we saw, where people are crying tears of joy and excitedly screaming at their mere proximity to David," Mitchell said. "It's a more personal connection than a brand is usually capable of eliciting, which makes crafting a rich experience that resonates for diehards all the more important."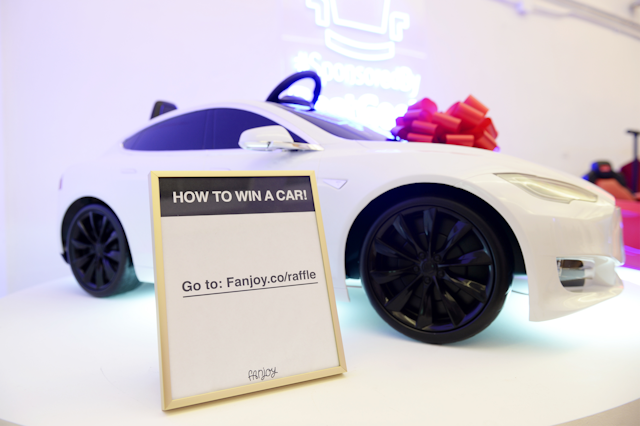 The pop-up featured a partnership with ticket search engine site SeatGeek that included toy sports cars on display, as a nod to Dobrik's designer car vlog moments, along with a raffle.Photo: Andrew Toth/Getty Images for Fanjoy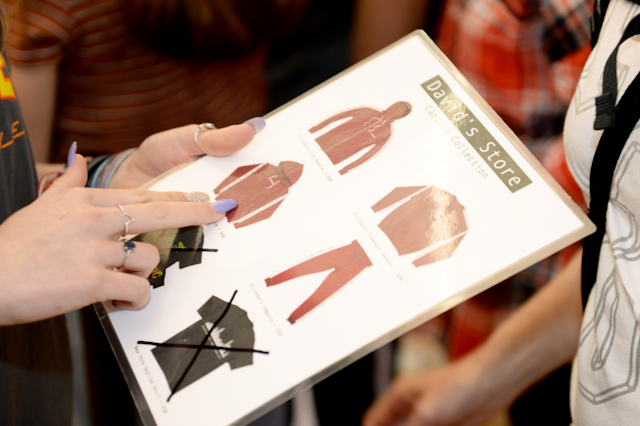 The collection includes tees, hoodies, and pants, ranging in price from $30 to $60; the styles and prices were strategically chosen to cater to Dobrik's audience.Photo: Andrew Toth/Getty Images for Fanjoy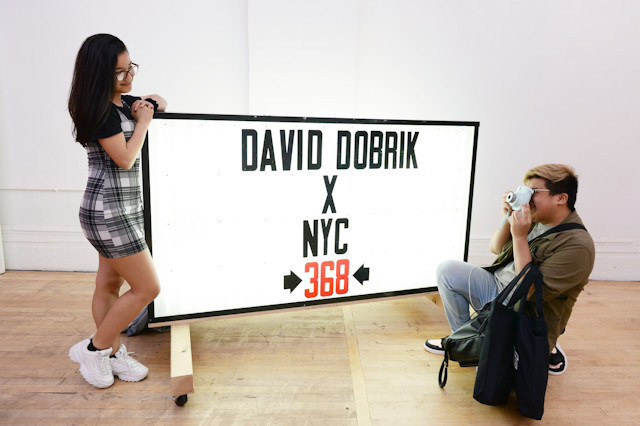 The pop-up shop was held in New York's TriBeCa neighborhood at 368 Broadway, a three-level space owned by another popular vlogger and YouTube personality, Casey Neistat.Photo: Andrew Toth/Getty Images for Fanjoy
Dobrik partnered with Fanjoy on this "Clickbait" merchandise line. The apparel brand specializes in creating merchandise that resonates with the YouTube generation.Photo: Andrew Toth/Getty Images for Fanjoy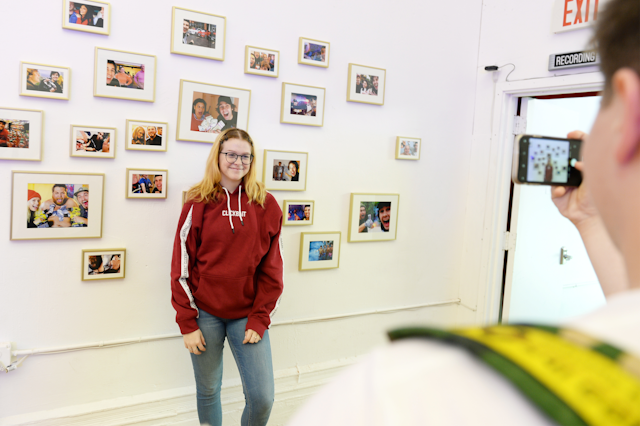 Fans could pose in front of a backdrop showcasing some of his most recent thumbnail images from YouTube.Photo: Andrew Toth/Getty Images for Fanjoy