How Can Event Pros Prepare Employees For Active Shooter Incidents?
Experiential agency Momentum Worldwide's new event initiative involves site-specific safety plans, mandatory employee training, and a threat intelligence system.
August 22, 2019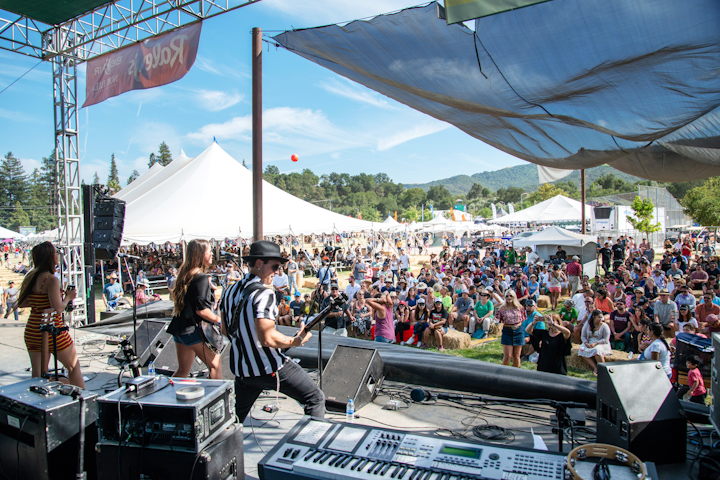 Photo: Glen McDowell Photography
Recent attacks at events like Gilroy Garlic Festival in Northern California—and the fact that there have been 255 mass shootings in the U.S. in 2019—have prompted event producers and planners to reevaluate their safety protocols at both private and public events.
This month, experiential agency Momentum Worldwide, which produces some 4,000 events each year, launched an event safety initiative that aims to better protect employees, clients, and attendees during an attack or potential emergency. An evolution of the agency's existing safety program, the initiative is highlighted by three points: a production safety plan that is designed for each individual event; mandatory training programs for employees; and a technology platform powered by Everbridge, a company that specializes in critical event management and enterprise safety software applications.
Donnalyn Smith, president of Momentum Worldwide, North America, said the shooting at the Route 91 Harvest music festival in Las Vegas in 2017, which left 58 dead, was a driving force behind enhancing the agency's existing safety plan.
"We've been working on the initiative for a while, and the Vegas event stood out in our mind," said Smith. "It became so clear to us that we had an opportunity to support our employees in the moment, through alerting them, validating their status, and accelerating our support response."
Smith said the agency added more risk assessment and safety information to the safety plan, as well as meeting point areas should there be a mass exodus. The plan now "kicks into account some of the potential issues we may see with active shooters," she said. 
Mandatory employee training also isn't new to Momentum, but Smith said they now incorporate new programs such as FEMA Active Shooter training.
"If employees are in the middle of event execution and something unplanned happens, we want to make sure our people know exactly what to do in the moment. A lot of training will help people in the middle of a threat like an active shooter," Smith said. "From what we've seen at events, it's very chaotic in the moment. We want our people to be trained."
Steve A. Adelman, vice president of the Event Safety Alliance, which was not involved in Momentum's initiative, told BizBash that the group favors any initiative that encourages producers and venues to assess risks surrounding their event, site, crowd demographic, time of year, or time in history. He also noted that critical event management that is "secure, scalable, and built on reliable infrastructure" is a good starting point for any organization.
"The recent shootings in Gilroy, El Paso, and Dayton underscore that no part of the United States, no size or location of municipality, and no type of public accommodation can fairly say that it is immune from the scourge of gun violence that currently plagues this country," Adelman said. "The harder question is what, if anything, can they do to mitigate the risk of someone who is prepared to die that day who is carrying a military-grade weapon with an extended magazine. The usual instruction to 'run, hide, fight' may work in office buildings, for which it was designed, but it is an ill-fitted tool for the dark, loud, and unfamiliar environments in which many live events take place. For these environments, training event staff how to lead their crowds to safety in any kind of emergency can be the most useful initiative."
The most significant change to Momentum's safety plan was its partnership with Everbridge. Accessible through a downloadable app, which will be on all company-issued phones, the technology platform offers an integrated communications, crisis management, and threat intelligence system that aims to support employee safety and situational awareness at any Momentum office or event location.

"We had two other platforms we had access to previously, but there were limitations to them that we felt we needed to advance," said Smith. "Messages to employees were very automated, we didn't have specific control or ability to input messages, and you couldn't create groups for events. This new platform really allows us to do all that."
Other event technology products and services are trying to provide safety solutions. New products like Tapplock cater to vendors at large trade shows and conferences who don't want to leave their items unattended. Tapplock offers a smart fingerprint padlock that can store as many as 500 fingerprints and pairs with an enterprise management platform, which allows businesses to manage who has access to the lock, and set specific parameters like the date and time.
Adelman noted, however, that many businesses are selling would-be technology solutions that may be too expensive for event planners and venues. Ultimately, he said, an effective solution is making sure staff understand their existing communication technology and that they can use it to lead attendees to safety.

"Everyone can be trained to see more clearly what's around them, and then to share that more quickly and completely with the rest of their chain of command," he said. "It is appealing to think that all of one's problems can be solved with a shiny new piece of technology, but ultimately any technology must be implemented by actual people. E.S.A. believes that the first step should be training venue and event staff to be the best crowd managers they can be."