As technology becomes more sophisticated and affordable, more planners are opting to host online-only events, such as trade shows with virtual expo halls filled with exhibitors. After attending a virtual trade show in the financial industry last year, Michael Marcovici chose to use the format for his first event targeted to the domain, hosting, and search engine optimization industries. "I was really impressed with the virtual event I attended. I met a lot of people, much more than I would usually do, and I had access to people that maybe would not even talk to me in a real conference," he says. His Web Fair Virtual was live online for two days in July and had more than 650 attendees and exhibitors from around the world, whereas in-person events in that industry generally get about 300 people, according to Marcovici. "It was a great way to attract new people who don't have the money and time to travel to a real event. The feedback was great. People had told me, 'I'll just come for five minutes,' and then they just stayed online for hours," he says.
Marcovici and four representatives of virtual event hosting companies shared tips on how to create a successful online-only event. Curtis O'Keefe is director of Communiqué Conferencing; Eric Vidal is director of product marketing for InterCall; Martina Ori is marketing program manager at Hyperfair; and Jeff Heisler is a senior account executive at INXPO.
1. Think strategically. "A lot of people that hear about this technology think they should be doing it but don't understand why," Heisler says. "So I like to start with quantifying those business goals and objectives so after the event runs we have some benchmarks to see if it was successful or not."
2. Try the technology. If you don't have the opportunity to participate in a virtual trade show, ask your vendor to provide a link to a demo so you can sample what the experience looks and feels like for attendees and exhibitors.
3. Develop a marketing plan. Just like a traditional event, you will need to determine how to reach potential attendees and exhibitors. In addition to using existing assets such as your email database, website, and social media, consider investing in additional channels. "Some people don't spend as much on promoting their virtual event as they would the in-person. But you have to go after where you audience already lives. So try buying lists or using Facebook advertising or LinkedIn ads," Vidal says.
4. Educate your audience. Since this is still relatively new technology, part of that marketing effort may need to include an explanation of how a virtual trade show works. O'Keefe suggests a teaser video that shows how to navigate the online environment, similar to one created by his client, Chalifour Canada for its recent virtual show.
5. Explain benefits to exhibitors. Help your exhibitors understand that in the virtual environment they will be able to interact with customers, share product information, generate leads, check out competitors, and many other things they would do at an in-person event, without the expense and constraints of travel and a physical booth. In addition, they can expand their reach and brand to customers who might not be able to attend a physical event. The top benefit echoed by all of the respondents: the valuable data that exhibitors receive from a virtual event, including who participated, how long they were in the event, which booths they visited, which documents they downloaded, whether they used social media, what questions they asked. Remind exhibitors that the more content they can provide in their booths—such as information sheets, videos, or Web links—the more attention they will get from attendees and the more data they will receive after the event.
6. Include relevant content. Like an in-person event, content is critical to attracting people to an event. Offer a mix of content, such as keynotes and breakout sessions, and consider inviting sponsors and exhibitors to provide some of that content. Presentations can be recorded ahead of time and then scheduled to run as if they are live. Use push notifications to remind guests of upcoming sessions, and consider whether your speakers need training on how to acknowledge and engage virtual attendees.
7. Create an effective schedule. Most virtual trade shows are available live for one to two days. If you are targeting an international audience, consider start and end times convenient for people in different time zones. Don't expect online attendees to be attentive for an entire day, so schedule education sessions on short blocks, and then open the trade in between and for limited time frames of about two to four hours. This will serve two purposes: Exhibitors will know when they need to be online to interact with the virtual attendees, and it will enhance opportunities for networking if attendees are in the trade show at the same time.
8. Add gamification. Use contests to drive the actions you want attendees to take. For example, by clicking on each exhibitor booth attendees could be entered in a drawing for a prize. Encourage exhibitors to also use game strategy, such as a prize for people who download the brand's product information.
9. Encourage networking. In addition to seeking product information and educational content, one of the main reasons people attend business events is for networking. Virtual event platforms allow attendees to message one another and exchange contact information. While that may not be as meaningful as meeting someone in real life, it can be the first step to deeper communication and, as Marcovici found, for some people it can be easier to exchange information virtually then to approach someone in person. Virtual event hosts can facilitate networking by scheduling group chats or posting discussion topics.
10. Use the data. Every action taken by an online participant is tracked through the virtual event system. "I don't just get that Mary Smith with this title and from this company visited a booth. I get to find out what information she downloaded, what other booths did she go to, what questions was she asking during the breakout session," Vidal says. "Now I give that to a salesperson and they know more about what her needs are based on what she did in that environment." Hosts can also use that data to tweak future events.
11. Extend the life of the event. Once the live portion has finished, keep the event open for on-demand access. Exhibitors won't be online for live chats, but they can receive notifications when people visit their booths or ask questions. In addition to the content that was offered during the live days, consider adding new content periodically to give attendees a reason to revisit. And continue to promote the online environment through email and social media marketing.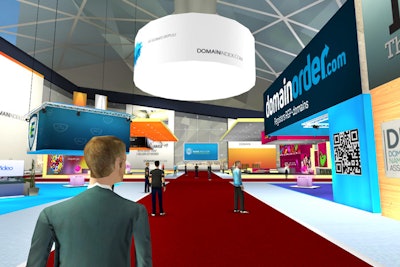 Photo: Courtesy of Web Fair Virtual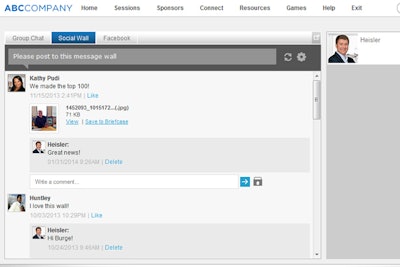 Photo: Courtesy of INXPO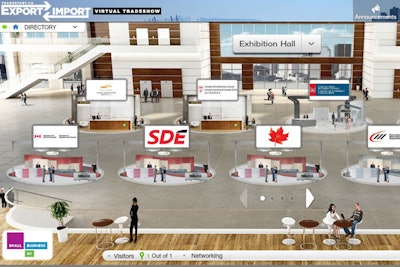 Photo: Courtesy of Communiqué Conferencing