8 Bright Ideas for Better Event Signage
From LED fabric walls to human arrows, here's a look at innovative approaches that will grab the attention of attendees.
November 5, 2014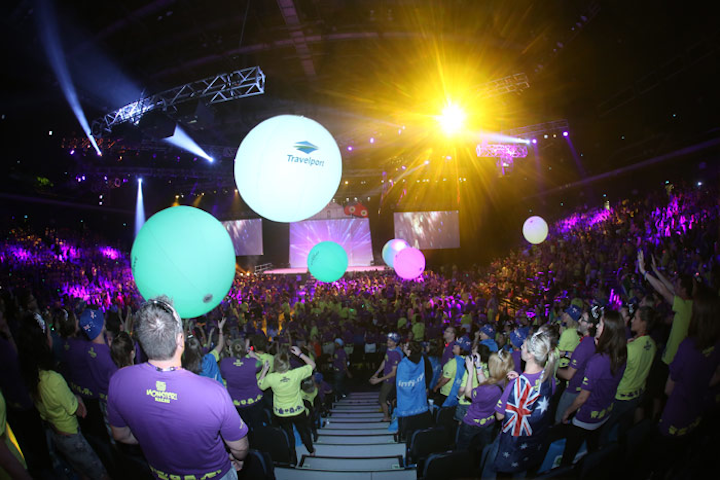 Photo: Courtesy of Cievents
Signage is one of those details that's easy to do on autopilot, especially if you're planning a recurring event. Here are eight creative, out-of-the-box ideas for making your logo, event information, and displays stand out.
1. Turn unlikely elements into signage. For a retail client's 3,500-attendee incentive trip, Katie Fraser, U.S.A. general manager for event management agency Cievents in New York, printed sponsors' names on helium-filled Zygote balls that change color when touched. "The balls were used during the beginning of the conference session, while everyone was in the room, to add some energy before the session started," she says, and the sponsors appreciated that attendees had a literal hands-on experience with their names.
2. Combine fabric and LEDs for a chameleon display. Suburban Chicago-based Moss Events built what marketing communications manager Mel Marzan calls a "color wash wall." Fabric is stretched into a frame lined with remote-controlled LED lights that change color. The fabric diffuses the light for a subtle effect, and the planner can change the brightness or color depending on what else is taking place in the space. Make it bright and eye-popping when attendees first arrive, then dim it when the lights go down for speeches or presentations.
3. Decide if you really need 4K. New 4K monitors (which double standard 1,920- by 1,080-pixel resolution both vertically and horizontally to 3,840 by 2,160, quadrupling the pixels) are just coming into rental use, but since the most cutting-edge technology is always more expensive at first, evaluate the content you plan to broadcast before committing, says Steve LaManna, United States key account representative for APG Displays in Orlando. A lot of the content that's out there today, and even what's currently being created, isn't in 4K, which makes having that shiny new (and pricey) screen a moot point.
4. Create logos with products. "We once created a client logo using different colored apples that were mounted on an angled board as you walked into the space," Fraser says. Other than produce, items ranging from electronics to consumer packaged goods, such as cell phones or cereal boxes, could be pressed into service the same way, she says.
5. Mix up your video feed. A wall of LED panels can deliver a great visual statement, but it's a significant investment, so you don't want attendees to tune it out. Since just a scroll of sponsor or donor names can get monotonous, mix it up with a montage of photographs that tie into the group or event's theme, quotes from the group's leaders or beneficiaries, or other visually stimulating imagery, suggests Merryl Brown, president of Santa Barbara-based Merryl Brown Events. "We're constantly disseminating information via the LED walls," she says. She also uses the LED wall to provide real-time updates on time-sensitive topics like upcoming awards and silent auction schedules.
6. Use themed "human arrows" to guide attendees. Instead of having staff members or arrows on easels pointing the way to a nearby off-site venue, Dani-Lee Landa, director of sales for destination management company 360 Destination Group in Los Angeles, had acrobats, jugglers, and stilt walkers holding arrows to direct attendees from the Loews Santa Monica to the pier for a financial group's circus-theme event last year.
7. Build fabric walls. Print and layer fabric panels for a visually arresting effect, Marzan suggests. For a Symantec trade show exhibit booth, Moss Events created illuminated fabric walls that were printed with the company name to construct the booth's sides. Inside, curved, semi-sheer fabric "walls" offered buyers a more private space to meet with sales reps without cutting off light or sight lines. "Both can be see-through meshes, or the back one can be solid, and you get different effects with each," he says.
8. Make a logo come to life by adding animation. For the 50th anniversary gala of the Scholarship Foundation of Santa Barbara two years ago, Brown wanted to create movement but was working within a budget that ruled out an LED wall. Instead, she designed an animation of the group's logo—an open book—that morphed into flying birds. She hung flat draping all the way around the room and used moving projectors to display the animation, pausing the visuals during speeches and presentations.
Featured Venues/Suppliers: