How to Create a Digital Garden at Your Event
See how these interactive "flowers" can engage guests with lights and sound.
January 6, 2015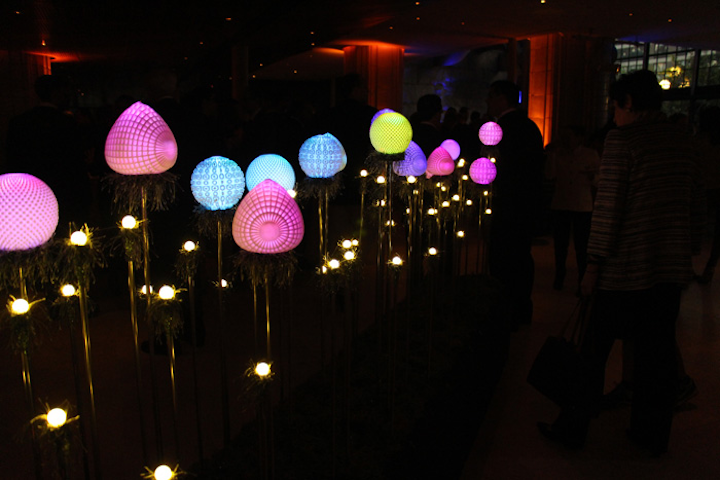 Photo: Courtesy of Moey Inc.
Appeal to your guests' senses of sight and sound with Moey's Interactive Garden. The colorful installation is a 24-foot-long structure that has 60 3-D-printed flowers in it. The flowers have embedded motion sensors that pick up on peoples' movement, proximity, and the amount of time they spend nearby. Based on those inputs, the flowers generate music, and LED lights inside change color.
"It makes for a very playful environment," says Molly Lenore, president of Moey, the company that makes the installation. "You change the way people are acting at an event. Some people dance in front of it to play it like an instrument, and some people might never go up to it, but they do watch."
The experience changes based on how many people are standing in front of it—the colors become brighter when there are more people nearby, for example. "It's very dynamic and it's being fed by the people around and their movement. The more attention you give it, the more it livens up," Lenore says.
The garden can be used as one 24-foot-long display or as two 12-foot-long pieces. The tallest flower is about six feet high. Lenore says the company is adding motors to the flowers that will be powered by facial recognition, so, for example, a person's smile could trigger the flower to open up.
Featured Venues/Suppliers: