Which Event Decor Elements Are So Over for 2017?
Planners share the played-out decor elements they won't use again—including last year's Pantone colors, paper flowers, and ice art.
January 5, 2017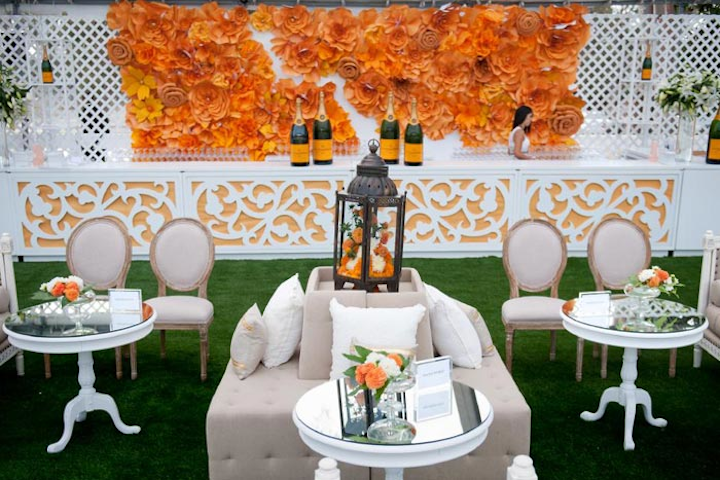 Photo: Claire Barrett Photography
"Macrame. 'Boho' was the new 'rustic' in 2016, with macrame replacing burlap. We're ready for the next big thing. Our team is seeing a strong surge of velvet and marble. Also, [we're done with] big clusters of balloons. Whether held aloft in a posed engagement shot, or clustered to spell out something cheeky... over it. We still have lots of love for balloons but only en masse as a big sculptural installation, canopy, or immersive hallway experience." 
Erica Taylor, co-founding partner, Tinsel & Twine, New York
"We love a little sparkle but it seemed like we used it a lot. From shining surfaces to sparkling backdrops, glitter chargers, and sequin table linens, our sparkle dust could be seen from miles away. We hope that 2017 will bring us new raw materials like marble, stone, or maybe some other clever organic materials."
André Wells, founder and C.E.O., Events by André Wells, Washington
"Instagram frames—I wore myself out. Also, everything Pantone Rose Quartz and Serenity."
Alexandra Rembac, principal and creative director, Sterling Engagements, Los Angeles
"Chalkboard signage."
Kerry Quade, owner and creative director, Kerry Quade Creative, New York
"Ice bars and sculptures. They're neat, if done right, but for the cost it's not enough bang for your buck. They are truly pieces of art, but unless your entire room is ice-themed—the over-played fire-and-ice theme comes to mind—and there are numerous pieces, I'd rather spend those thousands in something more innovative, modern, and unique."
Amanda Watson, events manager, McCarthy Tétrault law firm, Toronto
"A lot of planners [who] don't like different elements in a room will just pipe and drape over it so no one has to see it. I would challenge them to incorporate their dislikes into their event [or] theme instead of pipe and draping over it. Instead of covering a wall, make it a social wall or hang a screen over an exit and make it a live feed of the dance floor. Be creative."
Christopher Delgado, meeting and event planner, Tom Ferry—Your Coach, Irvine, California
"For the last few years, we have seen seen an upward use of paper flowers. They can be exciting and a paper flower wall can be eye-catching and interesting if well done. But I think that for 2017, paper will still be used, but it will be creations that are made from laser-cut paper and become more like art installations and more sculptural. A logo on the dance floor has [also] been a big trend, but I think that the dance floor or floors in general are going to become major design focal points in 2017. There will be much more creative executions of the design and look of floors in events. Maybe this is because everyone spends so much time on their phones looking down, the floor is becoming a place to be more exciting."
Brian Worley, co-owner, YourBash!, Los Angeles
"The Eames molded plastic wire-base side chairs. These chairs have become the default option for so many events and interior design projects that they've lost their uniqueness and ability to impress."
Lauren Hurley, operations director, The Visionary Group, Los Angeles
"For 2017, I think we will not be using any more gif booths. Although the photo moment doesn't seem to be going anywhere for sure—we still love to share photos of ourselves from life experiences—now we're using much cooler technology integrated into these photo moments, from a 360-cam to VR to three-dimensional sets, so the whole experience is elevated and quality of images captured at the live event is much higher—and worthy of a post on your well-curated Instagram feed. We've already seen a drop-off in guests' willingness to share photos from events unless it's lit well and has something special, so while these are bigger investments, you'll get much better R.O.I. as guests will be willing to share."
Cara Kleinhaut, founder and C.E.O., AgenC Experiential & Digital Marketing, Los Angeles
Editor's note: Some of these comments were shared by readers on our social media networks. Join our discussions on LinkedIn, Twitter, Facebook, and Google Plus.
Featured Venues/Suppliers: