Top Event Designers Are Creating Jaw-Dropping 'Quarantine Tables' From Items Around Their Homes
While live events are on hold due to COVID-19, Ed Libby started the #DreamersAlwaysDream Instagram challenge as a way to keep his skills sharp—and to reconnect with his love for design.
April 22, 2020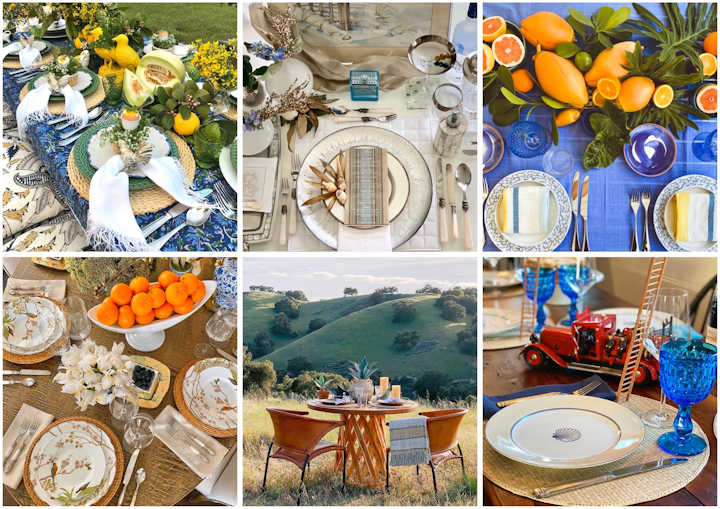 Photos: Courtesy of Designers
As the spread of COVID-19 caused states to enact stay-at-home orders, renowned event designer Ed Libby found himself isolated at his home in the Hollywood Hills. Sitting alone at his 15-person dining table, running through the list of canceled or postponed events, he began looking for a way to cheer himself up. He ended up grabbing a silver candy dish his beloved grandmother had once used to store Jordan almonds.
"I didn't have any Jordan almonds in the house, but I loved her so much and I missed her now," Libby remembers. "So I moved the candy dish over and thought, 'Oh, I can put eggs in here.' I was just trying to crack myself up a little bit because I was miserable."
But, he adds, "I looked at it when I was done, and thought, 'This is the thing.' I don't have all the right ingredients. I don't have the right flowers. But I'm still exactly who I am, whether there's a pandemic or not."
Libby got on the phone with some designer friends—including Todd Fiscus of Todd Events in Dallas, Rishi Patel of HMR Designs in Chicago, and Michael Uncapher of Mark's Garden in Los Angeles—who helped dream up the #DreamersAlwaysDream Instagram challenge, where event professionals in isolation create design-forward "quarantine tables" from items around their house, yard, or local grocery store. Libby jokingly calls the challenge the "'Chopped mystery basket' of the event world."
In addition to designing and photographing their table, each participant is asked to tell a story in the caption—to describe the items used and their significance, to share an old family story, or to discuss how they're coping. They are also supposed to challenge six industry friends to do the same.
"It's not a beauty contest or a tabletop competition—it's a mental health exercise," says Libby, who notes that the challenge has given him a chance to return to his roots. "I used to make stuff out of orange juice cans," he laughs. "My uncle was this macho New York City fireman, and he was my biggest encourager when I was a little kid. He'd be like, 'Don't throw the garbage out; the kid will make something out of it.'"
In addition to the emotional impact, Libby says it's been a way to keep his skills sharp and his creative juices flowing—and to remind clients of his worth as an event designer. "It's letting people know that doing multimillion-dollar weddings is not the only thing that we're all capable of as creative people," he says. "It helps people say, 'I honed my craft, and I'm not worth any less to you than I was before [the pandemic].'"
Since starting the challenge on April 1, more than 800 people have created Instagram posts using the hashtag (with countless more in Instagram Stories), and Libby has gotten thousands of emails and messages from people who are finding inspiration and comfort. The notes, says Libby, are not usually about the designs themselves. "It's always, 'My kids are driving me up the wall but I got to do this with them today. I told them about their grandmother's dishes.' Or 'I didn't know that such and such bloomed in my garden until now,'" he says. "It's all about the story."
Libby adds, "I started my business 35 years ago in my parents' basement. I was the flower stripper, the arranger, the driver, the art department, everything. And if I have to do that again, I will."
Scroll down to see some of our favorite tables from the challenge (be sure to click through to read the personal stories behind them), and then follow the #DreamersAlwaysDream hashtag for even more event design and tabletop inspiration.
Mindy Rice, owner of Mindy Rice Floral and Event Design in Los Olivos, Calif.:
Rishi Patel, CEO of HMR Designs in Chicago:
Ed Libby, owner of Ed Libby & Co. Events in Hackensack, N.J.:
Matthew Robbins and Luis Otoya, owners of Robbins Otoya Destinations in Miami: 
Katie Kirby, creative director of Revolution Events in Baltimore:
Todd Fiscus, owner of Todd Events in Dallas:
Jose Villa and Joel Serrato, wedding photographers in Santa Barbara, Calif.:
Michael Uncapher, managing director of Mark's Garden in Los Angeles: 
Bryan Rafanelli, owner of Rafanelli Events in Boston:
Lynn Easton, owner of Easton Events in Charlottesville, Va.: 
Mindy Weiss, owner of Mindy Weiss Party Consultants in Beverly Hills, Calif.: