Introducing Our Event Style Award Winners
February 21, 2008
At our annual trade show yesterday at the
Direct Energy Centre
, we announced the winners of the BizBash Event Style Awards. Here's a rundown:
Best Entertainment Program/Concept
Nexen Inc.'s "Feel the Beat" party, submitted by
Experiential Events
Experiential Events packed Calgary's Telus Convention Centre with eight styles of entertainment for Nexen Inc.'s employee-appreciation party in September. The oil and gas company wanted to branch out, and the event planning company chose to include musical, cirque, and dance performances. To keep guests on their toes, the acts performed on multiple stages around the venue, and attendees were encouraged to take part in salsa lessons and playing a floor-to-ceiling harp.
Best Corporate Event Concept (Budget More Than $50,000)
Piller's 50th anniversary celebration, submitted by
Big Events Inc.
Piller's enlisted Big Events Inc. to create a Western-themed 50th anniversary party at the meat company's Waterloo headquarters last June. Although the celebration was relaxed and fun, it managed to be upscale at the same time, with sleek white couches, cowhide pillows, and a wood floor dressing the tent for 600 V.I.P. clients (900 staff members also attended). The entertainment stayed true to the party's theme, and included a rodeo, pig races, and barn dancing with fiddlers.
Best Corporate Event Concept (Budget Less Than $50,000)
"TIFF Goes Underground" party, submitted by
Kim Graham & Associates Marketing & Public Relations
After months of negotiating with the Toronto Transit Commission, Kim Graham & Associates staged an Italian film industry party in a place no event had been held before: the abandoned Lower Bay subway station. The film-festival party—hosted by the Italian Trade Commission, Film Italia, and Anica—captured a gritty yet glamorous vibe and featured buskers, fashion installations, and subway cars decorated with candlelit cocktail tables and director's chairs. The station platform turned into a dance floor later in the evening.
Best Nonprofit Event Concept
Women in Insurance Cancer Crusade's "Fire and Ice" event, submitted by
Slingshot Inc.
Slingshot amped up the common fire-and-ice theme for the Women in Insurance Cancer Crusade benefit last April at the
Westin Harbour Castle
. The W.I.C.C. logo was lit up with 1,200 candles, and 2,000 pounds of ice sculptures were placed throughout the room. The benefit, which attracted 550 guests, also featured an ice sculptor using chainsaws and power tools to create a large statue in less than an hour, a figure skating and comedy routine by Olympic medalist Gary Beacom, and indoor pyrotechnics during a performance by Circus Orange.
Best Event PR Strategy
National Bridal Show's "Ready, Set, Wed!" promotion, submitted by
Premier Consumer Shows
/National Bridal Show
The National Bridal Show's publicity department created a stir in September with the "Ready, Set, Wed!" event at
Ontario Place
to promote the upcoming show. Three couples chosen from a contest on 99.9 Mix FM dressed in their full wedding attire and competed in an obstacle course for the chance to win a $20,000 dream wedding. The race attracted media attention from several outlets in the GTA, including
The Toronto Star
, CTV, and CityTV, and even garnered coverage from an online New Zealand news agency.
Best Fresh Idea
Cushman & Wakefield Toronto global dinner, submitted by
Cornerstone Entertainment Concepts Inc.
The unique aluminum and spandex wall used at the Cushman & Wakefield client appreciation dinner at
Le Meridien King Edward Hotel
in September served three functions: room divider, projection surface, and passageway. Created by Midnight Hour Productions under the direction of Cornerstone Entertainment, the modern-looking wall used computer-driven bases to form doors. After dinner, the doors slid open with music and lighting for a dramatic entrance to the dessert reception.
Best Gift Bag
Pure Style Gala, submitted by
Flare
magazine
Guests attending October's Pure Style Gala, a celebration of
Flare
magazine's redesign, left with swag bags packed with fashion-forward goodies. At the end of the party—held in the Michael Lee-Chin Crystal at the
Royal Ontario Museum
—guests received grey tweed messenger totes by Joe Fresh Style that included two fragrances, six novels contributed by Random House, an Ojon hair treatment, a CD by Canadian artist Sarah Slean, and two black-and-white stoneware bowls from Ikea.
Best Invitation Design
Piller's 50th anniversary party, submitted by
Big Events Inc.
The V.I.P. invites to Piller's 50th anniversary event ended up on the heads of most of the recipients at the Western-themed party held at the company's Waterloo barn last June. In an effort to boost R.S.V.P.s, Big Events got two cowgirls to deliver full-size, cream-coloured cowboy hat invitations to 600 guests. The event details were printed on a blue ribbon wrapped around the hat, with a direction to go online for further details.
Best Overall Catering at an Event
Spafax's "Hot and Cool Canada" party, submitted by
Catering With Style
To glam up traditional Canadian foods, Catering With Style used organic ingredients and gourmet preparation at Hot and Cool Canada, a Spafax-sponsored event for members of the World Airline Entertainment Association at
Muzik
nightclub in September. Dee Gibson and executive chef Chris Palik flew in indigenous foods from across the country to create meals such as poutine with braised Alberta beef brisket, maple-glazed West Coast salmon with roasted wild B.C. mushrooms, and bite-size beaver tails and
tartes au sucre
.
Best Overall Event Decor (Budget More Than $50,000)
CTV holiday party, submitted by CTVglobemedia
After CTVglobemedia's recent acquisition of CHUM FM, CTV event planner Mafalda Caruso worked with
McNabb Roick Events
to create a luxurious
Doctor Zhivago
-themed holiday party to bring the company's 3,000 employees together. McNabb Roick transformed six rooms at the
Guvernment and Kool Haus
into Russian-themed social spaces, including the Red Square cocktail lounge (featuring a replica of St. Basil's Cathedral) and the Russian Tea Room, adorned with birch-tree images and extensive floral arrangements.

Best Overall Event Decor (Budget Less Than $50,000)
One Wish Gala, submitted by
Solutions With Impact
The Make-A-Wish Foundation employed Solutions With Impact to turn the seventh floor of the
Carlu
into an Arabian marketplace for the One Wish Gala in November. The venue's grand foyer featured hanging lanterns, large golden urns, and a large fiberglass elephant. Shades of purple, red, and gold created a beautiful backdrop to exotic floral centerpieces of black baccara roses and deep-red gerbera daisies. Billowy white drapes created the look of a sultan's tent in the main dining area.
Best Use of Technology
Professional Convention Management Association's welcome reception, submitted by
B.C. Event Management Inc.
B.C. Event Management Inc. spent months screening, editing, and digitizing footage of the Canadian outdoors. Then the firm used its MegaVideo technology to create a dramatic cross-Canada helicopter video tour on a massive 7,500-square-foot screen at the
Metro Toronto Convention Centre
. The video tour—which screened at the annual meeting of the Professional Convention Management Association—launched a new branding program for the Canadian Tourism Association to the event's 2,500 guests.
Best New Venue
Circa
(Editors' choice)
Former New York club king Peter Gatien opened his new mega-nightclub in downtown Toronto to rave reviews in October. The 55,000-square-foot, multimillion-dollar venue is spread over four levels with several rooms, including a large ceramic toilet-bowl-shaped bar aptly named the Bathroom Bar; a massive dance floor with a three-storey ceiling; a Skyy Vodka cinema lounge for screenings; and a V.I.P. area encased in a glass cube that hovers above the dance floor and stage.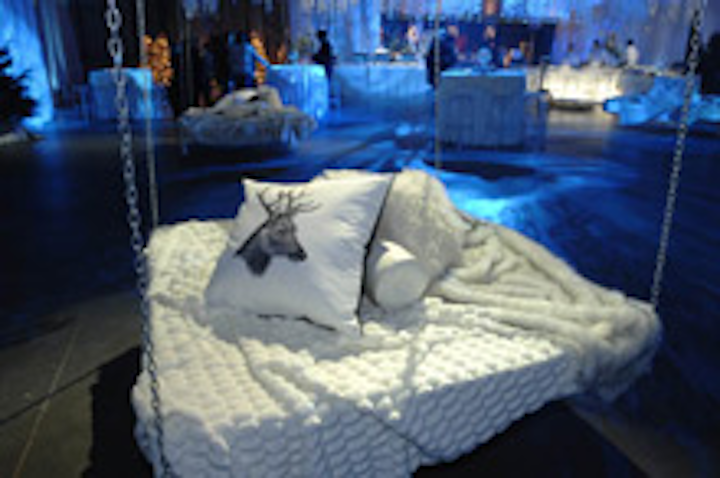 Photo: Gary Beechey for BizBash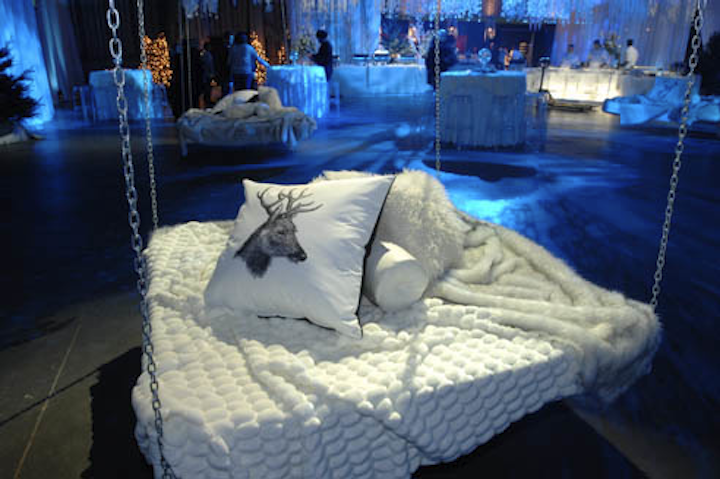 Photo: Gary Beechey for BizBash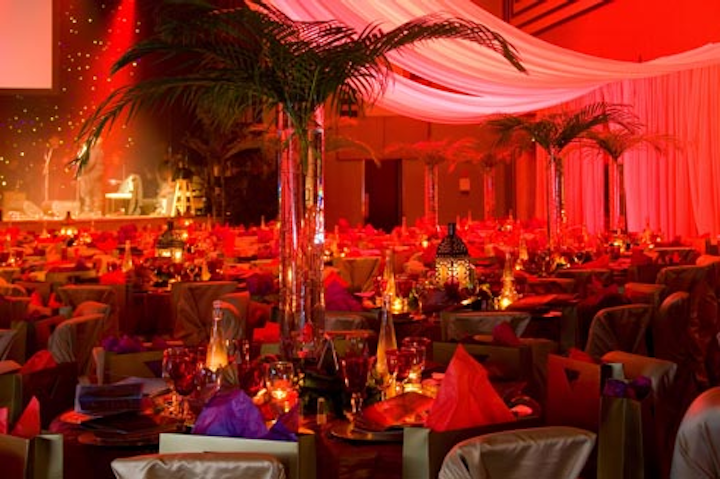 Photo: Courtesy of Distinctive Foto Imaging
Photo: Kim Graham & Associates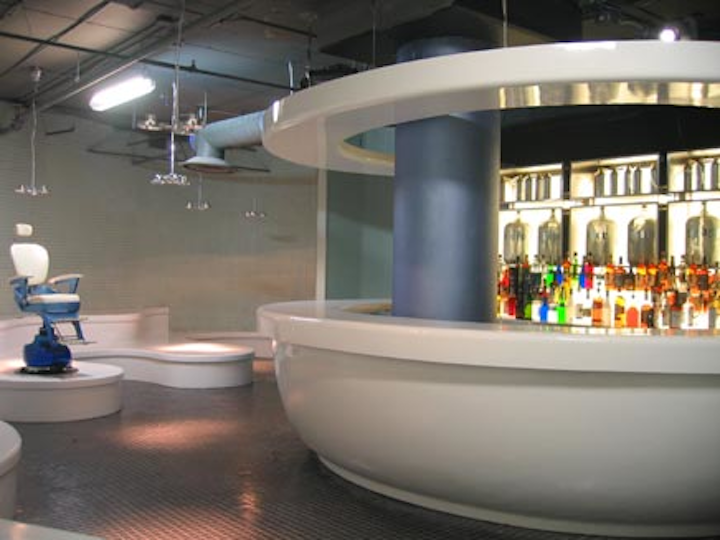 Photo: BizBash
Featured Venues/Suppliers: