With Oprah, Toni Morrison on Agenda, Library Awards Head to Larger Venue
The Chicago Public Library Foundation and the Chicago Public Library's Carl Sandburg Literary Awards Dinner drew a supersize guest list.
October 29, 2010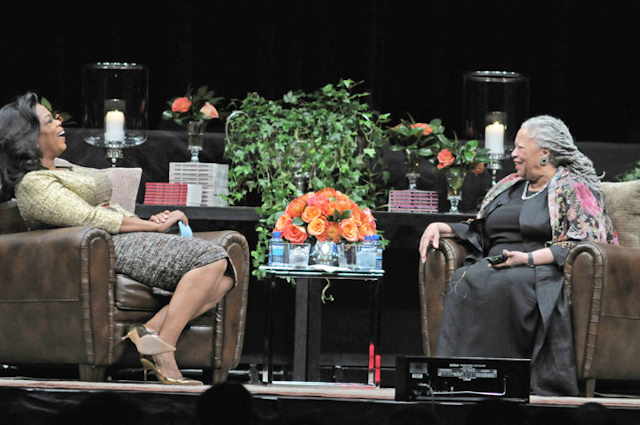 During the interview, Oprah Winfrey asked Toni Morrison questions about her writing process, the early stages of her career, and motherhood. When asked what she likes to do besides read and write, Morrison got stumped. "Being a writer is who I am in the world," she said. Photo: Dan RestCHICAGO—A highbrow quarrel broke out at the Chicago Public Library Foundation and the Chicago Public Library's Carl Sandburg Literary Awards Dinner at the UIC Forum on October 20. "I can't believe she just took the last A Mercy," said one guest, referring to the for-grabs Toni Morrison tome that had topped her dinner table. "I've had my eye on that all night."
Along with complimentary books from the Nobel Prize-winning author, the fund-raiser offered a speech from the soon-to-retire Mayor Richard Daley (who, it should be said, has overseen more than 50 public library openings during his tenure), a three-course dinner, and—oh, yes—an appearance from Oprah Winfrey. Typically, the dinner has drawn around 500 guests. But the amped-up star power of this year's function resulted in a guest list of more than 700. It grossed $1.1 million.
The increased crowd size made holding the dinner in its traditional home, the Winter Garden at the Chicago Public Library, impossible. The city's fire code for the indoor garden dictates that it can hold no more than 500 guests, so "we made the determination to move [this year's event] to a larger venue in late 2009," said Rhona Frazin, president and C.E.O. of the Chicago Public Library Foundation.
The planning team looked to local hotel ballrooms first, scoping out spaces that could accommodate a crowd of more than 700. "We didn't feel comfortable with any of them," Frazin said. Then, "our founding board chair, Cindy Pritzker, made the suggestion that we look at the UIC Forum." Frazin and her team liked that the venue had the feel of "a public space, not unlike the library," as well as its acoustics. "With Oprah and Toni Morrison in conversation, we knew that sound and video capacity were of prime importance," she explained. 
In an effort to "bring the library into the space that we were in," said Frazin, the team arranged for quotations about reading and books to be projected onto the walls of the forum. Library lamps and books played into the decor on each dinner table, and the evening concluded with a book signing.
Featured Venues/Suppliers: