See How This Hamptons Benefit Celebrated its 25th Anniversary
This year, the Watermill Center's annual benefit updated its layout and arrivals area but still kept its avant-garde vibe.
August 27, 2018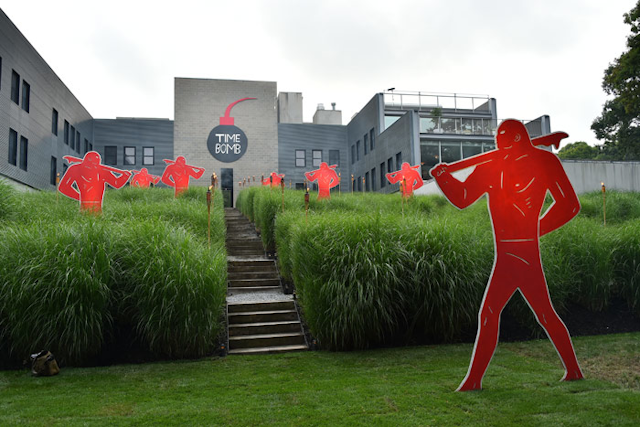 Guests arriving via the second pathway were greeted by a phalanx of Cleon Peterson's soldiers flanking the entrance into the main building, which featured Christopher Knowles' "Time Bomb" signage. Photo: Sunny Norton/BizBashAt once exclusive and bizarre, the Watermill Center summer benefit remained a tentpole event within the frenetic Hamptons party scene. This year's 25th-anniversary celebration, titled "Time Bomb," posthumously honored renowned art collector Pierre Bergé, a friend of the center's founder Robert Wilson.
Presented by Van Cleef & Arpels with additional support from Karma Automotive, the sold-out July 28 fund-raiser in Water Mill, Long Island, brought in $2.2 million.
Conceived of and designed by Wilson, along with event director Elise Herget, event manager Erin Wainwright, and installation curators Ivan Cheng and Noah Khoshbin, the colorful soiree offered the 1,000-plus art-world guests an escape from the usual summertime backyard barbecue or beach clambake.
"Pierre was my first major supporter, and without his support I would have probably not had Watermill," said Wilson of Bergé, who was the partner of the late Yves Saint Laurent and whose gift allowed Wilson to purchase the Water Mill property in 1990. "And he was a big supporter of my work for many years, and a dear friend. He was a great humanitarian, a world cultural minister."
The multi-sensory experience featured a winding art trail lined with over 30 installations, both interactive and still, plus the sights and sounds of exploding rainbow-colored paintballs, courtesy of Stephen Shanabrook's "Assaulted Landscape with Splattered Rivers and No Place to Hide."
Helping guests expedite their experience was an entirely new check-in procedure. "We widened the entrance and separated cocktail and dinner guests. While doors to the event opened at 6 p.m., we designed two transitional areas for the many guests who arrive early, which allowed us to start giving wristbands at 5:30 p.m.," said Herget. "With the help of CheckIn Tech and our fantastic in-house staff, check-in was the smoothest it has ever been."
The arrivals area also allowed for two distinct ways to view the exhibit, with guests opting to follow two different pathways. ​"In order to create a better flow and to prevent bottlenecking at the entrance, we designed two separate pathways. By doing this, it complicated the artistic program for the event as we had to curate not only two 'grand' entrances, but also consider the flow of the event from both directions," explained Herget. "We knew the dinner guests and our V.I.P.s, who entered on a lit boardwalk through dense ferns, would have one experience, and the cocktail guests, surrounded by Tony Piazza's flower terraces, would have another. Both were equally as breathtaking."
And while last year's benefit poked fun at the current White House administration's plans to "build a wall," this year's undertone continued to promote diversity and acceptance. "The underlying message tonight, and every night, is, 'The door is open,'" said Wilson. "We have an open-door policy; you can walk in the door—because there is no door."
Following cocktails with Tequila Don Julio speciality drinks, 600 guests made their way into the dinner tent, where draped lights mimicked the night's stars, surrounded by hand-lit lanterns that illuminated the evening's festivities. The event was emceed by Helga Davis and included a live auction conducted by Simon de Pury and a performance by Davis of "Coming Home," a song from Wilson's "the Temptation of St. Anthony" opera, along with an after-party deejayed by twin graffiti artists Osgemeos.
A highlight of the evening came in the form of Marina Abramović's auction item. "Very simple rules: if you want a dinner with me, it will be different, strange, exciting, and exhausting. And you'll definitely have an unforgettable experience," said Abramović. "Before you have the dinner with me, you have to prepare yourself: three days before, you can't have sex, you can't watch television, and you can't talk about Trump."
The Moroccan-theme feast, inspired by Jardin Majorelle, was served on dishware from Marrakech and catered by Bite Food and featured pita and flatbreads with marinated olives, crispy chickpeas and hummus, greenmarket bastillas, and family-style entrees such as seared sea bass, lamb and carrot tagine, saffron pearl couscous, and eggplant and pepper zaalouk. Passed desserts included cinnamon orange sfenj, white peach and phyllo pies, saffron panna cotta yogurt, and summer plum crostata.
Departing guests left with a tote bag created by Kayrock Screenprinting and a Watermill artist, and included "Time Bomb," a painting by Christopher Knowles that was inspired by the title of the benefit.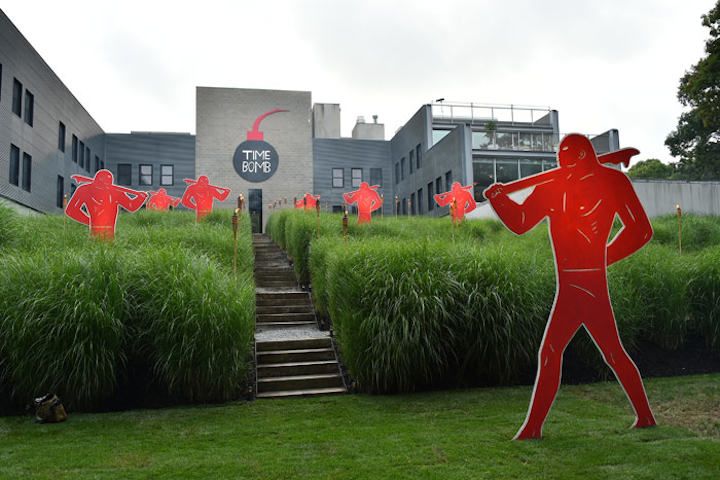 Photo: Sunny Norton/BizBash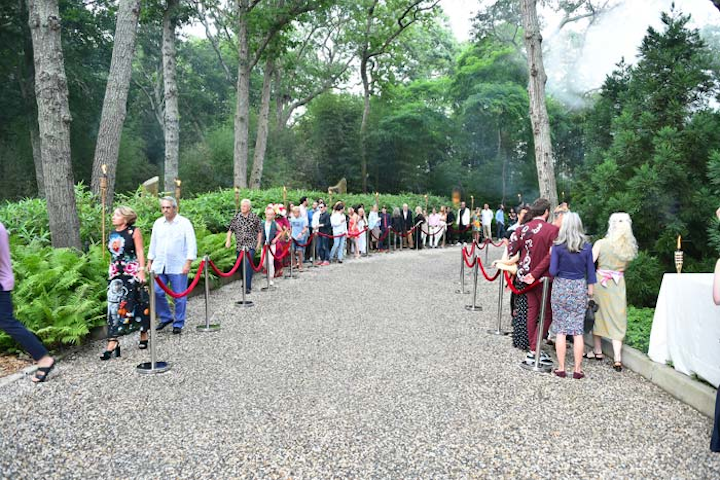 Photo: Sunny Norton/BizBash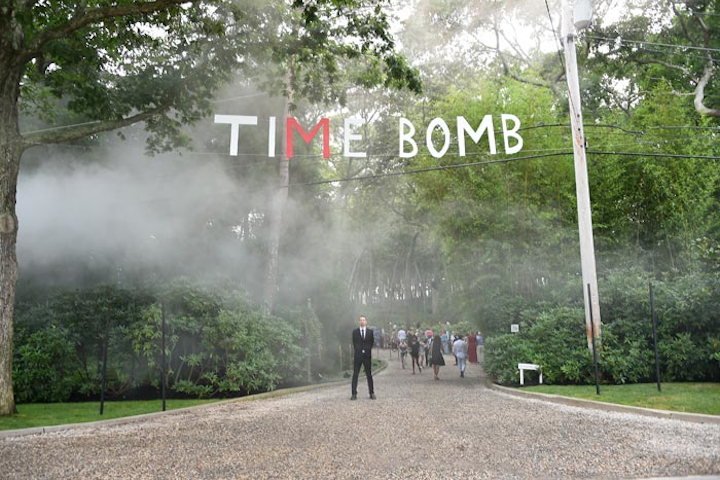 Photo: Sunny Norton/BizBash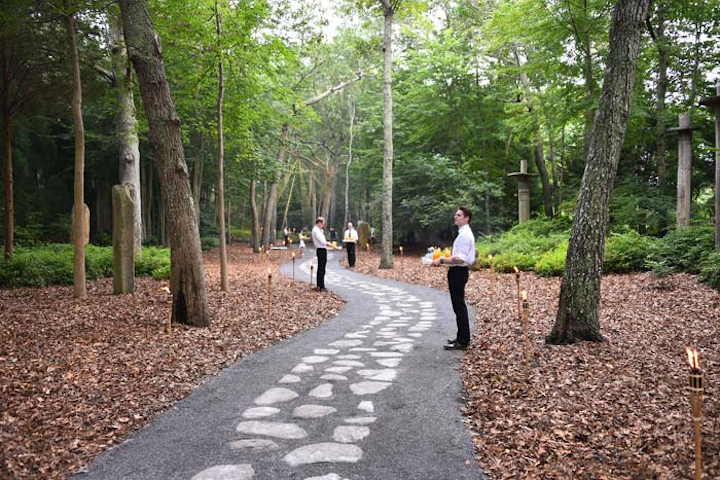 Photo: Sunny Norton/BizBash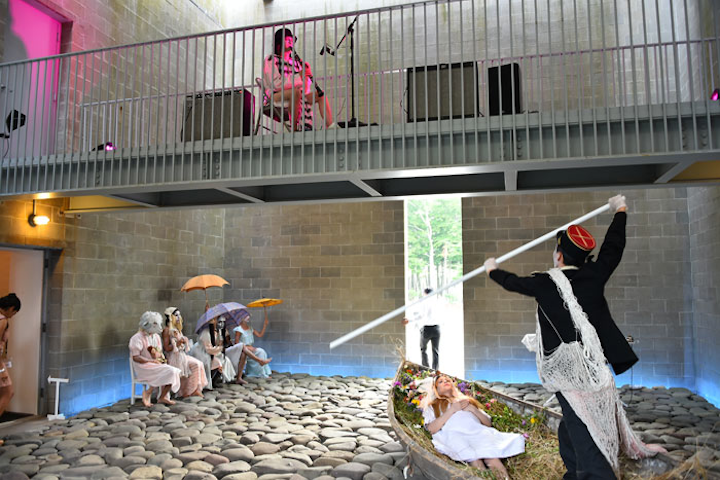 Photo: Sunny Norton/BizBash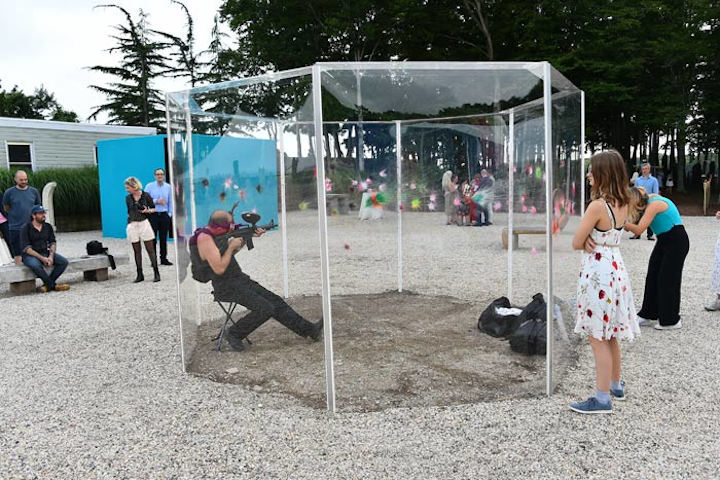 Photo: Sunny Norton/BizBash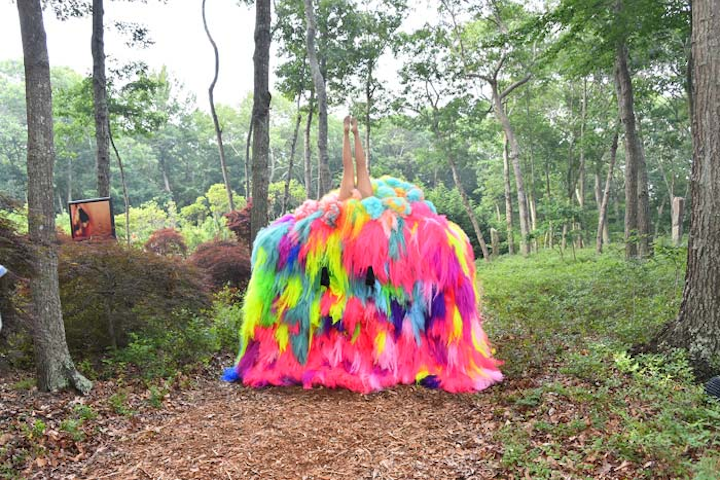 Photo: Sunny Norton/BizBash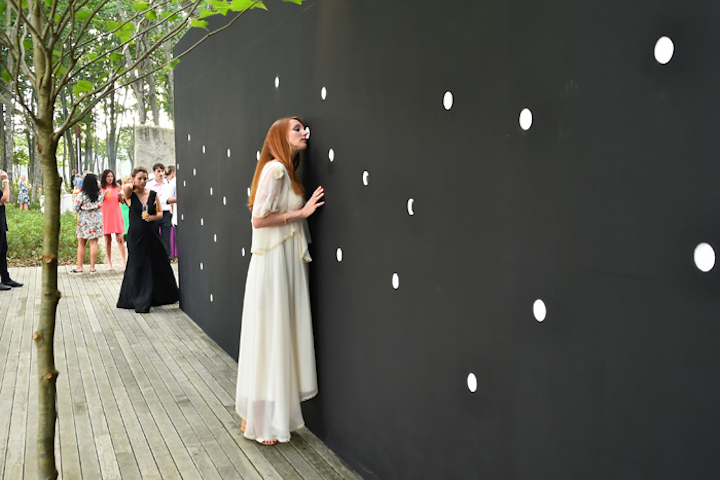 Photo: Sunny Norton/BizBash
Photo: Sunny Norton/BizBash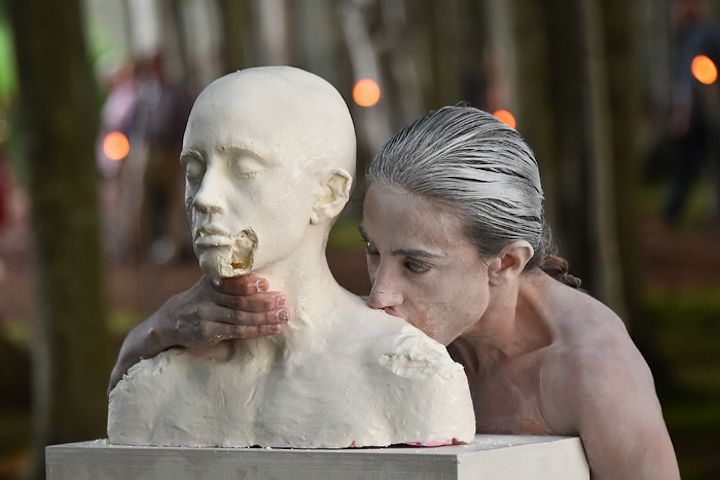 Photo: Sunny Norton/BizBash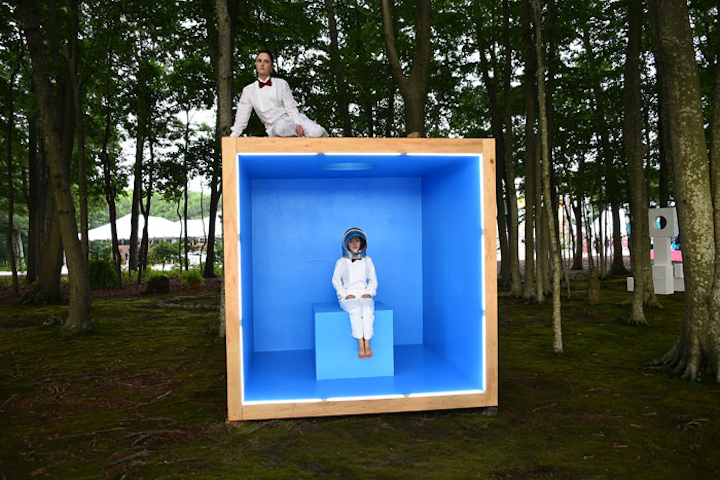 Photo: Sunny Norton/BizBash
Photo: Sunny Norton/BizBash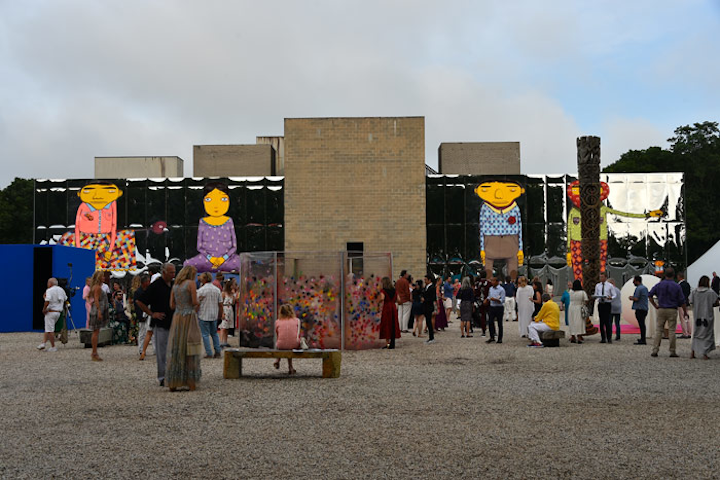 Photo: Sunny Norton/BizBash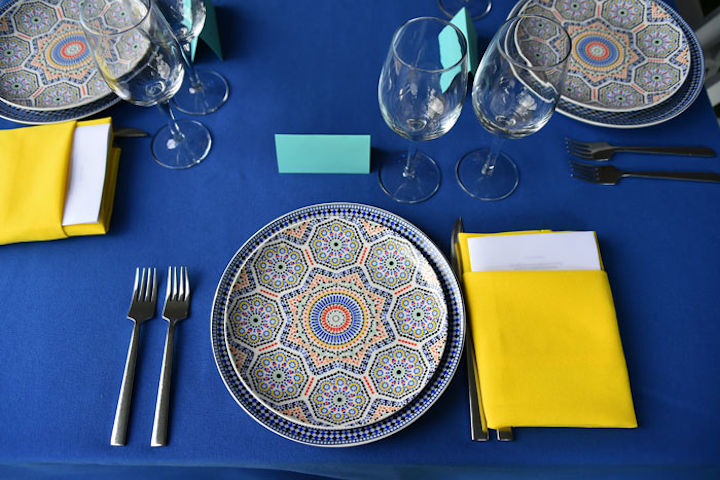 Photo: Sunny Norton/BizBash
Featured Venues/Suppliers: