See a Black-Tie Take on a Dog Theme
The California Science Center mixed upscale elegance with playful touches for its latest Discovery Ball fund-raiser, which had a canine theme based on its latest exhibit.
March 26, 2019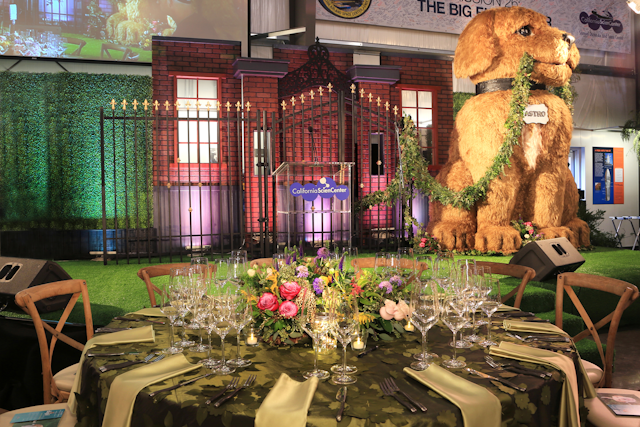 An eye-catching focal point for the stage was a 10-foot sculptural dog created by the evening's floral designers, CJ Matsumoto & Sons.Photo: Nadine Froger Photography

LOS ANGELES— Dogs may be man's best friend—but the lovable creatures might not always conjure images of upscale elegance.
That's the challenge organizers of the California Science Center's Discovery Ball found themselves facing while planning this year's annual fund-raiser, which took place on March 15. The high-profile benefit is known for centering its theme and decor around its newest exhibit, which this year is a family-friendly display called "Dogs! A Science Tail."
The museum's event services department, helmed by vice president of food and event services Christina Sion, wanted to make sure the gala felt just as glamorous as in previous years.
"Given that last year's Discovery Ball featured a very opulent theme in conjunction with the premiere of the 'King Tut: Treasures of the Golden Pharaoh' exhibition, initially we were concerned that a dog theme would not read as elegant or black-tie gala-worthy," explained Sion. "But instead of worrying about being compared to last year, we embraced the contrast and decided to let this year's party 'go to the dogs.'"
To accomplish this, the team worked with a long list of event vendors to create a playful vibe that was still fit for the black-tie crowd. The evening kicked off with a carnival-inspired cocktail party, with highlights including dog-shape hedges (including some that appeared to be peeing on the furniture), a champagne wall where guests got drinks from sock puppets, human dog "treats" modeled after traditional dog snacks, and a custom-fabricated white bar shaped like a bone. 
Organizers also had fun with the playlist, with songs ranging from Paul Anka's "Puppy Love" to George Clinton's "Atomic Dog" to, of course, Baha Men's "Who Let the Dogs Out."
"Whenever practical and appropriate, I enjoy adding a few humorous elements to an event," said Sion. "It's a fun and lighthearted way to connect with your guests and make them smile, almost like a private joke. When done tastefully, clever or amusing touches can bring levity and encourage partygoers to have fun and enjoy. This year's dog theme provided us with a few opportunities to infuse a little humor and employ some 'paw-some' puns."
As they made their way through the two-story museum lobby, guests could get photo ops with puppies, sit on furniture resembling green hedges, and watch performances from dog entertainers such as America's Got Talent finalist Sara Carson. Bar decor included mini replicas of artist Jeff Koons' famous "Dog Balloon" sculpture; a balloon artist was also on-hand to create balloon dogs.
Later in the evening, dinner took place within the Samuel Oschin Pavilion, which famously features the space shuttle Endeavour overhead. The pavilion was transformed to resemble an upscale dog park, with 16-foot trees covered in twinkle lights, oversize floral centerpieces, street lights, and green linens. A 10-foot-tall dog, custom-fabricated by florists CJ Matsumoto & Sons, sat on stage.
Meanwhile, Good Gracious Events prepared a dinner menu full of tongue-in-cheek reference to canines. The salad course featured a large crouton shaped like a dog, while the entree, playfully named "Doggone Beef Steak Filet," had a bone-shape biscuit and green beans presented in the shape of a dog leash. Dessert was—what else?—a selection of chocolate bark.
The after-party took place in the museum's Loker Conference Center, which had been transformed into the "Dog Houz Nightclub." "With the assistance of Edge Decor and Design, we created a quirky but hip after-party environment reminiscent of the inside of an imagined dog house, upholstered in hot pink fur," explained Sion.
Performers from Lucent Dossier dressed as dogs and cats to welcome guests to the festive space, which had shag carpets, fringe chandeliers, and pop art-style paintings of dogs on the walls. Guests could wear headbands with animal ears, play casino games, and hit the dance floor.
"Our only regret was that the ultimate dog—Snoop Dogg—was not available the night of the gala," laughed Sion. "Of course we had to ask!"
The 21st annual Discovery Ball broke fund-raising records, generating more than $2 million to support the museum's educational programming and exhibits. Check out the long list of vendors it took to pull off the gala, and keep scrolling for a look inside the cocktail hour, seated dinner, and after-party.
VENDORS
Audiovisual Production: Seamless Video Solutions
Carpet: Primo XL
Catering: Bar One Beverage Catering (Bar), Command Performance Catering (Crew), Good Gracious Events (Dinner), Pink's Hot Dogs (Specialty)
Custom Art: Everblock (Lego Dog), Lili Chin Art (Auction Paddles), Puppetude by Melissa Leitch (Puppets)
Custom Stamps: Photo Stamps at Stamps.com
Decor: Edge Design & Decor, Jackson Shrub Supply, TheatreWorld Backdrops
Design, Event Production, Venue: California Science Center
Entertainment: Entire Productions/LA AllStars (Dance Band), Invisible Touch Entertainment/Ilya Serov (Dinner Music), It's a Deal Casino Rentals, Liberty City (Balloon Artist), Lucent Dossier Experience
Flowers: CJ Matsumoto & Sons
Graphic Design: I Five Design
Lighting: Images by Lighting
Photo Booth: Snap Yourself
Photography: Leroy Hamilton, Nadine Froger Photography
Printing: Automation Printing Company (Invitations, Guest Materials), Next Day Flyers (Signage, Step and Repeat)
Rentals: Town and Country Event Rentals, Wildflower Linen
Valet: Classic Parking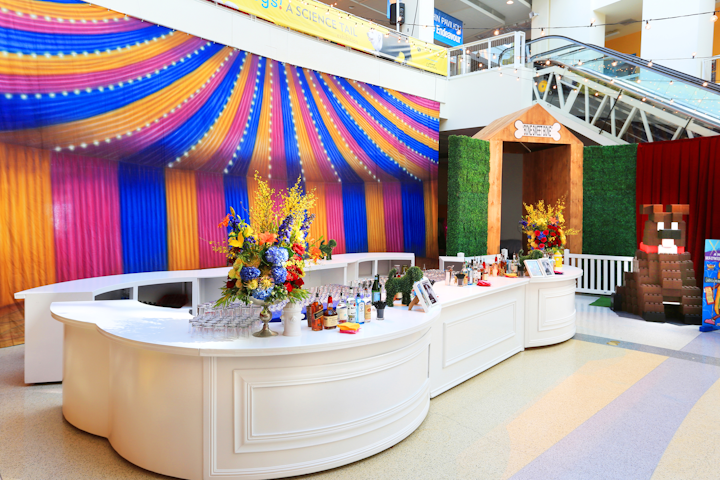 Photo: Nadine Froger Photography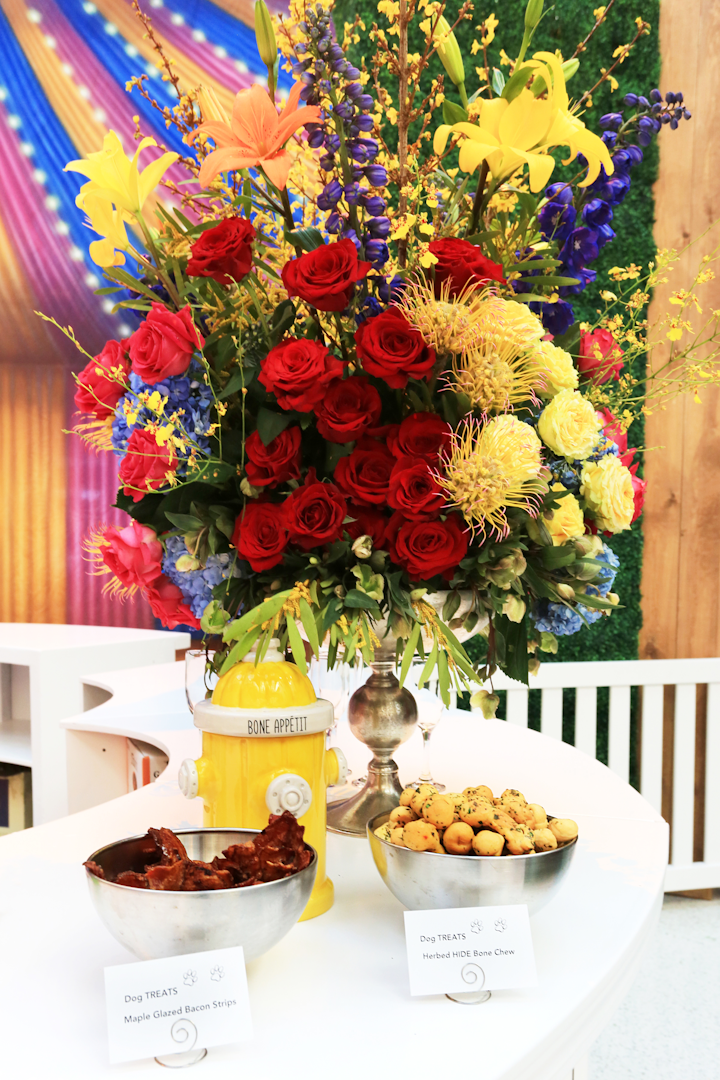 Photo: Nadine Froger Photography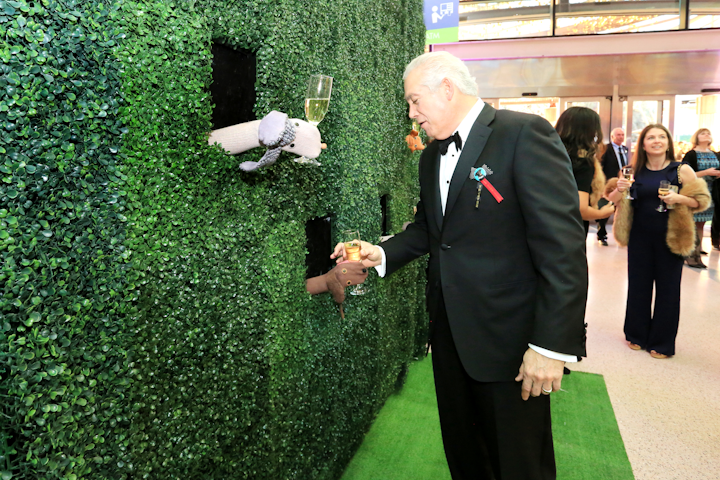 Photo: Nadine Froger Photography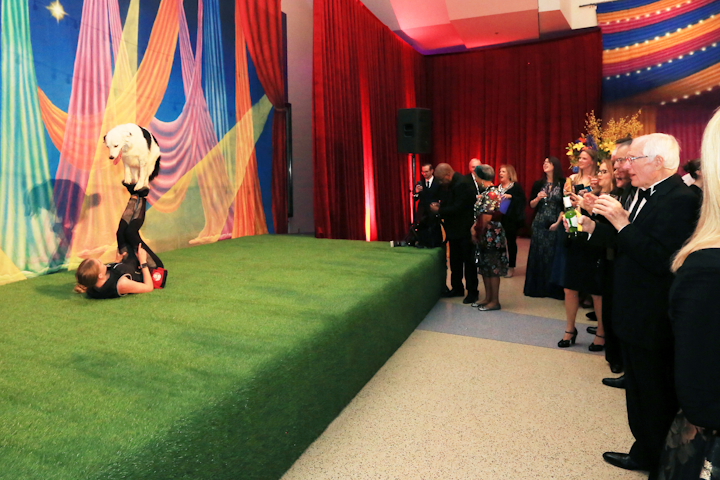 Photo: Nadine Froger Photography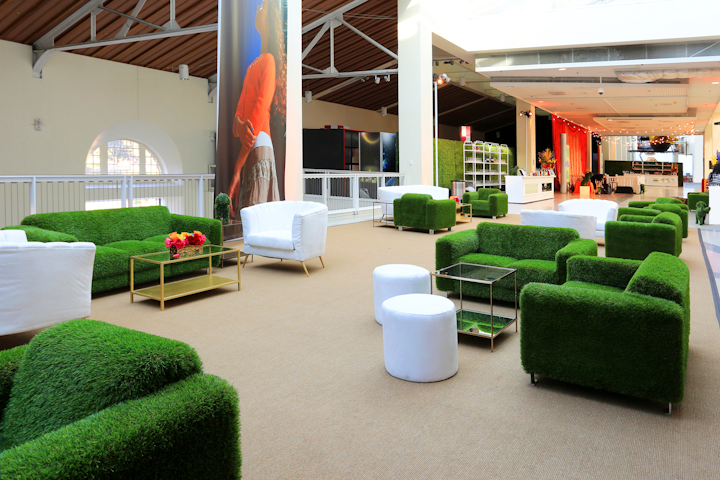 Photo: Nadine Froger Photography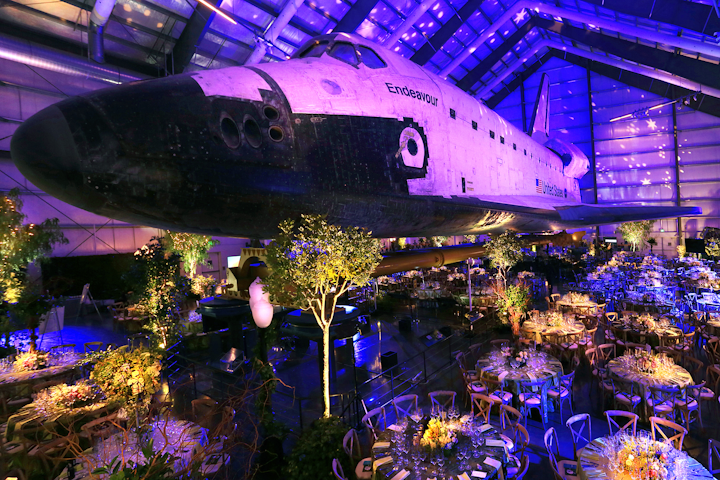 Photo: Nadine Froger Photography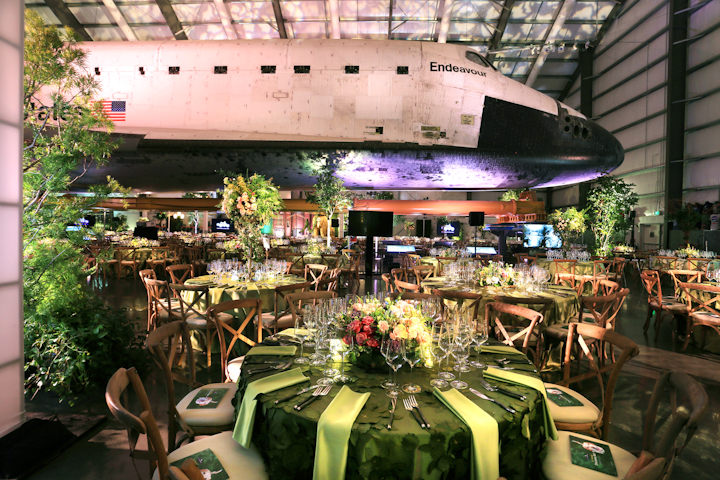 Photo: Nadine Froger Photography
Photo: Nadine Froger Photography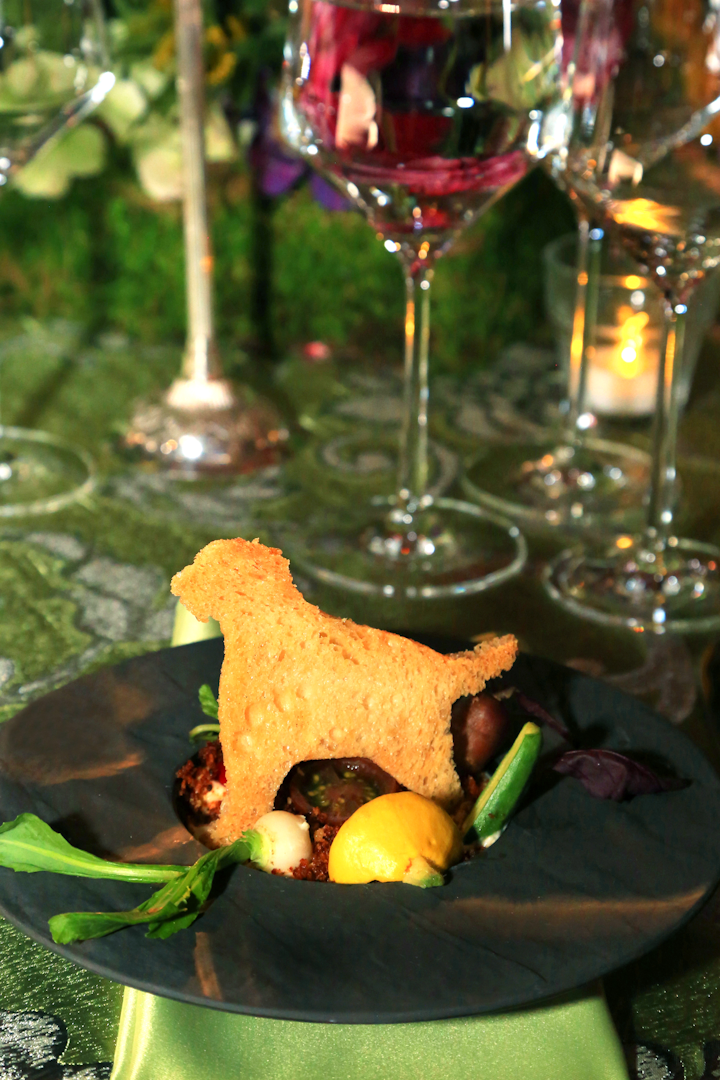 Photo: Nadine Froger Photography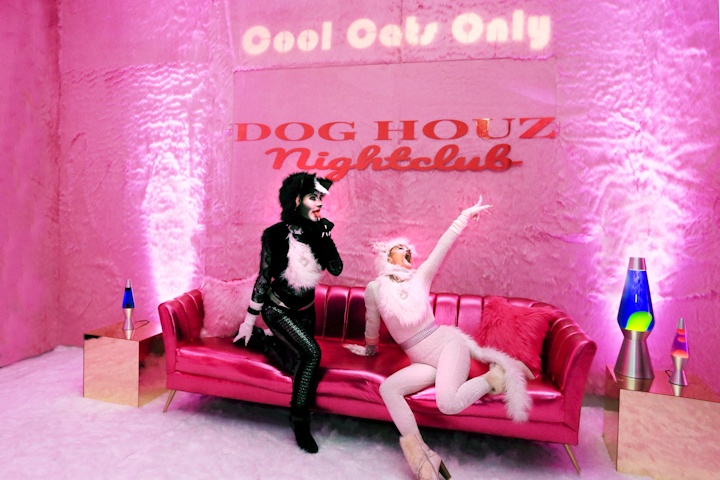 Photo: Nadine Froger Photography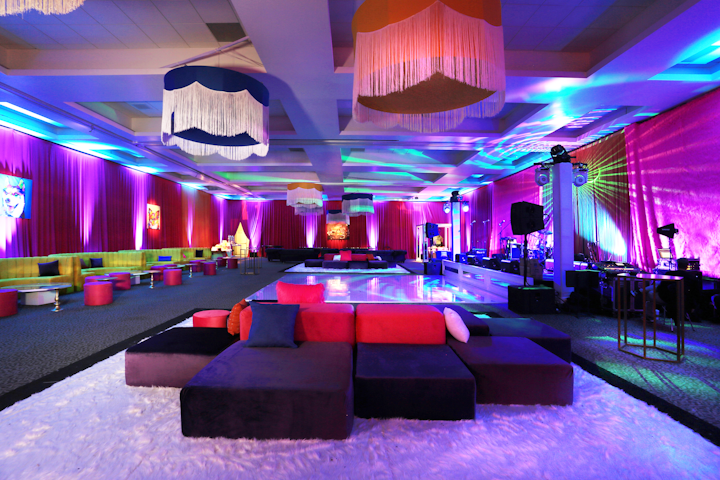 Photo: Nadine Froger Photography