Chilly Day for Spirit Awards Is a Boon to Heated Sponsor Lounges
March 2, 2011
Sponsors of Film Independent's Spirit Awards got an unexpected boost Saturday when unusually gusty winds blew their lucky invitees toward their heated lounges, which offered a cozy respite from the drafty main tent housing the awards luncheon and ceremony on Santa Monica Beach. At one point during the last big awards show before the Oscars, guests crowding Elle magazine's airy but toasty green room included guests from the Sundance table, Taye Diggs and Kyle MacLachlan, who investigated one of the gray lunch bags custom-printed with the name Acura, one of three Elle advertisers sharing the room. "Sandwiches, cookies, chips—everything you could possibly want!" he said with delight.

Sandwiches and cookies from Spirit Awards campus caterer Along Came Mary were a fine reward for straying from the herd in the main tent, which snacked on Mary's chicken breast with bean sauce, grilled zucchini, mashed potatoes with mint sauce and chocolate-dipped pretzels. But perhaps the arctic, below-60-degree weather—arctic for Southern California, anyway—was simply the requisite toll for answered prayers. The nonprofit's annual event had moved back to its traditional daytime slot and beachy site after experimenting with a less-popular switch to evening at downtown's L.A. Live for the awards' 25th anniversary the year before. But at least the weather could have been worse, as Elle's two large buckets of unused umbrellas attested.
Shawn Davis of Film Independent handled the event production, with TV show production by Live Animals' executive producer, Audrey Morrissey, and Dick Clark Productions' Barry Adelman. A healthy crop of seven returning sponsors—IFC, Elle, Netflix, Piaget, Acura, Jameson Irish Whiskey, and LG—came along for the ride back to the beach, as well as one new one: HTC, which created a wall of flat screens shaped like the smartphones it manufactures at the end of the red carpet. LG also extended branding for its 3D HDTV to the red carpet, launched by actress Sandra Oh, who cut a ribbon and presented LG's $100,000 check to Film Independent for its Project Involve diversity program. The company kicked in another $25,000 for celebrities like Jamie Foxx and Vanessa Hudgens, who walked the red carpet in 3D glasses.

Aveeno, part of Elle magazine's green room, also extended its branding to an additional site, the nearby Fairmont Miramar Hotel & Bungalow's Exhale Spa, which hosted eco and beauty bloggers, media folks, and influencers at a two-day event launching the brand's new Active Naturals line. Elle's team—executive director for special events and partnerships Caitlin Weiskopf, integrated marketing director Ed Romaine, integrated marketing manager Stefeni Bellock, and Cara Kleinhaut of Caravents—hosted 25 eco and beauty bloggers for a weekend of spa-ing with Aveeno products and awards tweeting in the Aveeno lounge.
Both locations sported organic chic decor: capiz shell chandeliers, sisal rugs, woven seagrass ottomans and barfronts, reclaimed wood pedestals, green floor gobos in the shape of palm leaves, cymbidium orchids and river rocks in clear glass vases, and stained-wood shelving. "It's about having an immersive experience with the brand," Kleinhaut said. "We're giving them subtle messaging of what the brand is about from the pillows on the couches to the product displays to the floral and containers we use."

Elle's adjacent green room, which also housed advertisers BCBG and Acura, had an edgier feel inspired by Weiskopf's recent trip to Art Basel Miami Beach. White furniture, walls and draped ceiling popped against a black carpet, with sleek accents provided by a sparkly oversize chandelier, custom-made four-foot-tall console tables of clear plexiglass encasing black oversize vases, and vases in whimsical unexpected shapes filled with color-popping flowers: yellow calla lilies, fuschia phalaeonopsis orchids, and green cymbidiums.

Piaget's tent, showcasing its latest watch and jewelry collection, Limelight Garden Party, was created by Abel McCallister De-signs, working with Piaget's Natacha Hertz, to evoke an English garden party. Walls were covered in silk ivy, peach-and-turquoise floral wallpaper and blow-up photos of models bedecked in Piaget and the jewelry itself. Guests watched the show on flat screens seated at white wrought-iron-and-glass outdoor tables topped with typical English garden blooms, roses, lilies, jasmine, peonies, and snapdragons, some tucked in birdcages, a nod to the jewelry's bird motif. Heavily guarded displays of diamonds lined the back of the tent, which was dotted with topiaries.

While entrance to some lounges, like Elle's, were exclusive to invited guests, IFC's was open to all comers at a pre-reception fueled by a full bar. The space, created by David Stark Design and Production in concert with IFC's Lauren Burack, resembled a sports bar decked out in the cable network's colors of blue and orange, with 600 plastic trophies ordered from "magical places online"—honoring everything from tennis players to farm animals—lining the walls. "It's an irreverent take on awards," Stark said. "This is an awards ceremony, and so it was to try to tie into what IFC does so well on a regular basis, which is bring an irreverence to their programming." KCRW's Dan Wilcox served as DJ.

In contrast to the elaborate sponsor tents, the vast main tent, spanning 140 feet by 210 feet, was simplicity itself. Guests dined at tables dressed with eggshell color linen and either black or natural-framed chiavaris. Beyond an oversize flat sculpture of the Spirit Award and a few flat screens, the only adornments enhancing the stage were the stars themselves.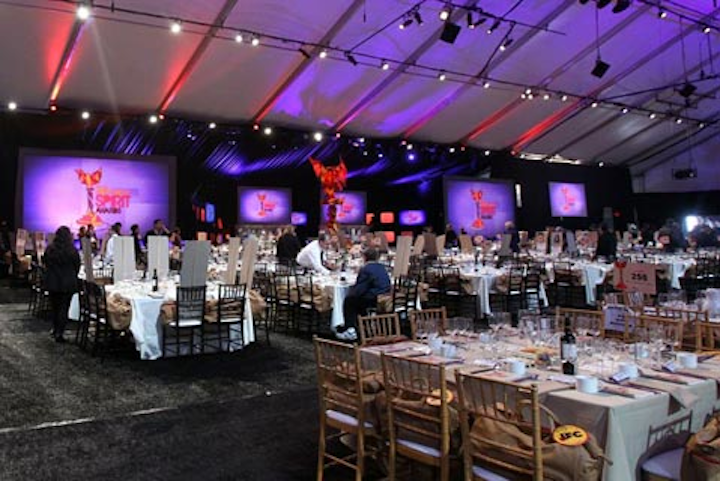 Photo: Alexandra Wyman/WireImage.com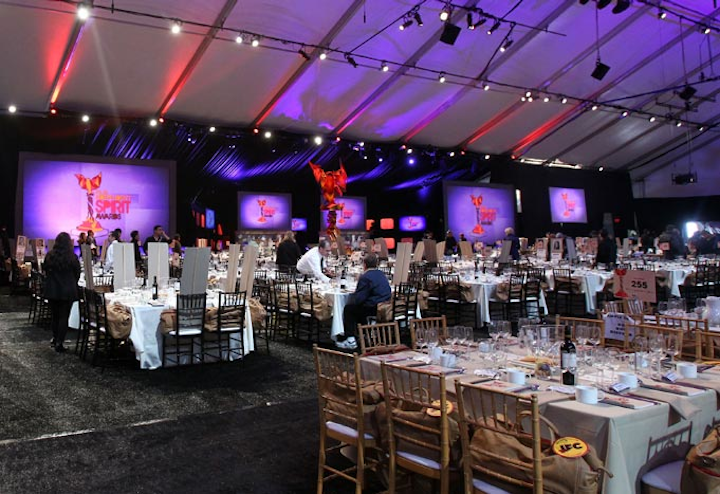 Photo: Alexandra Wyman/WireImage.com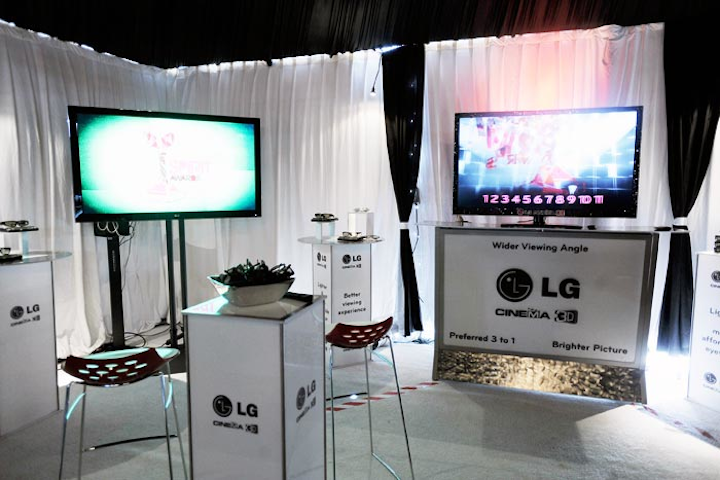 Photo: Charley Gallay
Photo: Meredith Jenks Photography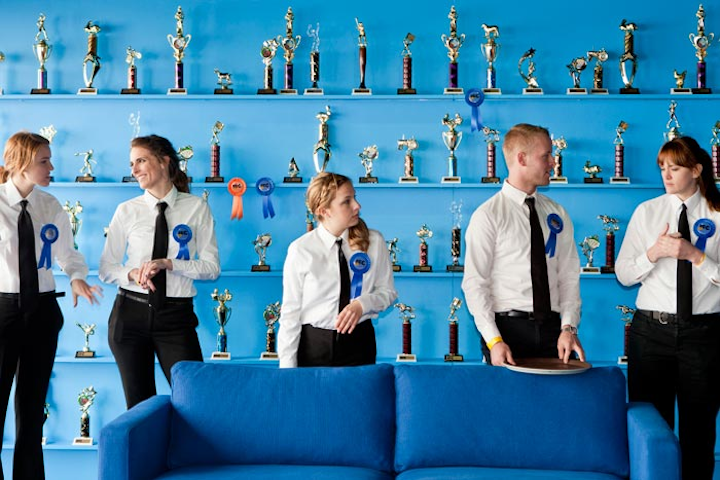 Photo: Meredith Jenks Photography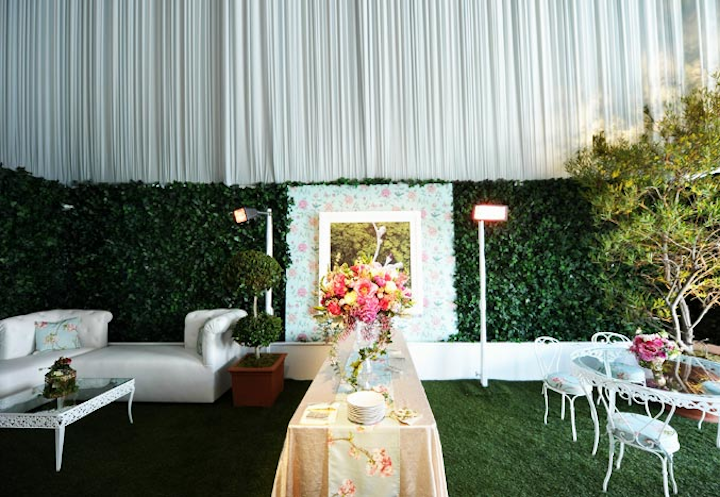 Photo: Getty Images For Piaget
Photo: Getty Images For Piaget
Featured Venues/Suppliers: